Description
Dear Customer! We ship products from many European countries. Orders shipped to the UK may incur customs charges.
Dear customer, the safety diaphragm may come off when you unscrew the nut. This is a normal process and does not affect the quality and value of the product offered.
⚡ You can use it as an element of prophylaxis
⚡ Works well for people during convalescence
⚡ Has a positive effect on the mobility and flexibility of joints
⚡ It will help protect and regenerate joints, bones and tendons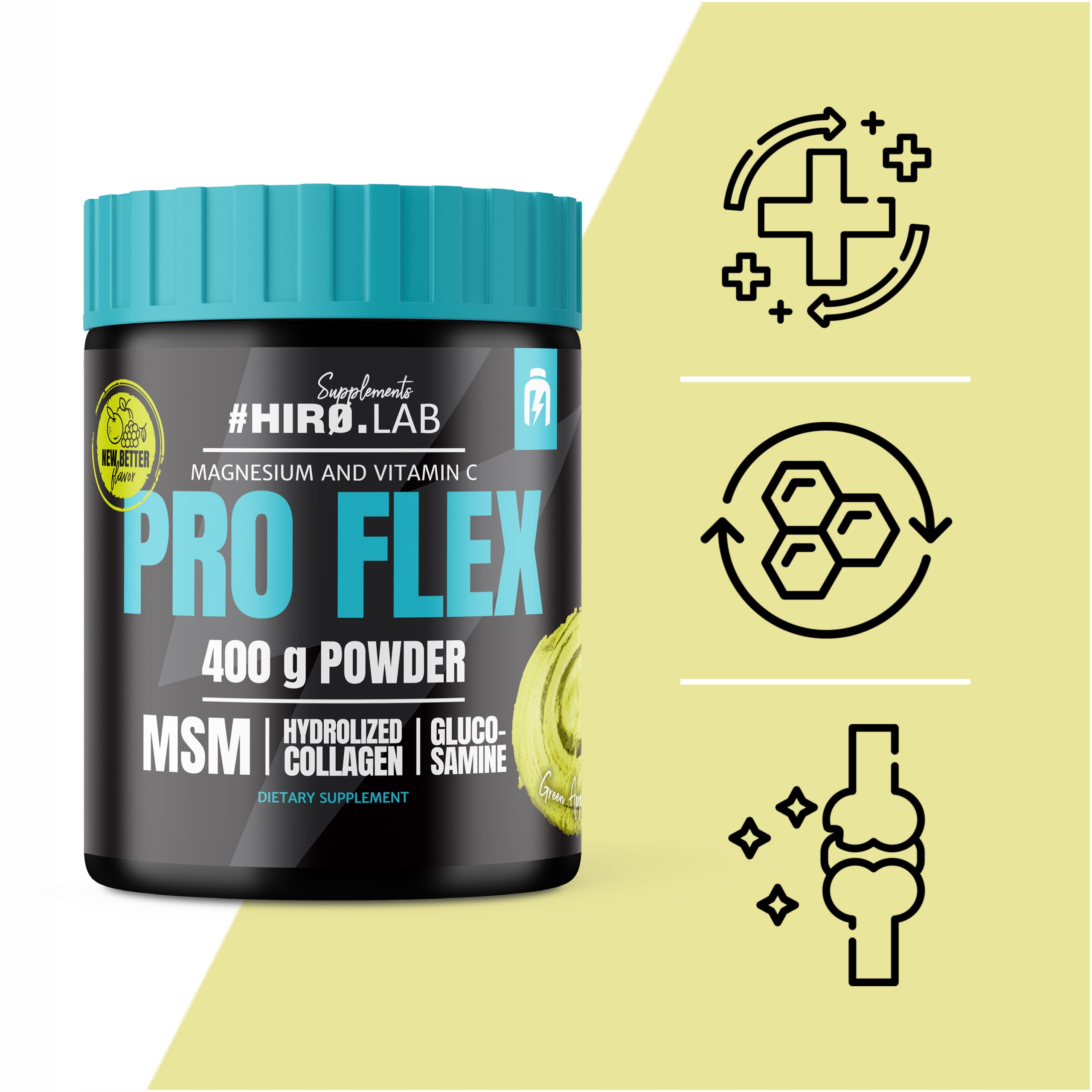 Regenerate your joints with Hiro.lab
Pro Flex by Hiro.Lab is a modern, multi-component dietary supplement that will provide comprehensive support for tendons and joints. It will reduce the risk of injury and is perfect for convalescence and as an element of prophylaxis. If your joints require support, Pro Flex is made for you. This multi-component, modern joint supplement is perfect for all athletes and more. Thanks to this, you will still be able to conduct intense strength and endurance training.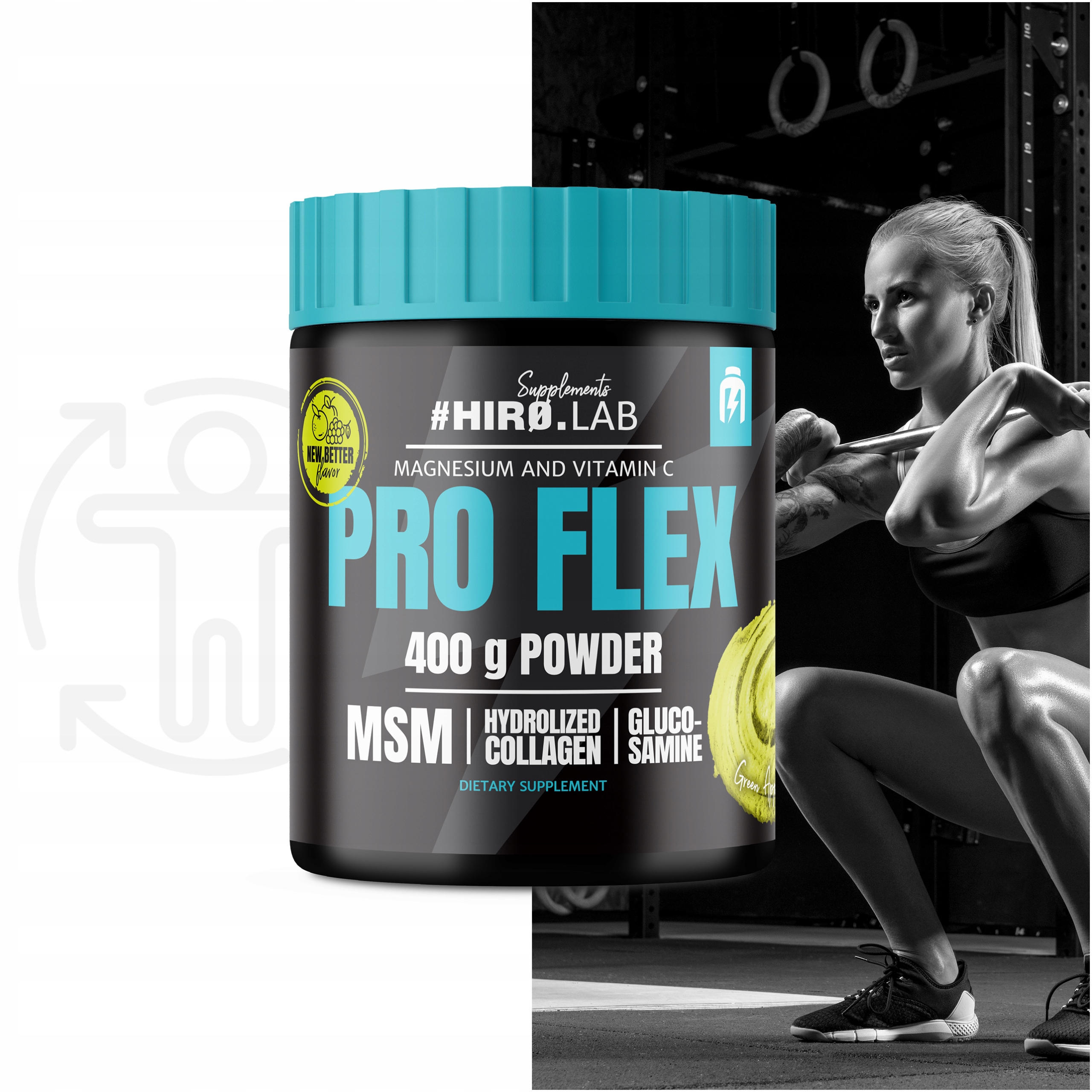 Improve your well-being with Pro Flex
Pro Flex by Hiro.Lab is a dietary supplement with an effective, comprehensive composition. Thanks to the combination of unique active ingredients, it is perfect both as an element of prophylaxis and convalescence. Thanks to this product, you will increase the mobility and flexibility of the joints, which will recover much faster after an injury. Many of us underestimate the role of prevention in everyday life. However, it is worth bearing in mind that damaged articular cartilage never heals together, it only becomes covered with scar tissue. That's why it's so important to prevent this kind of permanent damage, and you can do it regularly with Pro Flex.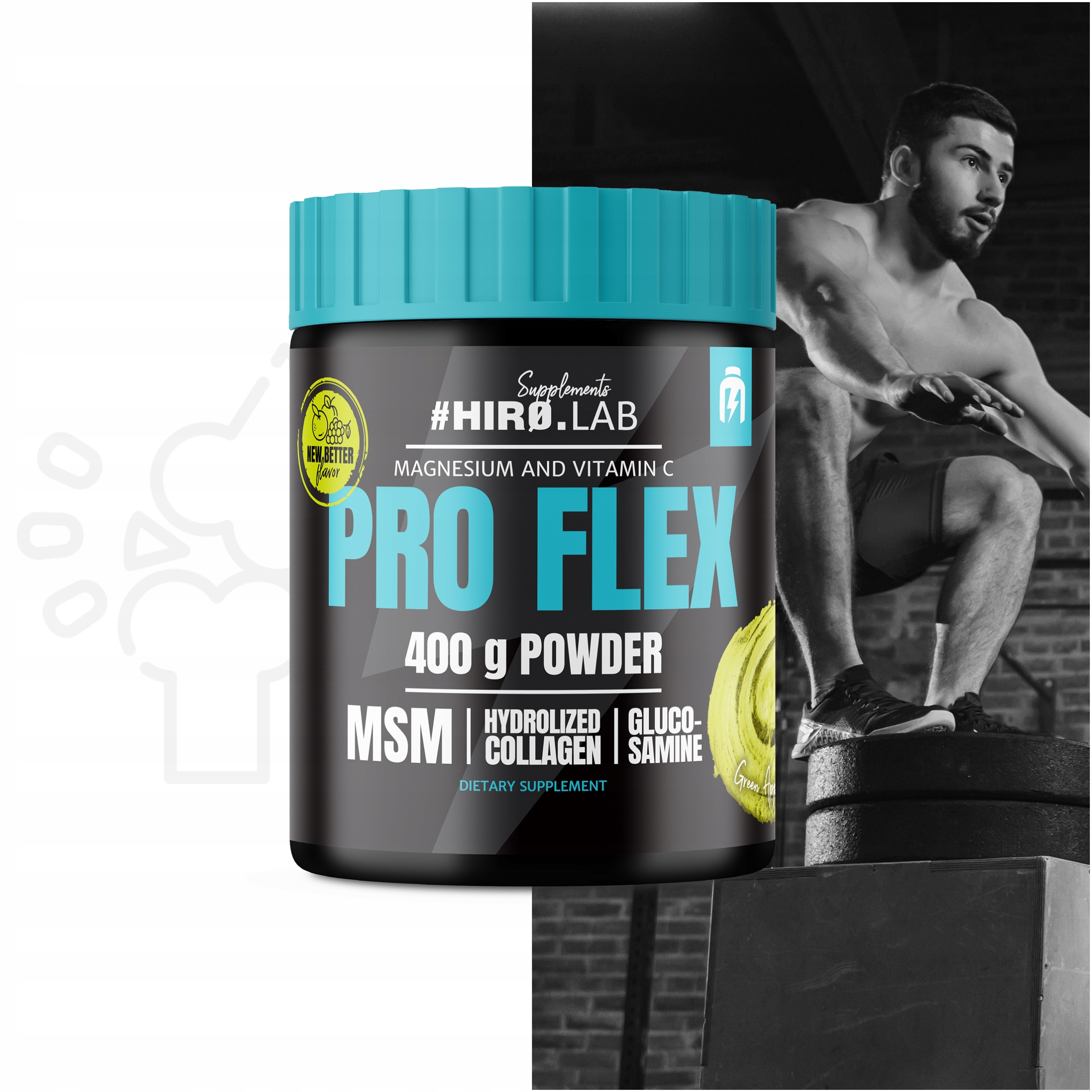 By purchasing Hiro.lab products, you help those in need.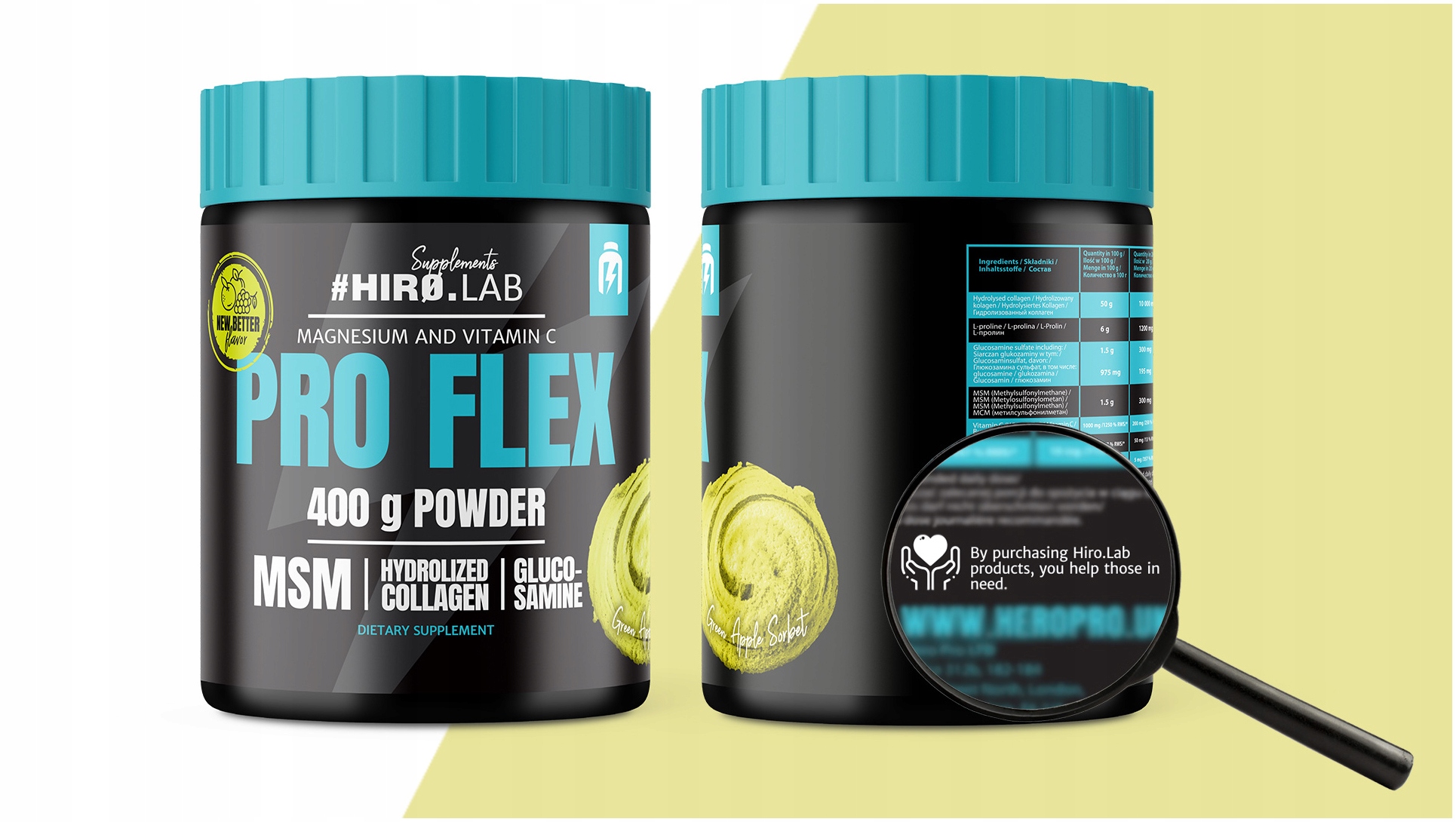 Ingredients
Portion: 20g
Servings in the package: 20
Packaging: 400g
Pro Flex Ingredients: Hydrolyzed collagen, maltodextrin, dextrose, l-proline, glucosamine sulphate (shellfish) including 65% glucosamine, MSM (methylsulphonylmethane), vitamin C (L-ascorbic acid), magnesium (magnesium citrate), vitamin B6 (pyridoxine hydrochloride), acidity regulator – malic acid, stabilizer – acacia, flavor, sweetener – sucralose.
This product is not intended to diagnose, treat, cure, or prevent any disease.
| Active ingredients | 100 g | 20 g | 40 g |
| --- | --- | --- | --- |
| Hydrolyzed collagen | 50 g | 10000 mg | 20000 mg |
| L-proline | 6 g | 1200 mg | 2400 mg |
| Glucosamine sulfate | 1,5 g | 300 mg | 600 mg |
| including glucosamine | 975 mg | 195 mg | 390 mg |
| MSM | 1,5 g | 300 mg | 600 mg |
| Vitamin C | 1 g | 200 mg | 400 mg |
| Magnesium | 300 mg | 50 mg | 100 mg |
| Vitamin B6 | 25 mg | 5 mg | 10 mg |
* Ingredients, grammage and nutritional values ​​may slightly differ depending on the flavor variant of the product.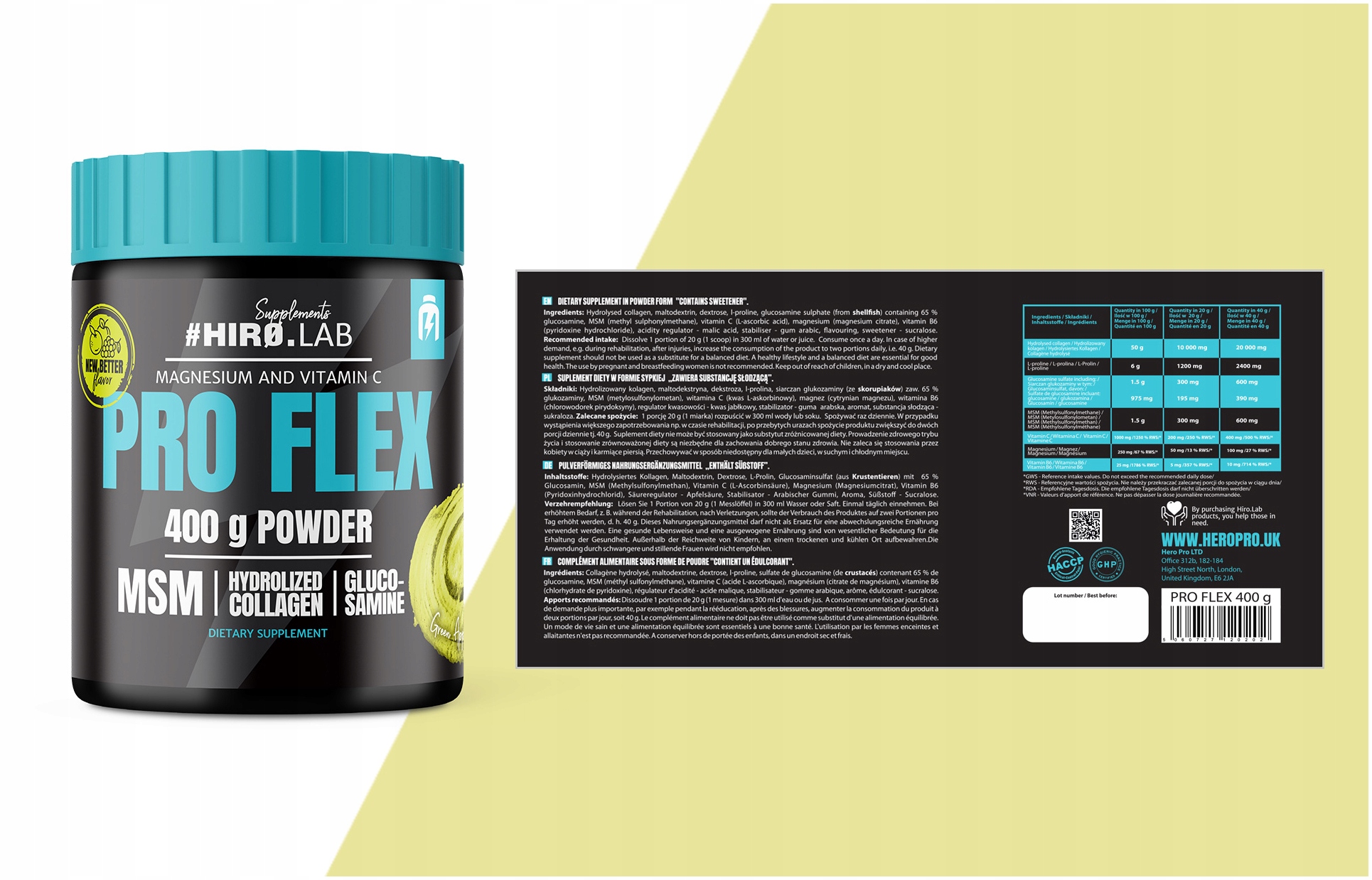 How to use pro Flex: Dissolve 1 portion of 20 g (1 scoop) in 300 ml of water or juice. Consume once a day. In the event of a greater demand, e.g. during rehabilitation, after injuries, increase the consumption of the product to two portions a day, i.e. 40g.
Dietary supplements cannot be used as a substitute for a varied diet. Remember that only a healthy lifestyle and a balanced diet ensure the proper functioning of the body and maintain good condition.
Do not exceed recommended servings for consumption during the day. The product cannot be used by people who are allergic to any of its ingredients. Keep out of the reach of small children. Store in a dry place at room temperature in tightly closed containers.
Best before end: date and batch number are on the side / bottom of the packaging.
Net weight: 400g