Description
Dear Customer! We ship products from many European countries. Orders shipped to the UK may incur customs charges.
⚡Laboratory-tested aminogram – check it
⚡ In 100g of the product, depending on the flavor variant, there is 81-86g of protein
⚡ Composition tested in a laboratory – check the bottom of the offer
⚡ The conditioner is characterized by good solubility
⚡ Exceptionally delicious taste
⚡ Free from gluten
⚡ Gentle on the digestive system
⚡ It will help build muscle mass
⚡ Very low in sugar and fat
Build mass with Whey Protein Isolate
Whey Protein Isolate from Hero.Lab is a great whey protein isolate, which in its composition has as much as 85% of valuable proteins. It will improve your performance and regeneration, and will help you develop lean muscle mass. It is HACCP and GMP certified. WPI, i.e. whey protein isolate, is not only delicious, easily digestible, but also does not cause any ailments in the digestive system. Thanks to the fact that it is low in calories and high in protein, it will help you quickly build the desired muscle mass! By taking it before, during or after training, you also ensure faster regeneration. What does it give you? You can train longer and harder!
No Digestion Problems
Stomach ache? Not your problem! The use of protein supplements brings many benefits, but lots of people complain about digestive discomfort accompanying their intake. It's all because of lactose, which often causes stomach cramps and bloating. By choosing a protein supplement from Hiro.Lab, this problem will be forgotten! Lactose is nothing more than sugar, but if you have problems with digesting it, you don't have to give up using a protein supplement. The product from Hiro consists of at least 80% protein and a small amount of lactose. That's because of microfiltration process, which cleans the proteins from unnecessary additives. In the end, you get exactly what you need without causing digestive discomfort. Its composition has been laboratory tested – full tests can be found at the bottom of the offer.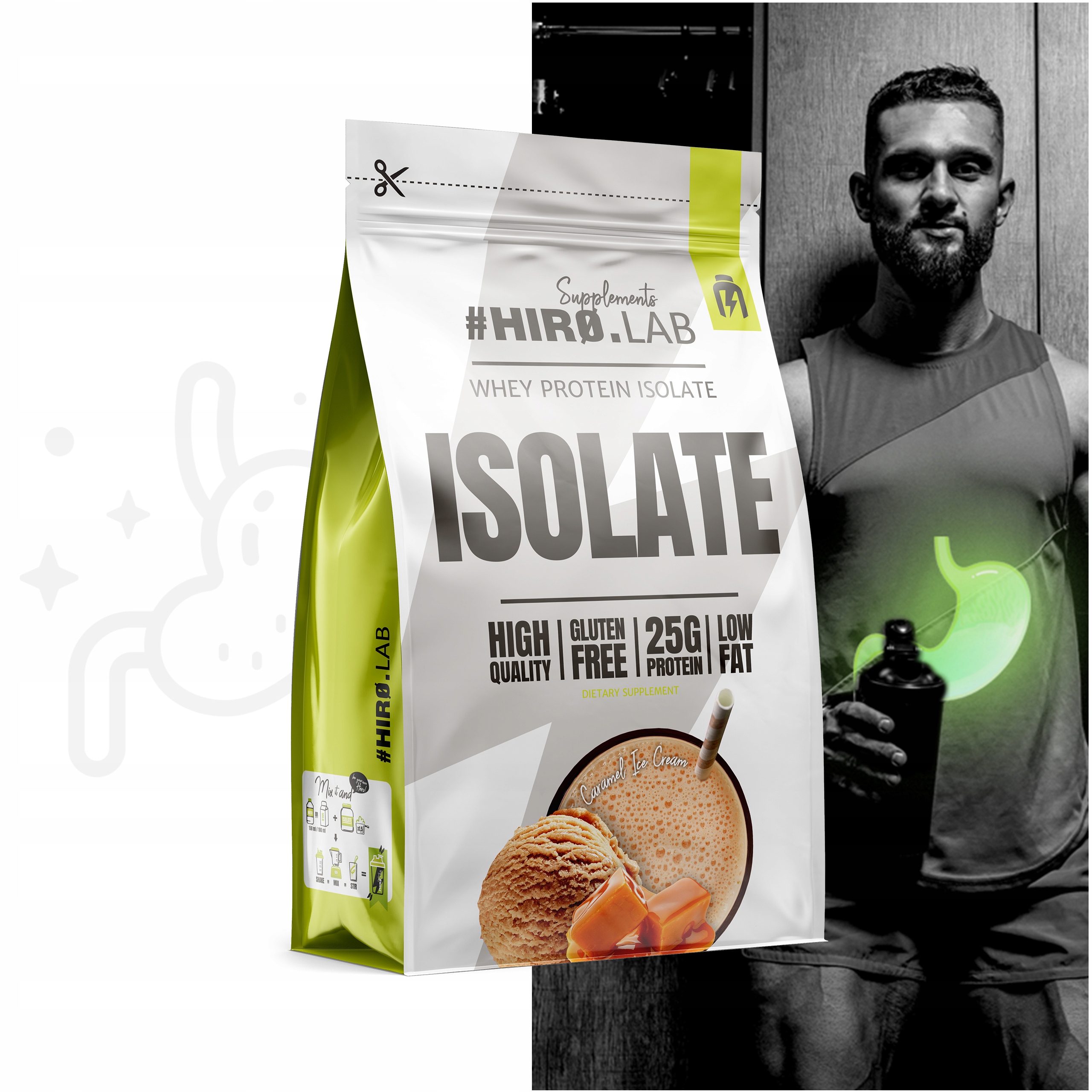 Supplement protein with isolate from Hiro.Lab
Whey Protein Isolate is a great product for everyone. physically active person. As much as 85% of its composition is protein, it has little sugars and carbohydrates, which is a guarantee that you provide only what you need. What is very important, this conditioner has a unique taste and solubility that make you want to come back to it. Protein supplements have been created for those people who need to supplement the body's demand for this important ingredient from the outside. Thanks to WPI, it's easier to build a muscular figure without unnecessary fat. And that's what we all dream about!
High quality protein supplement
The conditioner offered by nad comes in so many flavors to choose from that everyone will find something for themselves. Stop boredom with Whey Protein Isolate from Hiro.Lab! WPI is easily assimilated by the body, so it can also be used by people who want to avoid discomfort from the digestive system. In addition, the conditioner from Hiro.Lab meets such quality marks as: HACCP and GMP. Therefore, you can be sure that you are getting the best.
Absorption of the isolate
There are some differences between the concentrate and the whey protein isolate that make them worth using differently. Whey Protein Isolate should be taken about 60 minutes before training or 10 minutes after its completion. Its absorption begins approximately 35 minutes after taking it and lasts for about 1 hour 45 minutes. When preparing protein shakes, it is also worth remembering not to use less than 300 ml of water per serving. This is because whey protein tends to dehydrate the digestive tract. Which in turn leads to poor bowel function and irregular bowel movements.
How to use Whey Protein Isolate
You can mix the conditioner from Hiro.Lab in both water and milk, thanks to which you get more variety that you won't get bored of quickly! Thanks to the use of the microfiltration method, the product is easily digestible, tasty and quickly absorbed. This protein shake is low in calories and virtually free of sugars and fats. Therefore, it is a valuable meal on a low-calorie diet, or a great snack! When using a protein supplement, remember not to take it immediately after exercise. Waiting 20-30 minutes will allow your body to absorb nutrients more efficiently, and you will prevent stomach ache.
Tests confirming the quality of the product
Hiro.Lab is a valued manufacturer from the UK. Their products are so unique because they offer excellent quality of the raw material, good digestibility and numerous flavor variants. Find out which one will steal your heart. The Hiro.Lab brand publishes a full study of its isolate, which contains not only information on the dry weight of the protein, but also a full amino acid profile confirming the high quality of the protein supplement. You can see the full research  here.
Ingredients
Portion: 30g
Portions in package: 23
Package: 700g
Ingredients Whey Protein Isolate: whey protein isolate (from milk), stabilizer – gum arabic, acidity regulator: malic acid (1*), salt (2*), emulsifier – lecithins (from soy), emulsifier – lecithins (from sunflower), aroma, sweetener – sucralose. May contain egg white and nuts. (1* for fruit flavors, 2* for salty flavors)
This product is not intended to diagnose, treat or prevent any disease.
| Nutritional value | 100 g | % DV | 30 g | % DV |
| --- | --- | --- | --- | --- |
| Energy value | 1566 kJ / 369 kcal | 19% | 470 kJ / 111 kcal | 6% |
| Fat | 2,9 g | 4,1% | 0,9 g | 1,2% |
| of which saturated fat | 2 g | 10% | 0,6 g | 3% |
| Carbohydrates | 4,8 g | 1,8% | 1,4 g | 0,6% |
| of which sugar | 4,6 g | 5,1% | 1,4 g | 1,5% |
| Protein | 81 g | 162% | 24 g | 49% |
| Salt | <0,3 g | <5% | <0,1 g | <1,7% |
| Whey Protein Isolate (from milk) | 87.5g | – | 26.3g | – |
** Reference intake value for an average adult (8400 kJ / 2000 kcal)
* Ingredients, grammage and nutritional values ​​may slightly differ depending on the flavor variant of the product.
Usage
Directions for use Whey Protein Isolate: Dissolve 1 portion of 30g (1.5 scoops) in 150-180ml of water or milk. Consume 1-3 times a day depending on your needs. Consume immediately after preparation. It is recommended to replenish fluids while exercising. Daily protein intake by athletes should be 1.2g-1.4g protein/kg bw/day. The human body can use only 30-40g of protein substances at a time.
Dietary supplements cannot be used as a substitute for a varied diet. Remember that only a healthy lifestyle and a balanced diet ensure the proper functioning of the body and maintaining good condition.
Do not exceed recommended servings for consumption during the day. The product cannot be used by people who are allergic to any of its ingredients. Keep out of the reach of small children. Store in a dry place at room temperature in tightly closed containers.
Best before end: date and production batch number are on the side/bottom of the packaging.
Net Weight: 700g
Tests: