Description
Dear Customer! We ship products from many European countries. Orders shipped to the UK may incur customs charges.
Save money and buy cheaper in a set
83 portions of Whey Protein Isolate will help you build your lean muscle mass much more faster
You receive a convenient and durable water bottle with large capacity of 1890 ml – Water Jug Hiro.Lab
We present you new Whey Protein Isolate 1800g, and we want to offer you a unique opportunity to buy it in a set: 1800g + 700g with Water Jug Hiro Lab. This way you will not only save money, but also you can enjoy whey protein isolate much longer. 2500g of Whey Protein Isolate is enough for 83 servings. You can take a small Whey Protein Isolate with you to the gym, work or university.  On the other hand, the large one is perfect for home use, and it lasts for long time.
Whey Protein Isolate
Whey Protein Isolate is an excellent source of protein – it contains 85% of valuable protein and a negligible amount of sugar. Hiro.Lab WPI has great solubility and delicious taste. You can choose between 14 varied flavors.
WPI – for your body and well-being
Protein supplement from the highest quality ingredients
Quickly absorbable and easily digestible whey protein
Supports muscle growth and helps to recover muscle tissue
Does not cause unpleasant digestive problems
Quality confirmed by laboratory test
Due to its outstanding protein content, Hiro.Lab Whey Protein Isolate is a perfect choice for active athletes who make all efforts to achieve lean and muscular body. But not only – it can also be a great alternative for people on diet.
If you often have digestive problems and struggle with symptoms such as heartburn, gases and flatulence, you are probably lactose intolerant. You may think that in this case you should stop taking protein supplements, but it is not true. Choose a protein supplement Whey Protein Isolate and forget about digestive problems.
Whey Protein Isolate – no lactose, carbohydrates and fats
WPI consists of more than 80% pure protein and little lactose. It is a huge advantage for people with lactose intolerance. What is more, Isolate contains much fewer carbohydrates and fat than whey concentrate. Isolate is a great choice for people who try to lose extra weight.
Hiro.Lab protein isolate was created primarily for people who have digestive problems after taking an ordinary protein supplement. As a result of the microfiltration process, you receive a Whey Protein Isolate deprived of unnecessary sugars and fats. It also does not contain artificial sweeteners and alcoholic sugars.
Even though the Hiro.Lab Isolate has been deprived of fats and carbohydrates, it still has an excellent taste and great solubility. As a result of an advanced production process, the Hiro.Lab Isolate is well absorbed to the body and provides you with everything you expect from a high-quality protein supplement.
Consume isolate before or after training, depending on your needs. Hiro.Lab specialists, however, recommend consuming Whey Protein Isolate after training, when the muscles need regeneration. The advanced formula of the supplement supports the activation of regeneration process after intense physical activity.
Reach your goals with Whey Protein Isolate
Hiro.Lab Iso Whey Protein positively affects your performance, faster your recovery and lower the amount of body fat. It has an impact not only on your physical appearance, but also on your well-being. It will help you achieve your body and training goals much faster.
Excellent product quality
Whey Protein Isolate help you to meet your body's protein needs. Specialists from Hiro.Lab know that it might not be easy to deliver the right amount of protein in an everyday diet. Protein powder is a quick and easy solution – it's easy to mix and tastes good. It comes in many different flavors, so you won't get bored. Whey Protein Isolate does not cause unpleasant ailments from the digestive system.
Like all Hiro.Lab products, Whey Protein Isolate consists of safe and carefully selected ingredients, which contributes to high quality of the supplement. By choosing this Isolate you can be sure you're choosing what's best for your body and your goals. Especially for you, we publish a full study of our isolate. The study contained not only information on the dry matter of protein, but also the full amino acid profile confirming the high quality of the protein supplement.
Water Jug 1,89l
The Water Jug Hiro.Lab is designed to help you stay hydrated! It holds 1.89 liter of water, so there's no need for you to waste your time refilling your water bottle. It is perfect for everyone who takes care of proper hydration and always want to have a water bottle with them.
Our plastic is  made of premium PETG material, 100% BPA free. It's safe for your health – you'll always be drinking clean water. With the Water Jug Hiro Lab there will be nothing between you and crushing the proper amount of water per day!
Large capacity – 1.89 litres
BPA free
Wide-mouth opening
Strong and durable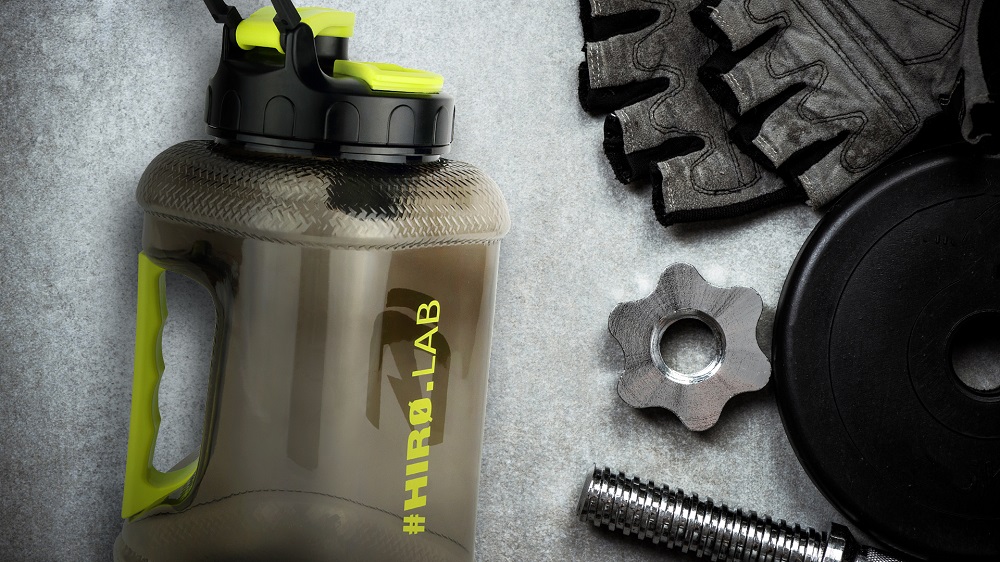 Stay hydrated with Water Jug Bottle
Water bottle HiroLab was designed to simplify your daily intake of water. That's why it has a large capacity of 1.89L – the amount of water you should consume every day.  You work hard, you train hard and your body needs water. Water is crucial when it comes to proper functioning of the whole human body. Hydration impacts regulation of body temperature, delivery of nutrients and organs functioning. However, we often forget about providing the right amount of water to the body. But with the Water Jug staying hydrated will be much easier. It's easy to carry around, so you won't forget about drinking water.
Convenient and durable
An easy grip handle and strong carrying strap makes the Water Jug Bottle suitable not only for gym, but other activities and everyday life. No matter if you want to take go hiking, cycling, walking, running and to office your water bottle will be easy to carry around.
It has wide-mouth opening, which makes it easy to clean and add supplements, fruits or ice. It is equipped with integrated convenient handle and a strap, which prevents the cap from losing.  Water Jug has a convenient size to transport, store and hydrate.
How to use Whey Protein Isolate?
Suggested use: Dissolve 1 serving of 30g (1.5 scoops) in 150-180ml of water or milk. Consume 1-3 times a day depending on your needs. Consume immediately after preparation. It is recommended to replenish fluids while exercising. Daily protein intake by athletes should be 1.2g-1.4g of protein / kg bw / day. The human body can use only 30-40 g of protein substances at a time.
Whey Protein Isolate – Ingredients
Ingredients: whey protein isolate (from milk), emulsifier – lecithin (from soy), emulsifier – lecithin (from sunflower). May contain egg white and nuts.
| Nutritional value | 100 g | % DV | 30 g | % DV |
| --- | --- | --- | --- | --- |
| Energy | 1566 kJ / 369 kcal | 19% | 470 kJ / 111 kcal | 6% |
| Fat | 2,9 g | 4,1% | 0,9 g | 1,2% |
| of which saturated fat | 2 g | 10% | 0,6 g | 3% |
| Carbohydrates | 4,8 g | 1,8% | 1,4 g | 0,6% |
| of which sugar | 4,6 g | 5,1% | 1,4 g | 1,5% |
| Protein | 81 g | 162% | 24 g | 49% |
| Salt | <0,3 g | <5% | <0,1 g | <1,7% |
| Whey Protein Isolate (from milk) | 87.5g | – | 26.3g | – |
** Reference intake value for an average adult (8400 kJ / 2000 kcal)
* Ingredients, grammage and nutritional values ​​may slightly differ depending on the flavor variant of the product.