Description
Dear Customer! We ship products from many European countries. Orders shipped to the UK may incur customs charges.
⚡ High concentration of Vitamin D3
⚡ Better absorption of calcium and phosphates
⚡ Support for your bones and muscles
⚡ It improves your mood and gives you energy
⚡ Immunity support
⚡ Vitamin D3 from Hiro.Lab supports the circulatory system
⚡ Product tested for purity – check it.
A high dose of Vitamin D3 from Hiro.Lab
Vitamin D3 known as "Vitamin of the Sun" is produced by your body as a hormone. It happens, however, that the demand for this vitamin is greater and its deficiencies will help you supplement Vitamin D3 by Hiro.Lab. If you give your best every day, both at work and in the gym, a supportive dose of immunity is essential. Do not let an unexpected infection meet you and knock you out of the rhythm. Vit D3 Hiro supports the absorption of calcium, which will improve the strength and endurance of your bones! Your well-being will remain at a high level, and you will always have the strength and energy to act! Importantly, the product has been tested for purity, and you can see the full test here.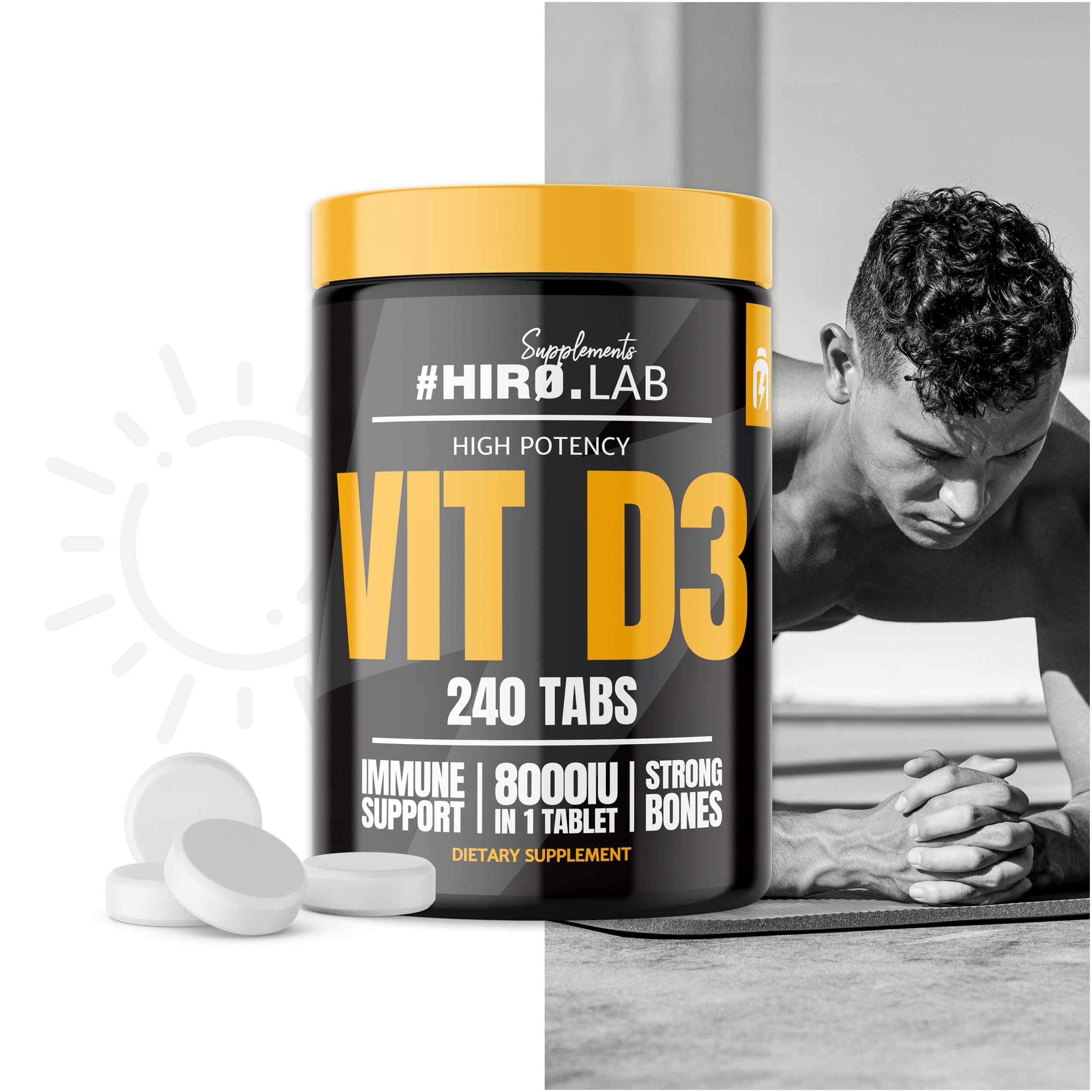 Vitamin D3 benefits your body
Vitamin D3 from Hiro.Lab will improve the functioning of your body on many levels, starting from supporting immunity, through improving the absorption of calcium and phosphorus, and will also strengthen your skeletal system. In this way, you will increase the strength and efficiency of your body and protect yourself from harmful factors. You will get the right amount of vitamin D by supplementing with Hiro.Lab Vit D3, because few foods contain this ingredient, so it can be very difficult to assimilate it only in the diet. In turn, the supplement guarantees the maximum daily requirement for vitamin D3, preventing all the effects of its deficiency.
Healthy bones and muscles with Hiro.Lab Vit D3
Getting the right amount of Vitamin D3 is essential for the health of your bones and skeletal muscles. Its lack results in a deficiency of calcium, i.e. their basic foundation, which in turn manifests itself in the appearance of cavities and thus leads to fractures or significant weakness. Adequate level of vitamin D in the body helps to improve muscle strength, it is very important for training and the elderly. Vitamin D3 from Hiro.Lab has a positive effect on bones, activating the expression of genes that improve calcium absorption. It also regulates the process of protein synthesis, which leads to an increase in muscle mass and a delay in the appearance of fatigue.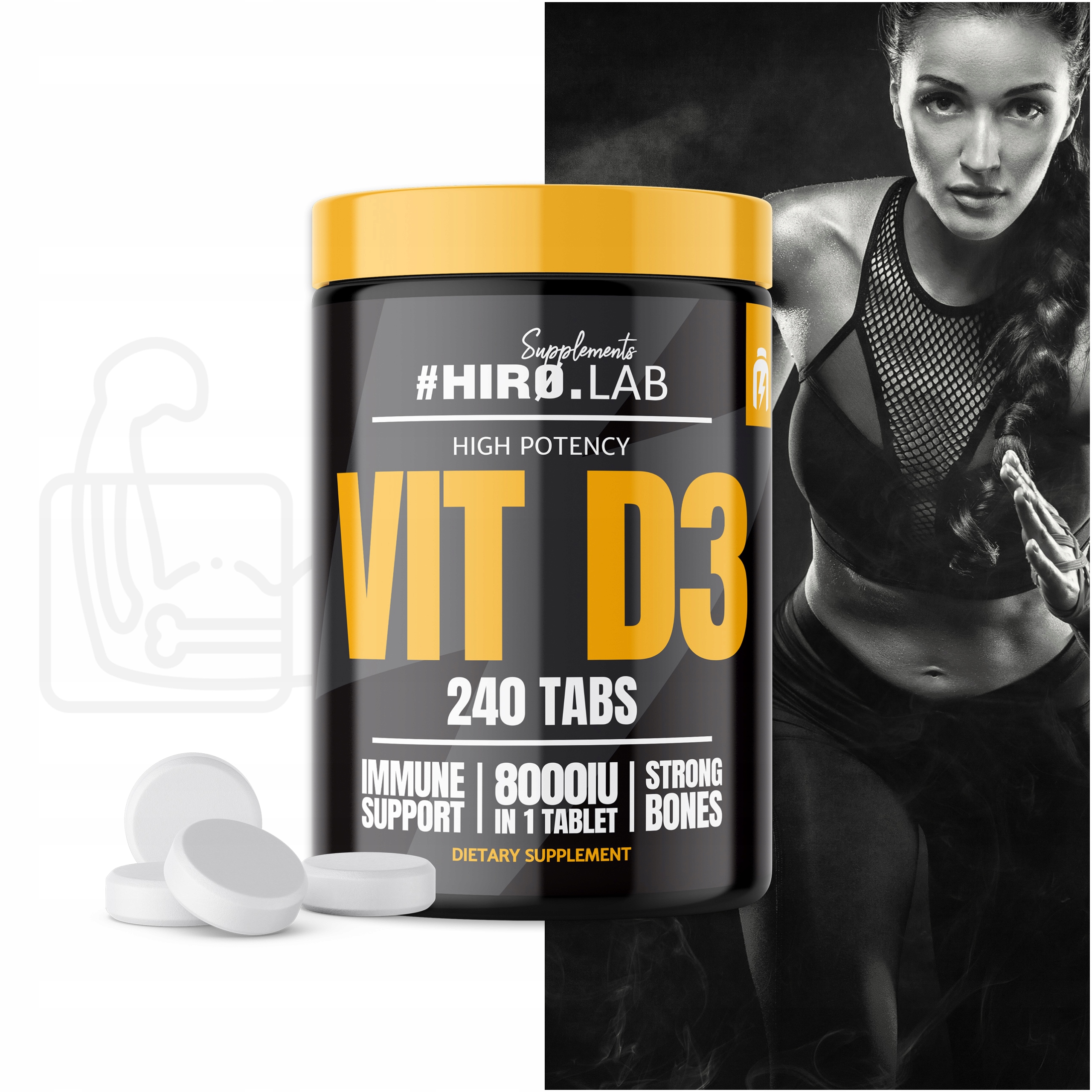 Immunity and a good mood with Vitamin D3
Vitamin D3 supplementation from Hiro.Lab is crucial for immunity. It regulates cell production and prepares the body to defend itself against infection in the event of an infection. In addition, it has a good effect on the improvement of cognitive functions, as it plays an important role in the regulation of neurotransmitters and in the development and repair of nerves. Limited access to sunlight causes low levels of vitamin D in the bloodstream, which worsens your mood. Systematic intake of vitamin D3 regulates well-being, supports proper sleep and prevents discouragement.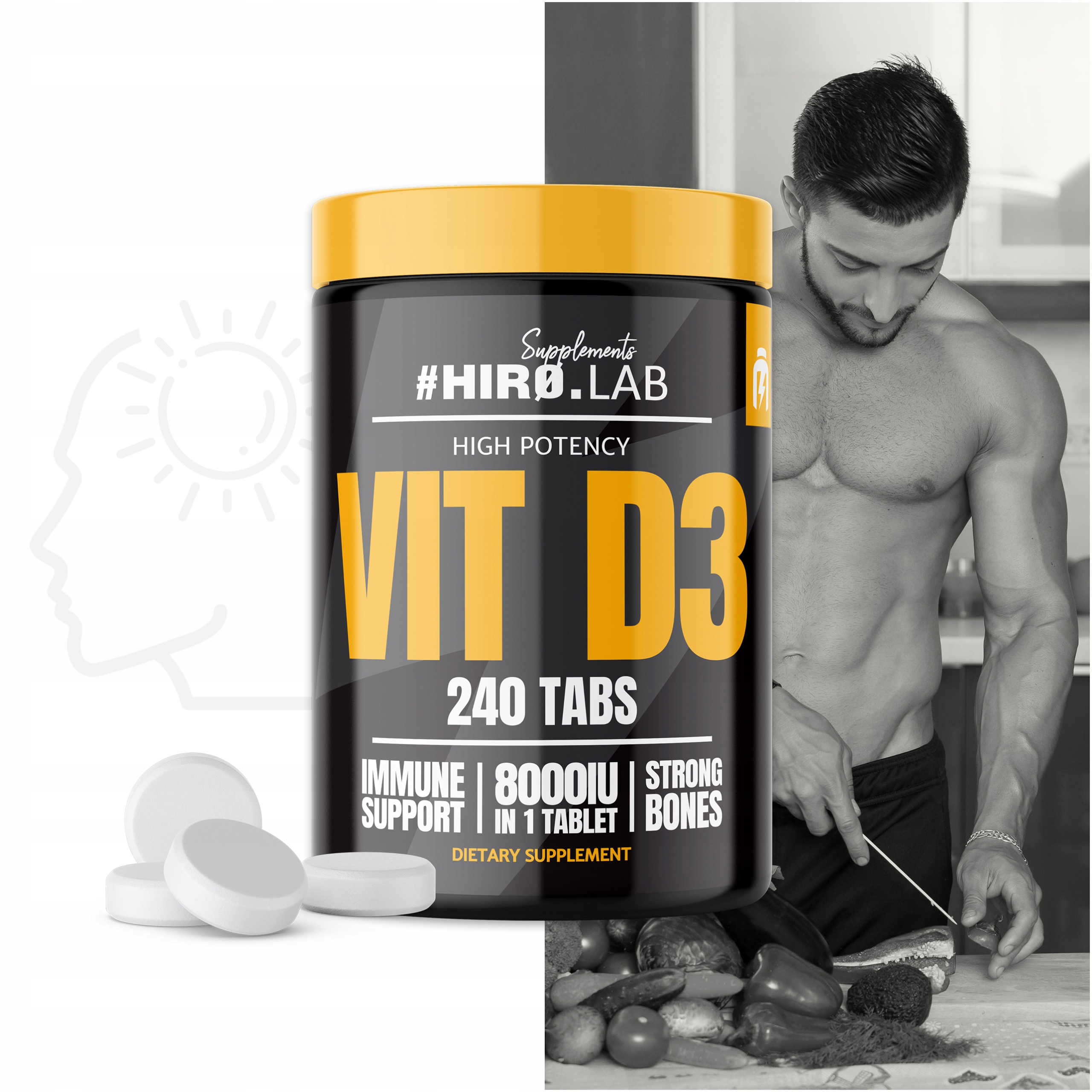 Hiro.Lab teams up with Cancer Fighters to fight cancer!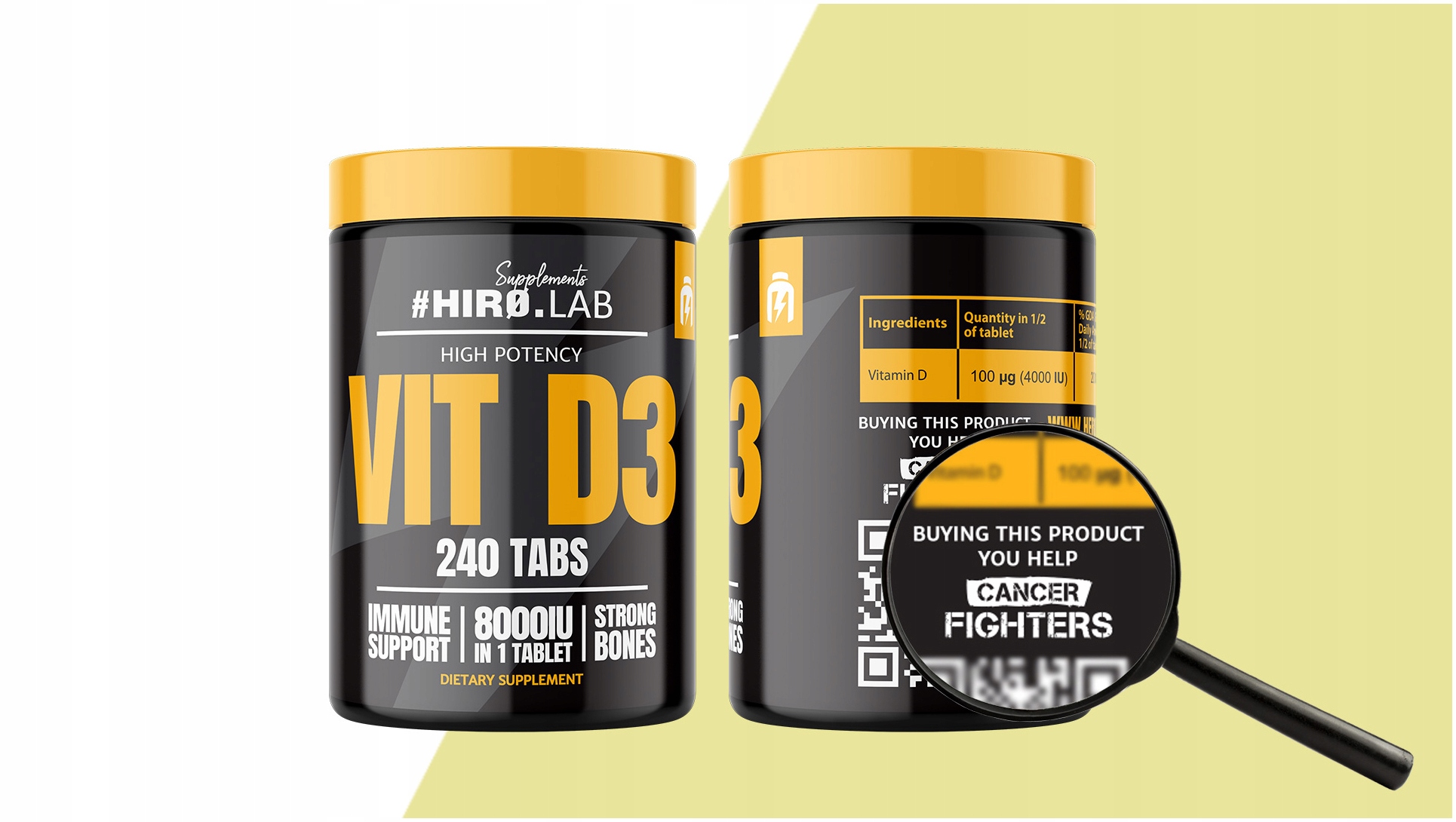 Ingredients
Portion: 1/2 tab (4000 IU)
Servings in the package: 480
Pack:  240
Ingredients Vitamin D3: Bulking agent – microcrystalline cellulose, vitamin D (cholecalciferol), tablet coating (glazing agent – hydroxypropyl methylcellulose, polydextrose bulking agent, dye – calcium carbonate, medium chain triglycerides, anti-caking agent – talc), anti-caking agent – talc), anti-caking agent – magnesium anti-caking agent , anti-caking agent – silicon dioxide.
| Active Ingredients | in portion 1/2 tab | *RWS |
| --- | --- | --- |
| Vitamin D | 100 µg (4000IU) | 2000% |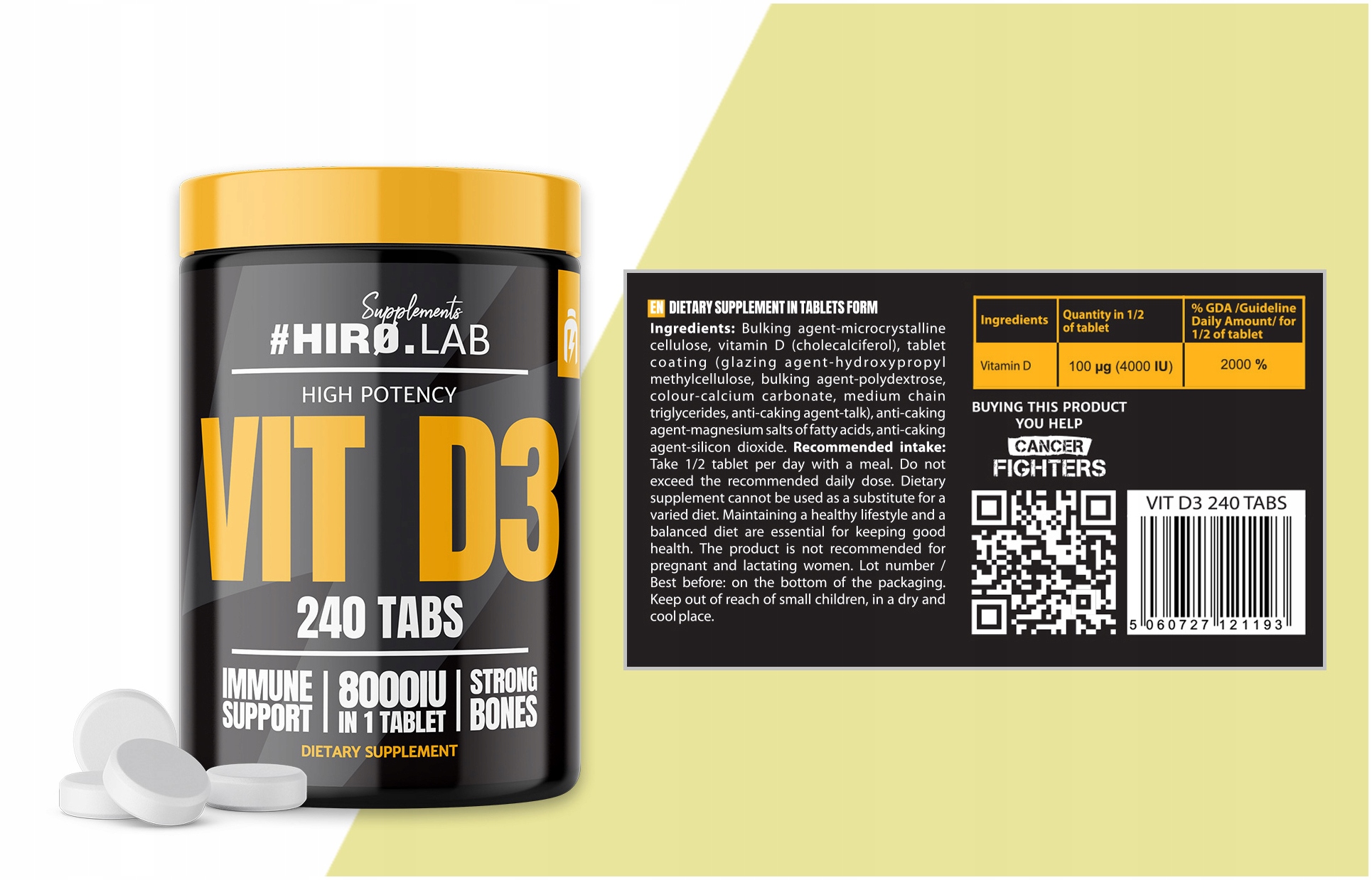 Usage
How to use Vitamin D3: Consume ½ tablets once a day before a meal
Dietary supplements cannot be used as a substitute for a varied diet. Remember that only a healthy lifestyle and a balanced diet ensure the proper functioning of the body and maintain good condition.
Do not exceed recommended servings for consumption during the day. The product cannot be used by people who are allergic to any of its ingredients.
Keep out of the reach of small children. Store in a dry place at room temperature in tightly closed containers.
It is not recommended to be consumed by pregnant and lactating women.
Best before end: date and batch number are on the side / bottom of the packaging.
Net weight: 240 tabs