Description
Dear Customer! We ship products from many European countries. Orders shipped to the UK may incur customs charges.
⚡ Hiro.Lab D3 + K2 MK7 to support your bones
⚡ Regulates calcium metabolism
⚡ Supports the functioning of the circulatory system
⚡ Higher absorption of vitamins
⚡ You will take care of your body's immunity
⚡ Your bones will be healthy and strong!
⚡ Product tested for purity – check it
Vitamin complex D3 + K2 MK7 from Hiro.Lab
If you train, your body needs vitamins and minerals. Sometimes a good diet may not be enough to maintain your full strength. To stop the loss of power and get stronger, the Hiro.Lab brand has developed a D3 + K2 supplement. The combination of these two vitamins is a support for your immunity, a way to strengthen bones and protect against infections. The vitamin K2 MK7 present in the product, the so-called menaquinone, is highly absorbable and remains in the bloodstream for a long time. Most importantly, our supplement has been tested for purity – you can see the full test here. Check out the D3 + K2 dietary supplement from Hiro.Lab, and your growing muscles will be grateful for your additional support!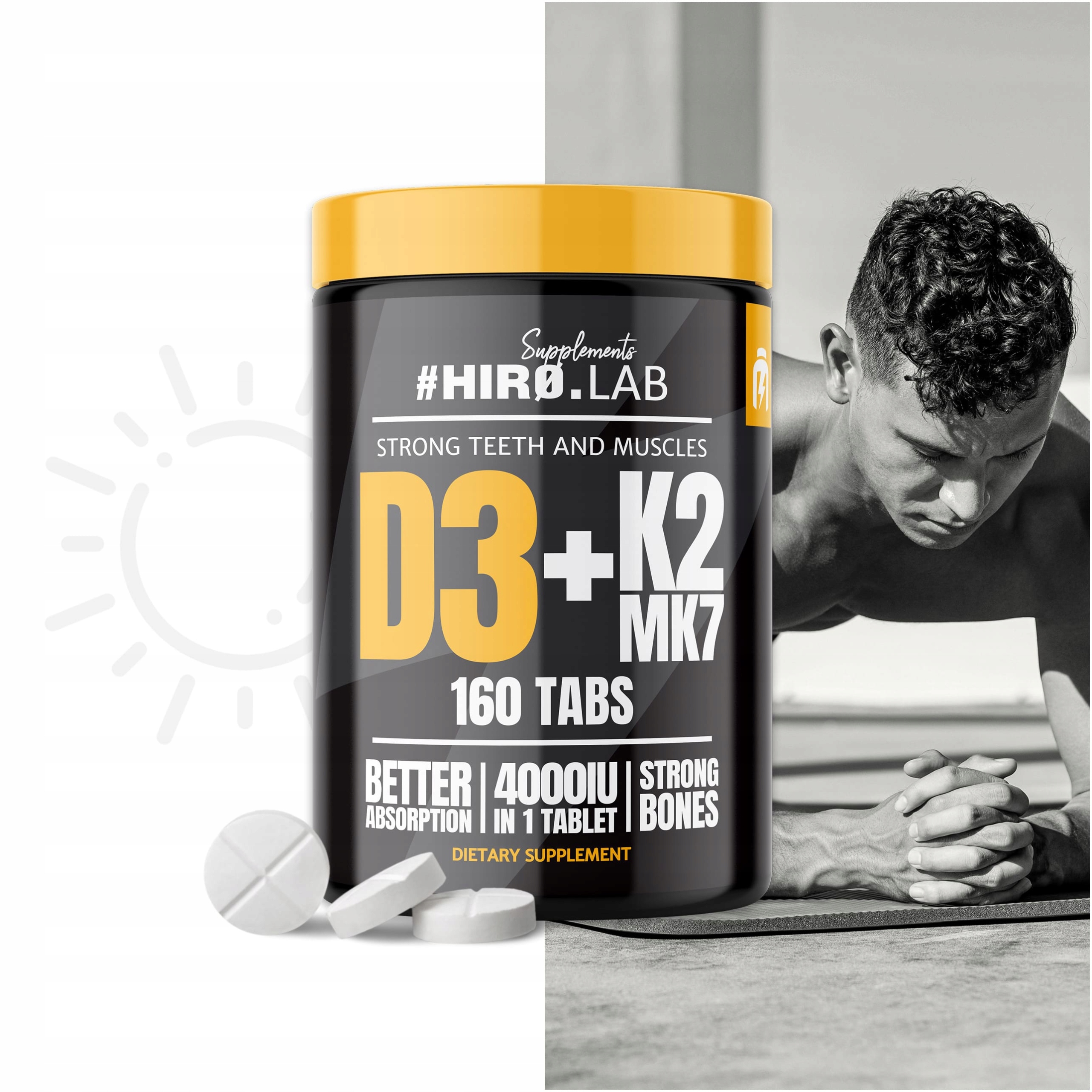 Perfect performance of Hiro.Lab D3 + K2
Taking supplements systematically is important to your development, especially if you train regularly. The D3 + K2 dietary supplement is a perfect combination of ingredients that together show the best effect. Vitamin K2, without combining it with vitamin D3, has virtually no benefit. Their main task is to regulate calcium activity and keep bones strong. Without adequate amounts of K2 and D3, calcium is not absorbed properly. Vitamin D3 ensures its better absorption, and vitamin K2 directs it to the bones and teeth, thanks to which it does not accumulate in the blood vessels.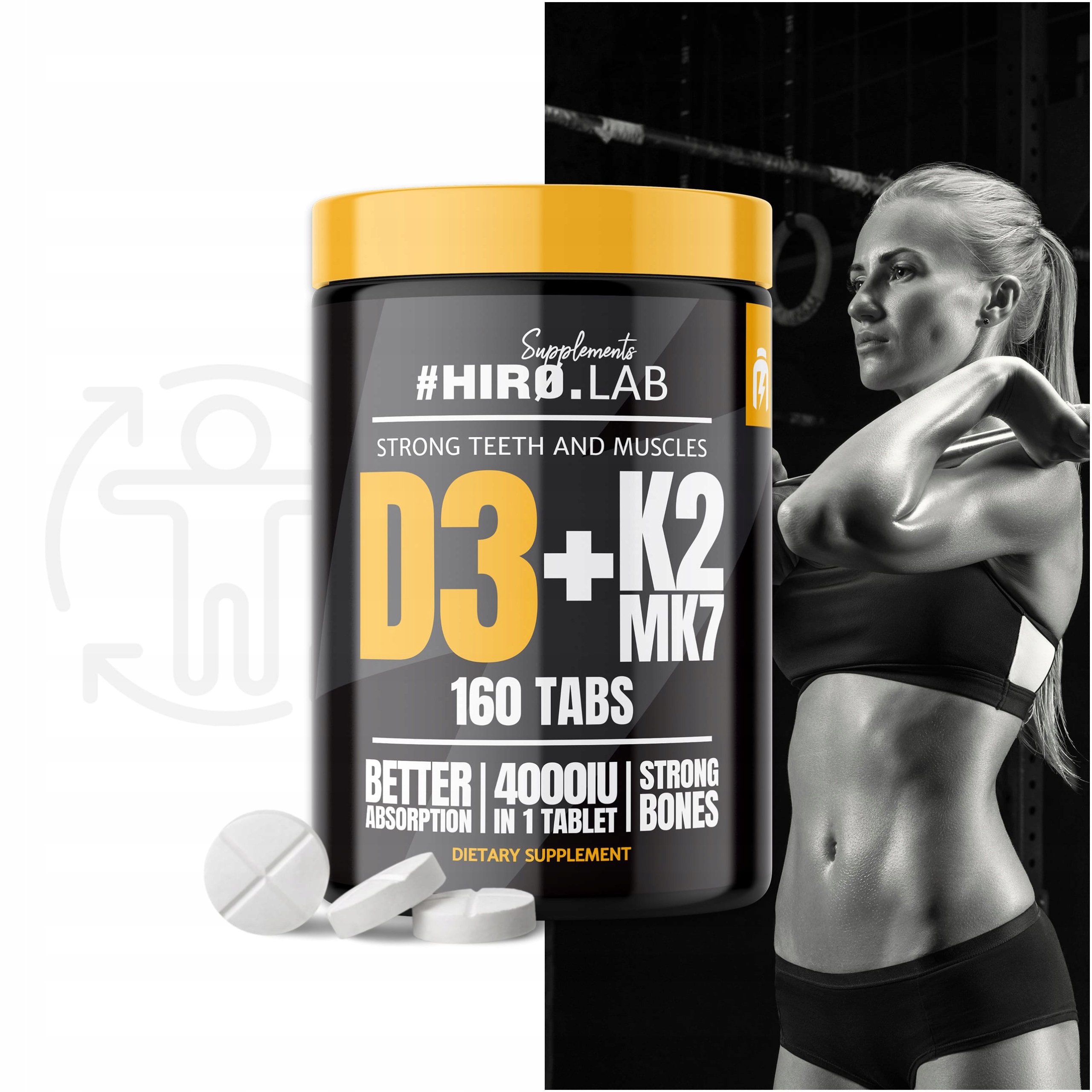 D3 + K2 supports your body
Vitamin D3, known as the "Vitamin of the Sun", plays an important role in regulating the immune system, which helps prevent weakness. D3 has a positive effect on mood and keeps you motivated to exercise. It is also present in the production of serotonin and promotes the regeneration of the body during sleep. Vitamin K2 MK7, on the other hand, regulates the functioning of the circulatory system and improves wound healing. This is important for keeping your heart working properly, especially if you are engaged in vigorous exercise. The ability of vitamin K2 to lower blood sugar is also responsible for the overall strength and fitness of your body.
Improve your Hiro.Lab D3 + K2 sports performance
The foundation in building a sports figure are strong bones, which are supported by the D3 + K2 supplement from Hiro.Lab, activating protein molecules, thanks to which they can support the skeletal system. In addition, it supports the metabolism of electrolytes and the synthesis of protein fibers, which allows your body to gain strength and regenerate faster, so you can continue to give your best to the gym. By cleansing the blood vessels with vitamin K2, the heart rate is strengthened, which increases blood and oxygen levels, thanks to which you gain additional strength and power during intense training.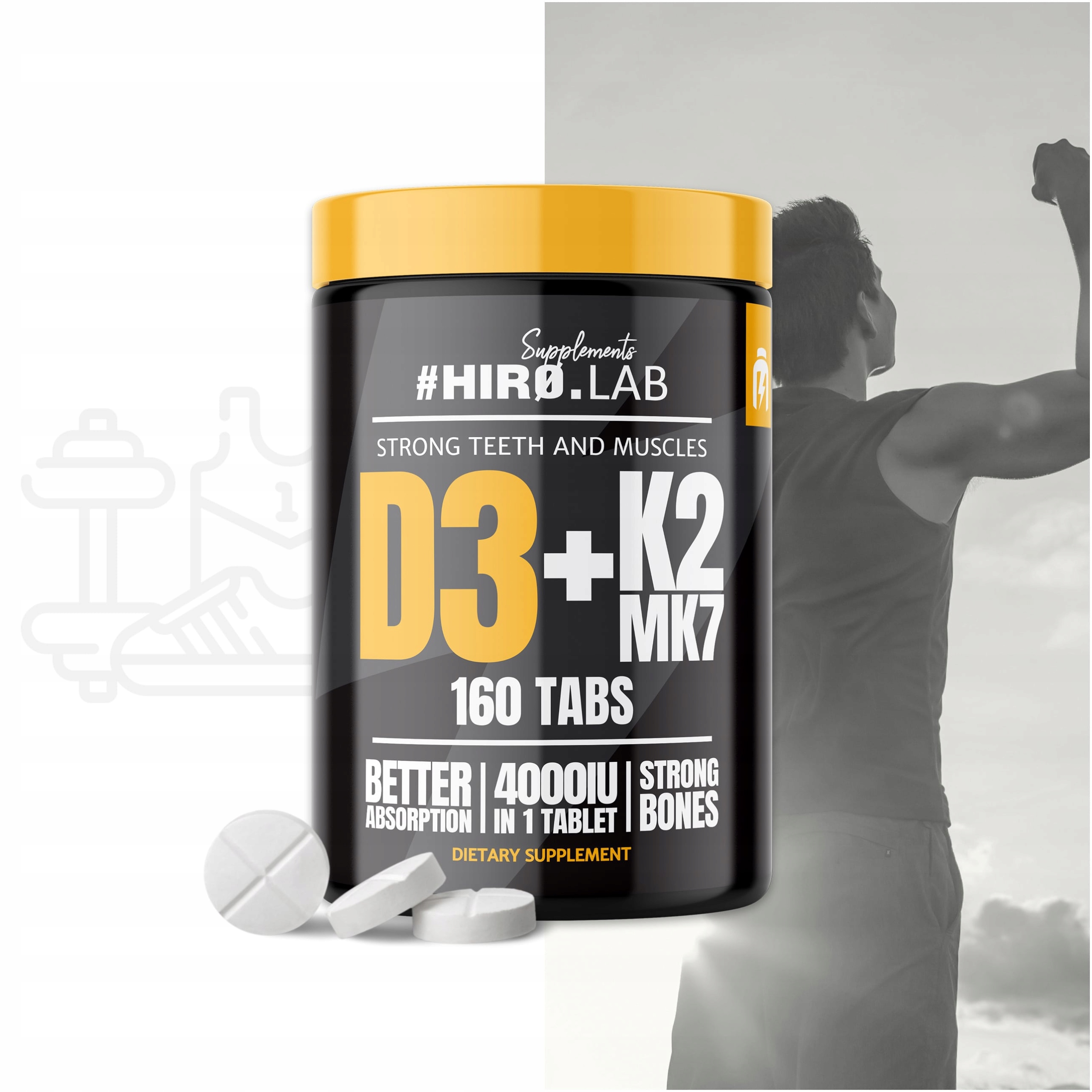 Hiro.Lab teams up with Cancer Fighters to fight cancer!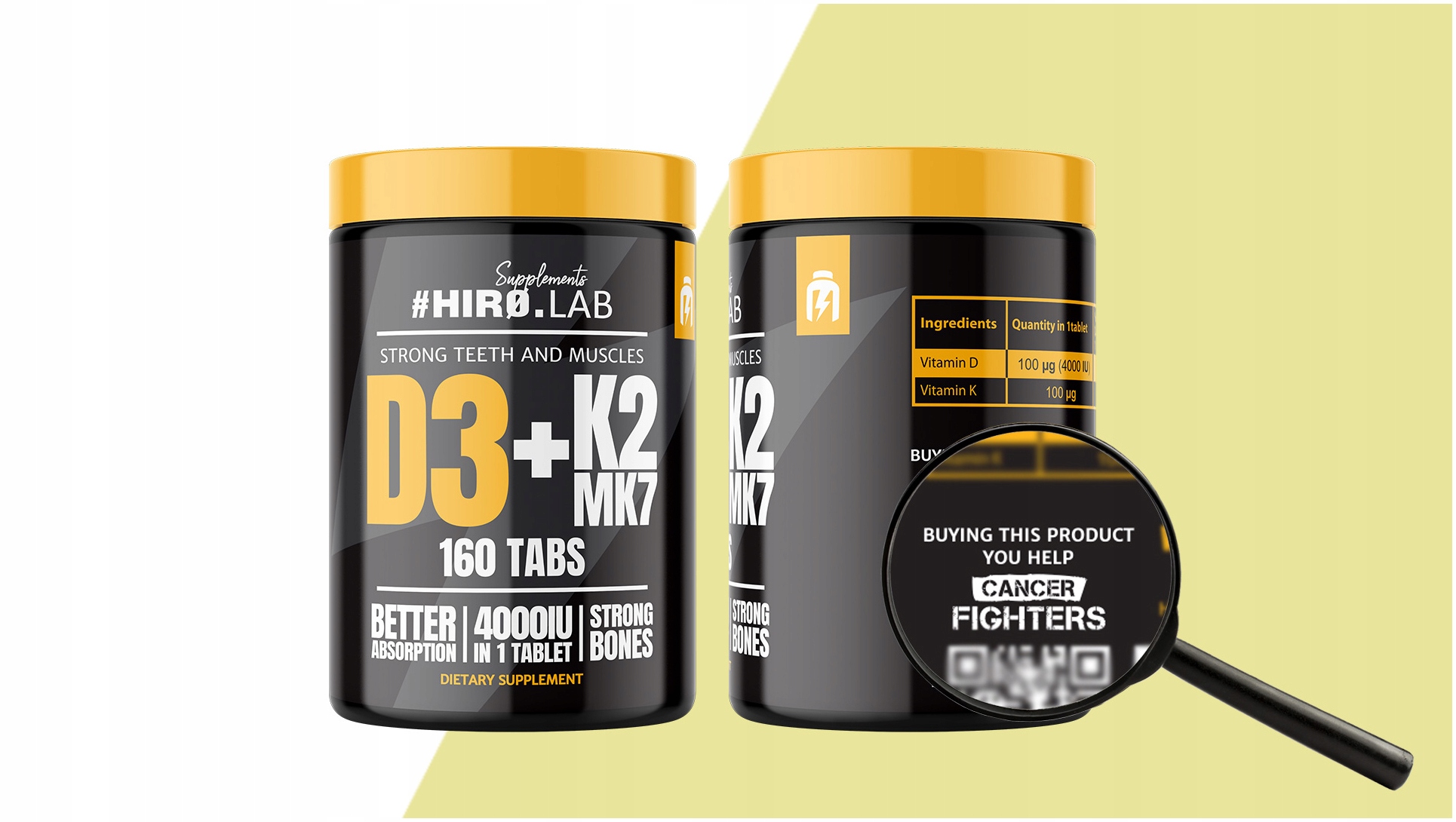 Ingredients
Portion:  1 capsule
Servings in the package: 160
Pack: 160 caps
Ingredients Vitamin D3 + K2 160 caps:  Bulking agent: sorbitols, anti-caking agent: magnesium salts of fatty acids, cholecalciferol (vitamin D), menaquinone (vitamin K).
This product is not intended to diagnose, treat, cure, or prevent any disease.
| Active Ingredients | 1 tab | **RWS |
| --- | --- | --- |
| Vitamin D | 100 µg (4000 IU) | 2000% |
| Vitamin K | 100 µg | 133% |
** Reference intake value for an average adult (8400 kJ / 2000 kcal)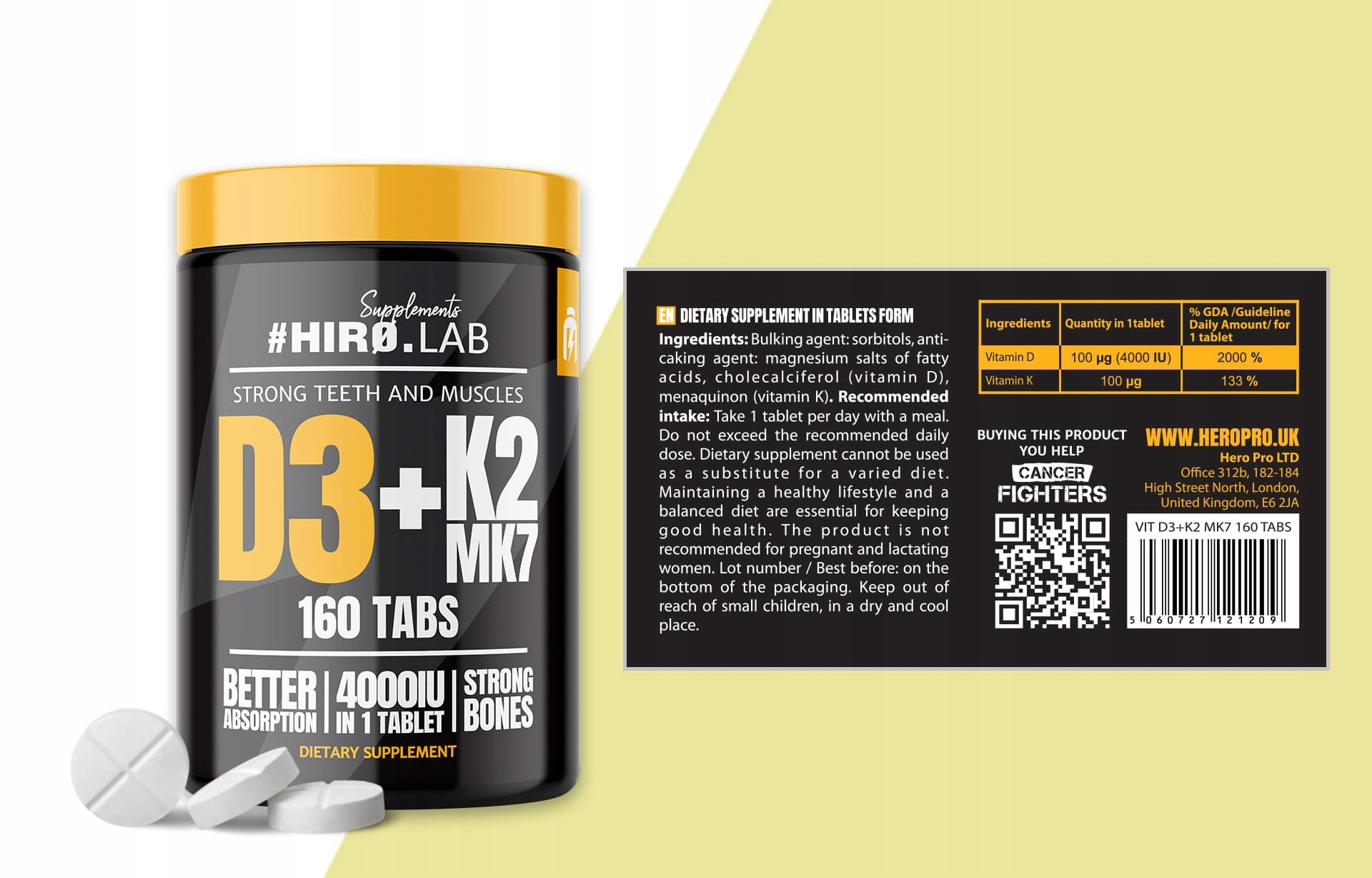 Usage
Directions for use Vitamin D3 + K2 MK7 160 caps: Consume 1 capsule once a day with a meal.
Do not exceed the recommended daily dose.
Dietary supplements cannot be used as a substitute for a varied diet. Remember that only a healthy lifestyle and a balanced diet ensure the proper functioning of the body and maintain good condition.
It is not recommended for pregnant and lactating women.
Best before end: date and batch number are on the bottom / side of the label
Net weight: 160 tabs