Description
Dear Customer! We ship products from many European countries. Orders shipped to the UK may incur customs charges.
⚡ One serving contains as much as 4,000 IU of vitamin D3
⚡ It improves bone density and proper mineralization
⚡ Supplement in the form of soft capsules that are easy to swallow
⚡ The best form of Vitamin D3 – Cholecalciferol – sourced from lanolin
⚡ Your immune system will become stronger
⚡ Support for your well-being, energy boost!
Discover the power of Vitamin D3 from Hiro.Lab
By leading an active lifestyle and using healthy eating habits, you can expect positive changes not only in your appearance, but also in your well-being. The right dose of vitamins and minerals in everyday life clearly translates into increased energy levels, as well as improved mood and reduction of fatigue. Vitamin D3 created by experts from Hiro.Lab will be great for this role, the regular use of which will positively affect the strength of your bones and teeth, strengthen the muscular system and help build the immune shield. Cholecalciferol in the form of softgels is characterized by a much better absorption, thanks to the reduced amount of unnecessary additives. D3 called 'Vitamin of the Sun' will support your body whenever you need it to avoid weakness and infection.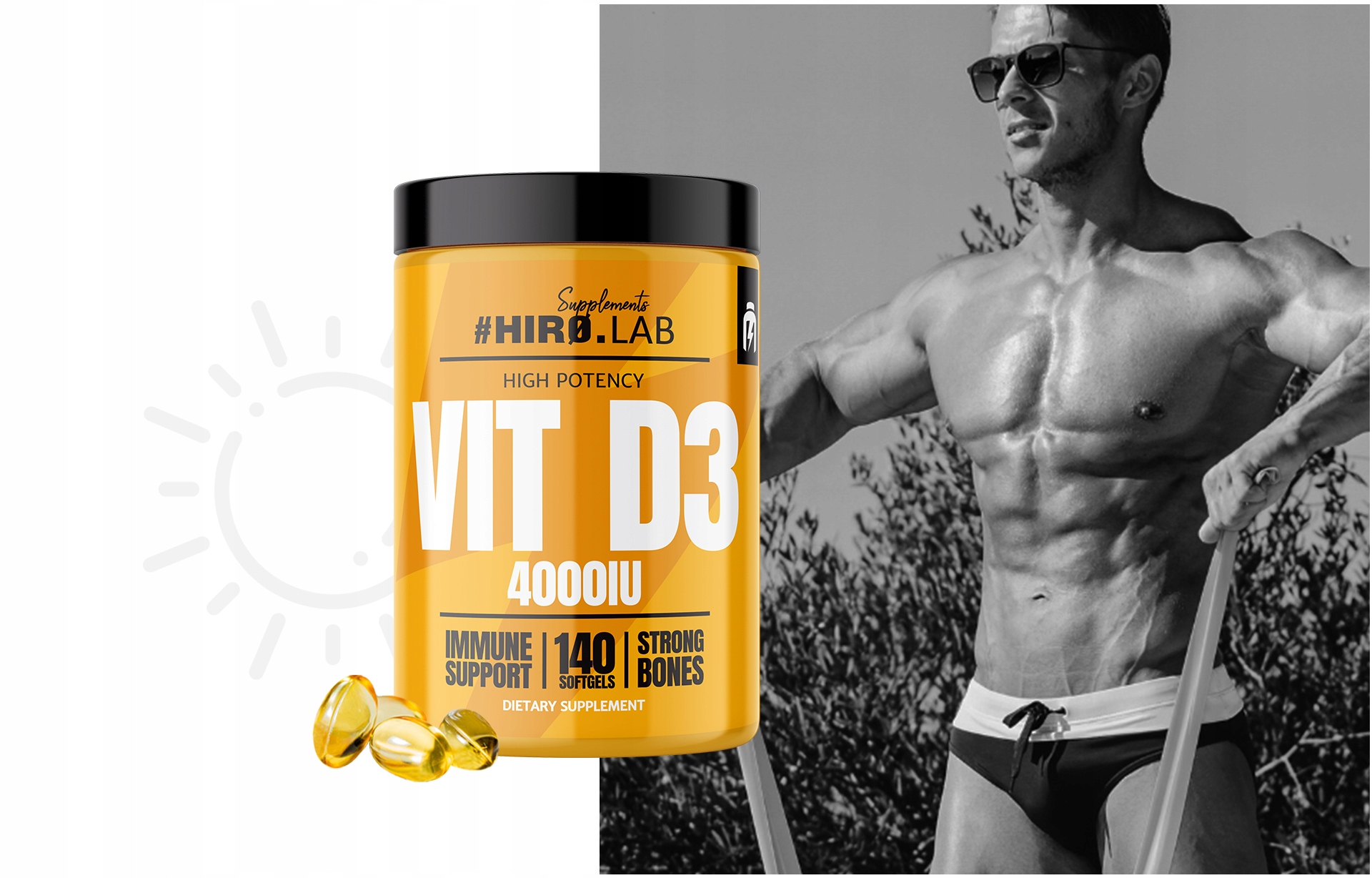 Lanolin – a natural source of Vitamin D3
Your body gets vitamin D3 not only from food, like most vitamins, but above all from UV rays, thanks to sufficiently long exposure of the skin to the sun. However, this can be problematic due to the predominance of cloudy and cool days throughout the year. A replacement proven source of Vitamin D3 is Vit D3 Hiro.Lab, in which you will find cholecalciferol from a natural source, which is lanolin. It is a substance obtained as a result of cleaning sheep wool from the so-called. the fat cap produced by the skin of animals to build a natural protective barrier against the cold. When chemically treated, lanolin is transformed into 7-dehydrocholesterol, a precursor to vitamin D3, identical to the effects of the sun on the skin. Thanks to this, it shows effective action through increased bioavailability!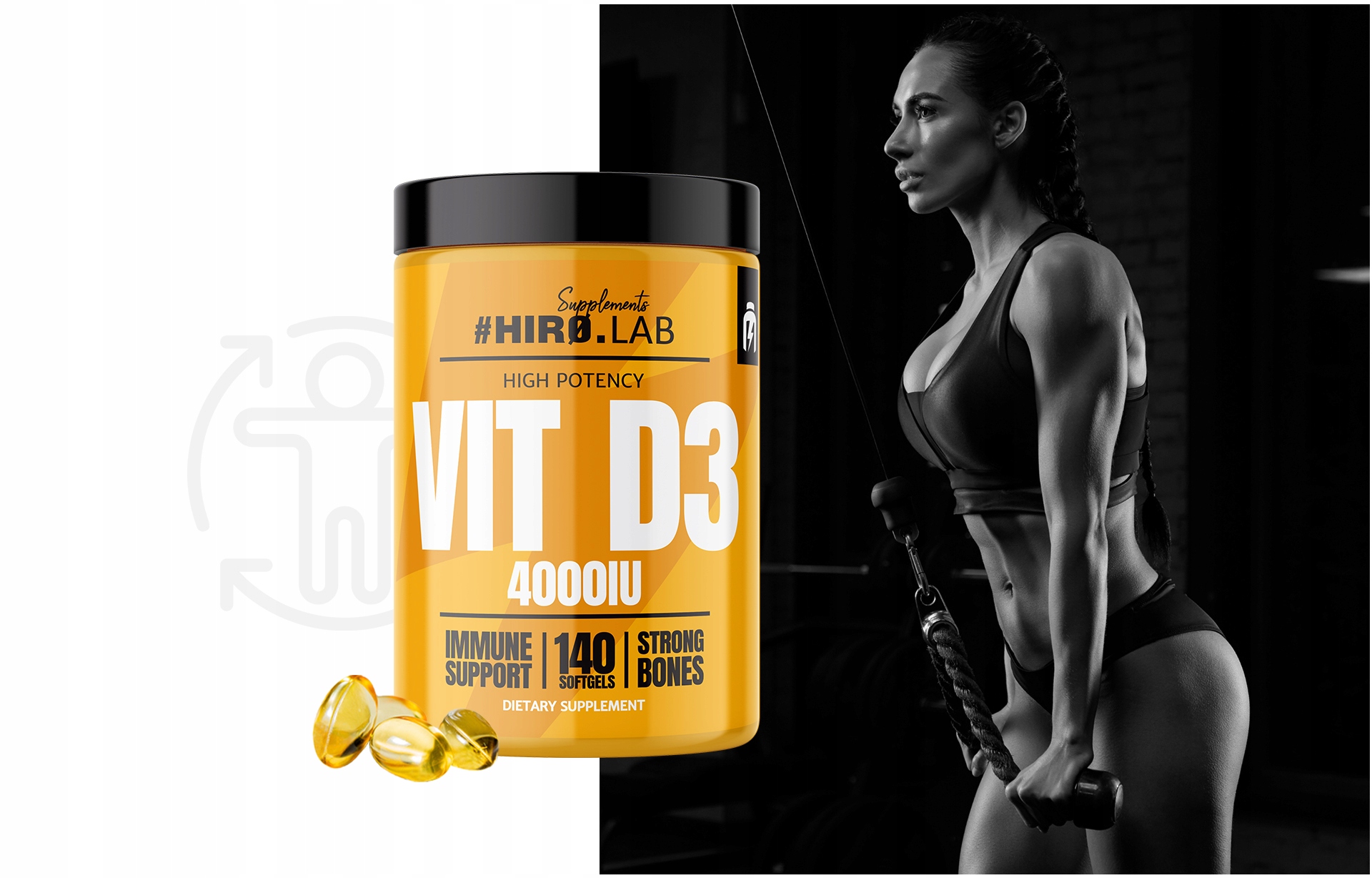 Strengthen your immunity and feel better with Vit D3
A number of key processes in your body are supported by Vitamin D3, incl. it helps to keep the immune system in good shape. It takes part in the process of cell division and prevents harmful external factors. What's more, it has a positive effect on cognitive functions by stimulating and activating nerve connections. During colder days, especially in autumn and winter, when your body's vitamin D3 levels drop due to lack of sun, your good mood and willingness to act may deteriorate. Regular supplementation with vitamin D3 from Hiro greatly improves mood, promotes good, healthy sleep and reduces the negative effects of seasonal deterioration of the form.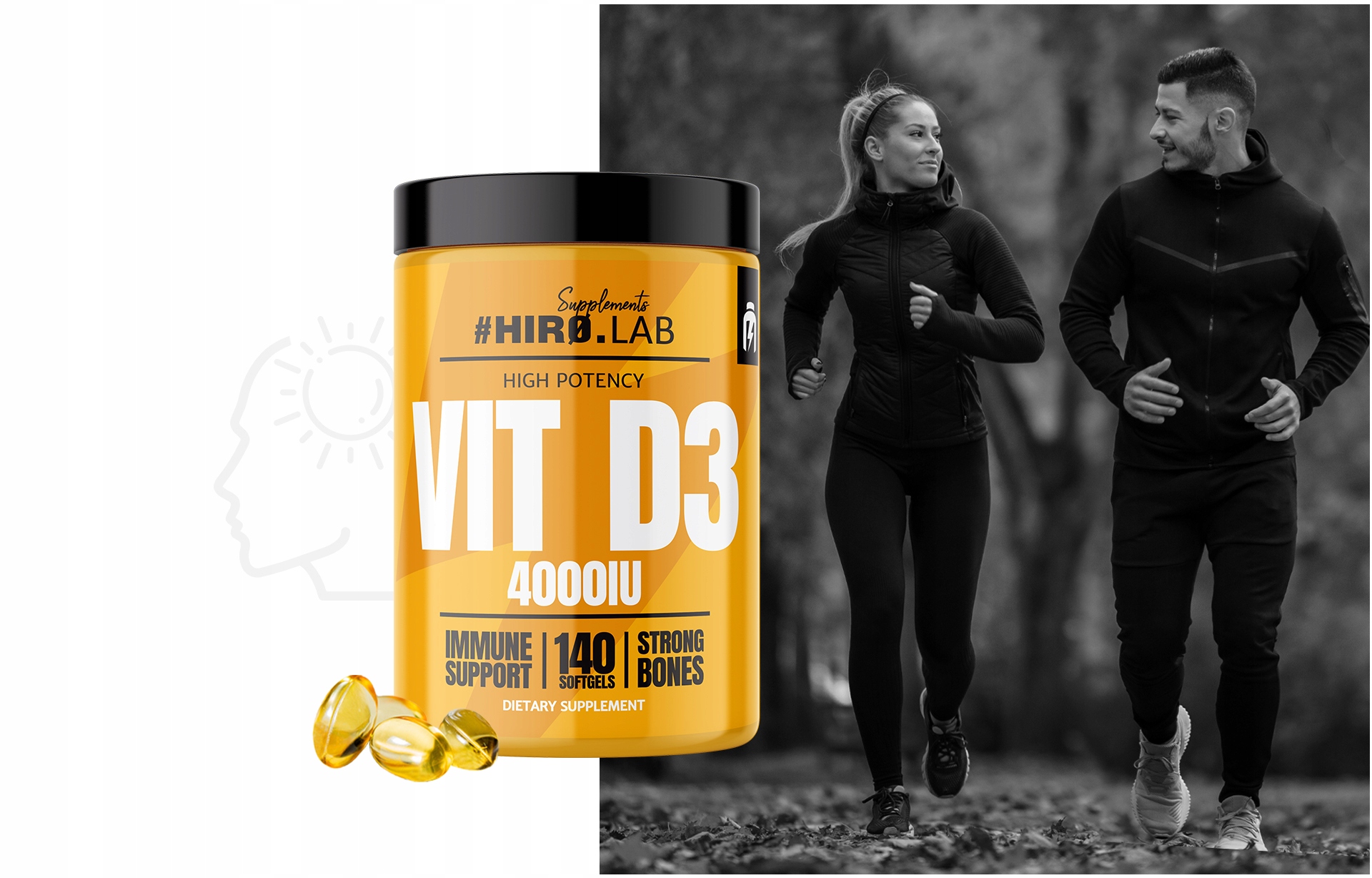 Vitamin D3 Hiro.Lab for strong bones
If you lead an active lifestyle and daily training is the norm, you must pay special attention to avoiding vitamin D3 deficiency, because it is an essential ingredient in maintaining strong bones and plays an important role in supporting skeletal muscles. The Hiro vitamin supplement is responsible for the proper absorption of calcium and phosphorus, thanks to which you will avoid the appearance of defects in the bone structure and thus reduce the risk of fractures or weakness. The correct level of vitamin D in the blood will help you increase the level of strength in the muscles and support the process of protein synthesis, thanks to which you will build dry muscle mass more effectively and reduce the amount of muscle fiber degradation. By using Vit D3 in a duet with Zinc from Hiro.Lab, you will provide yourself with comprehensive support!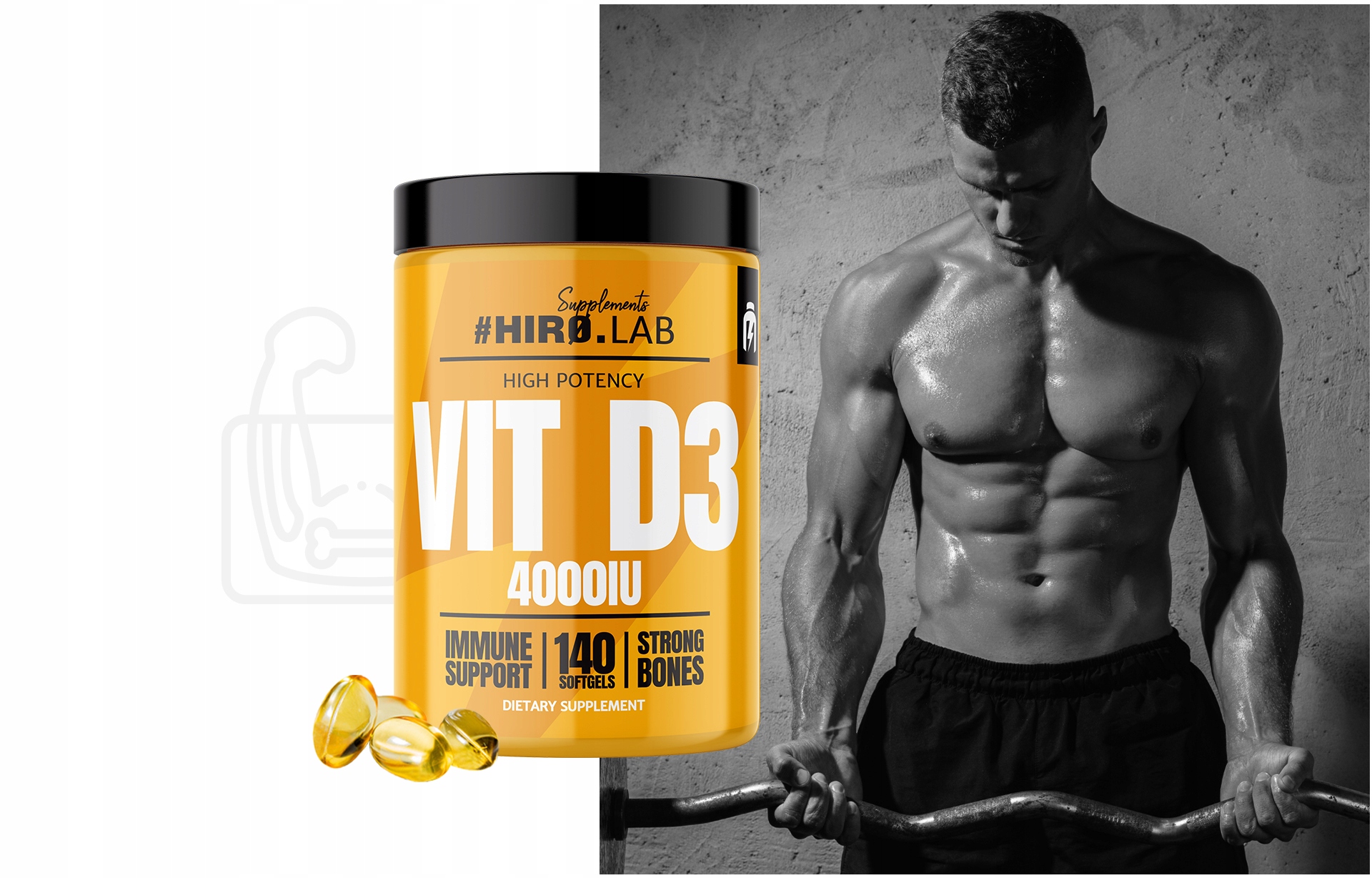 By purchasing Hiro.Lab products, you help those in need!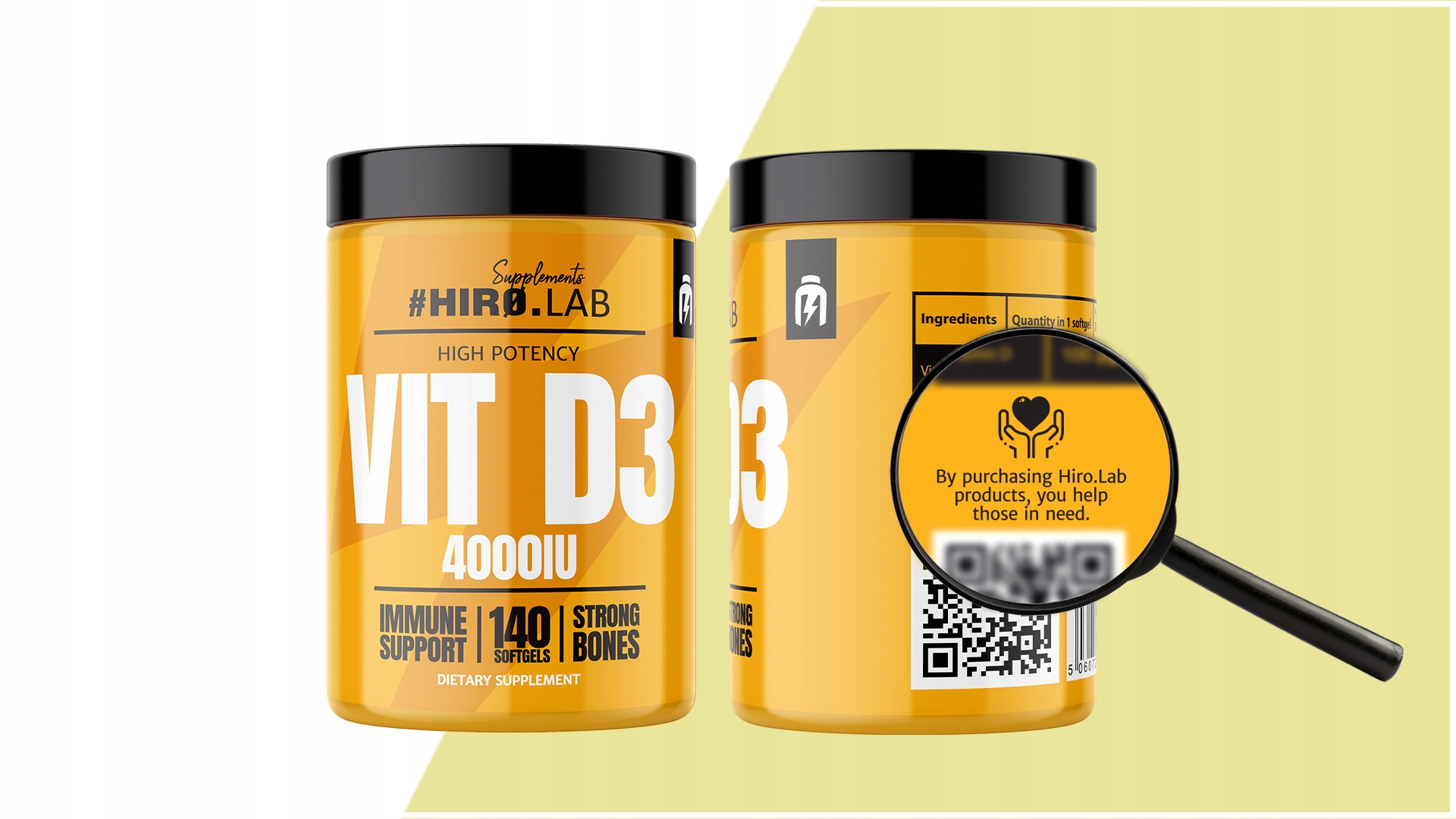 Ingredients
Serving: 1 softgel
Servings in the package: 140
Packaging: 140 softgels
Vitamin D3 ingredients: Olive oil, gel – gelatin capsule, water, humectant – glycerol, vitamin D (cholecalciferol) – obtained from lanolin.
May contain milk, soy, eggs and nuts.
This product is not intended to diagnose, treat, cure, or prevent any disease.
| Składniki aktywne | W porcji 1 softgel | **RWS |
| --- | --- | --- |
| Witamina D | 100 µg (4000IU) | 2000% |
** Reference intake value for an average adult (8400 kJ / 2000 kcal)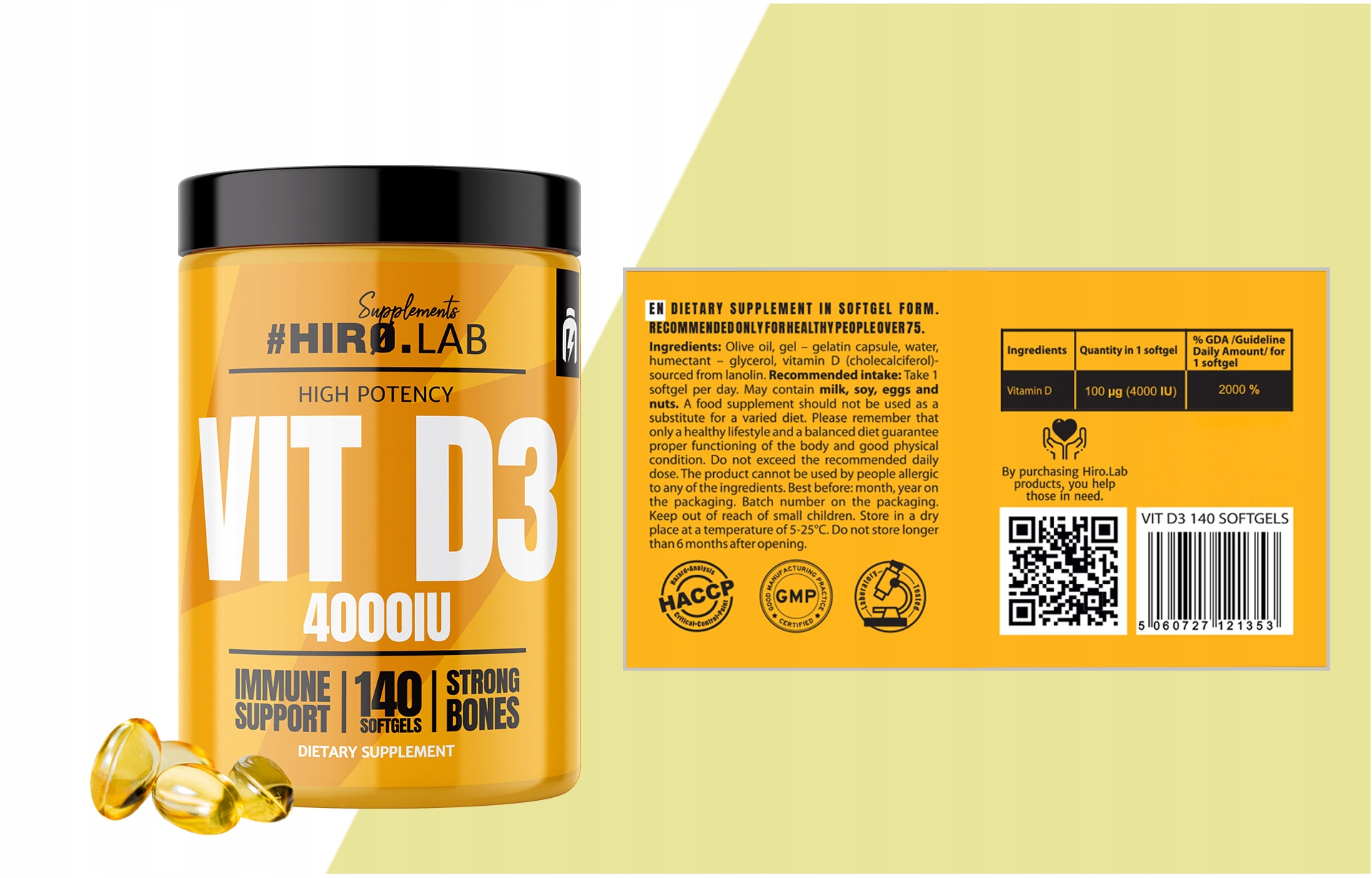 Usage method
How to use Vitamin D3: Consume 1 soft capsule daily.
Do not exceed the recommended daily dose.
Dietary supplements cannot be used as a substitute for a varied diet. Remember that only a healthy lifestyle and a balanced diet ensure the proper functioning of the body and maintain good condition.
It is not recommended for pregnant and lactating women.
Best before end: date and batch number are on the bottom / side of the label
Net weight: 140 softgels