Description
Dear Customer! We ship products from many European countries. Orders shipped to the UK may incur customs charges.
⚡ High in vitamin C
⚡ Support for the immune system and the nervous system
⚡ The addition of Bioflavonoids and Zinc enhancing effective action
⚡ Vit C HIRO regulates the production of collagen
⚡ Support and strengthening for your bones
⚡ It improves the overall condition of the body
⚡ Product tested for purity – check it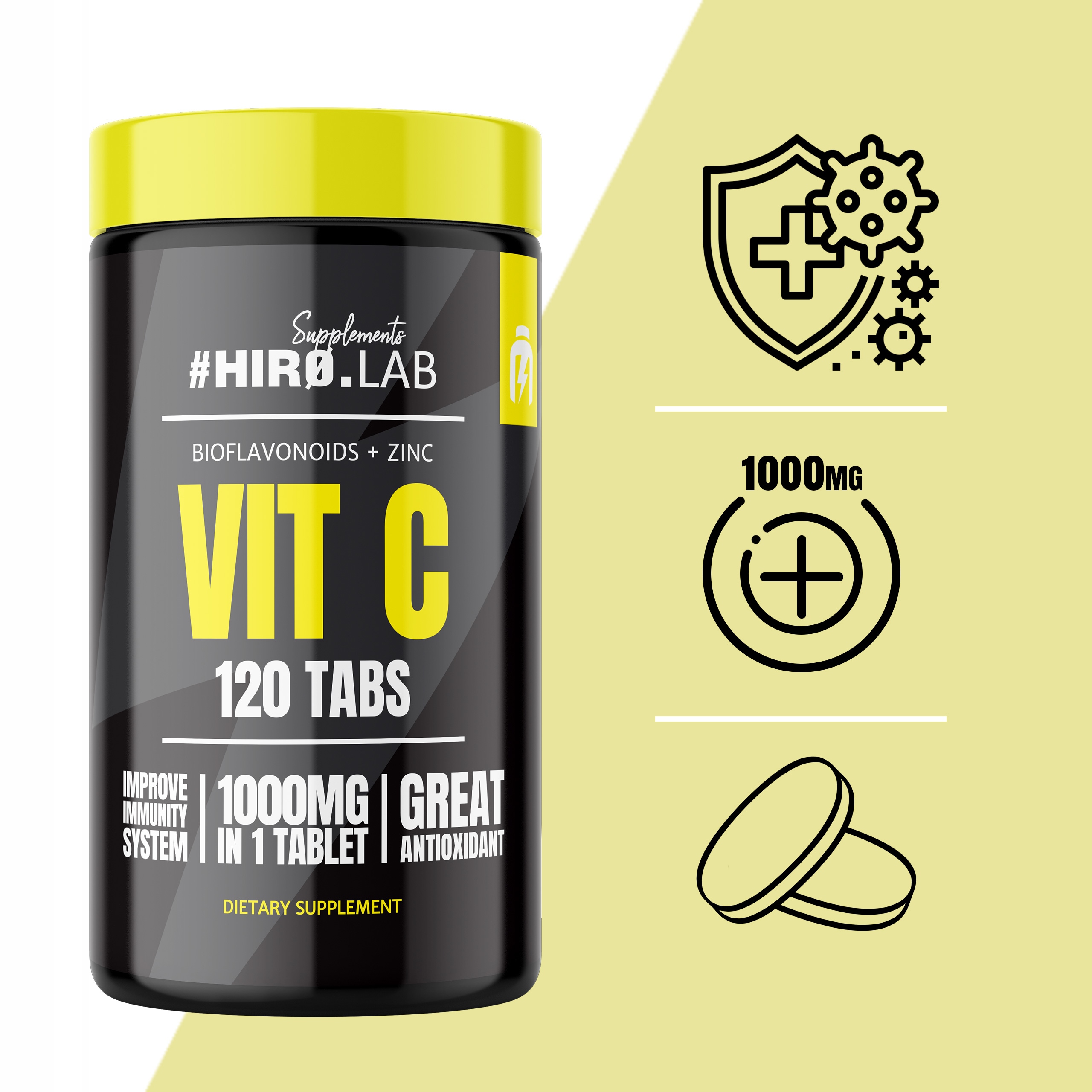 Vitamin C Hiro.Lab supports your immunity
Because of HIRO's Vitamin C, you can forget about infections, pain and weakness as it will allow you to always be in the best shape. Vit. C regulates the activity of collagen, which will improve the work of your joints, tendons and cartilages. What's more, it will improve the mineral density of your skeletal system, making them less vulnerable to injury. Vitamin C affects the work of the brain, cognition and concentration. Start your supplementation with the basics, especially if you live your life on the go and are accompanied by demanding daily workouts. Trust the Hiro.Lab brand, which has specially developed a comprehensive preparation supporting the functioning of the whole organism for you. And what is important, the product has been tested for purity, which you can find proof of here.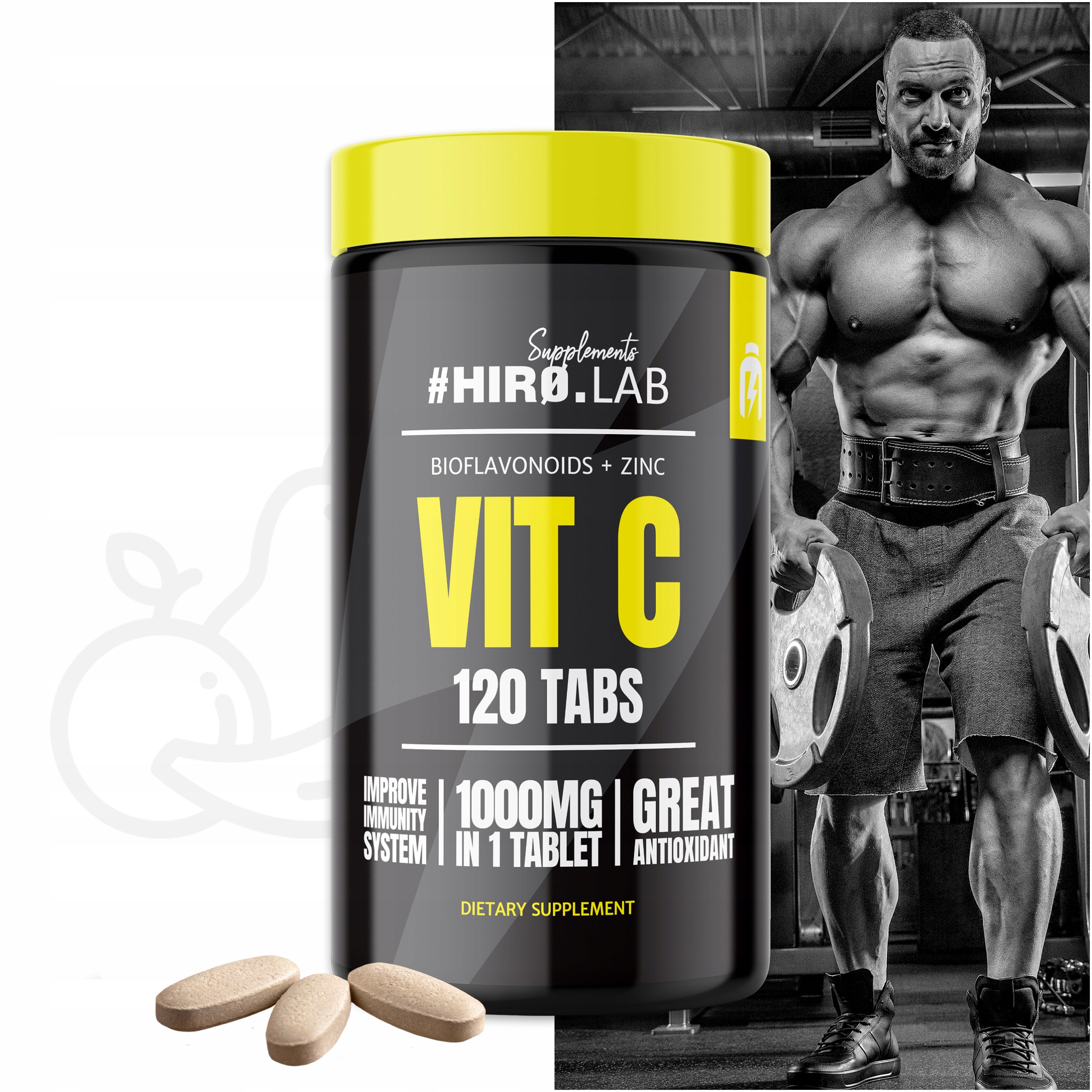 Even better results with Vitamin C!
Vitamin C is extremely susceptible to high and low temperatures, which makes it very easy to break down when preparing meals. Vit C from Hiro.Lab is a high-quality supplement with the addition of bioflavonoids and Zinc, thanks to which you will fill any potential deficiencies for this vitamin, and at the same time it will be quickly and easily absorbed. It is also important for the health of your bones by activating protein collagen, which increases bone mineral density. L-ascorbic acid is also needed for the development and regeneration of tissues, including tendons, ligaments and blood vessels, and increases the bioavailability of iron. This will make your body more resilient, healthier and stronger, which will naturally bring you better results during your training.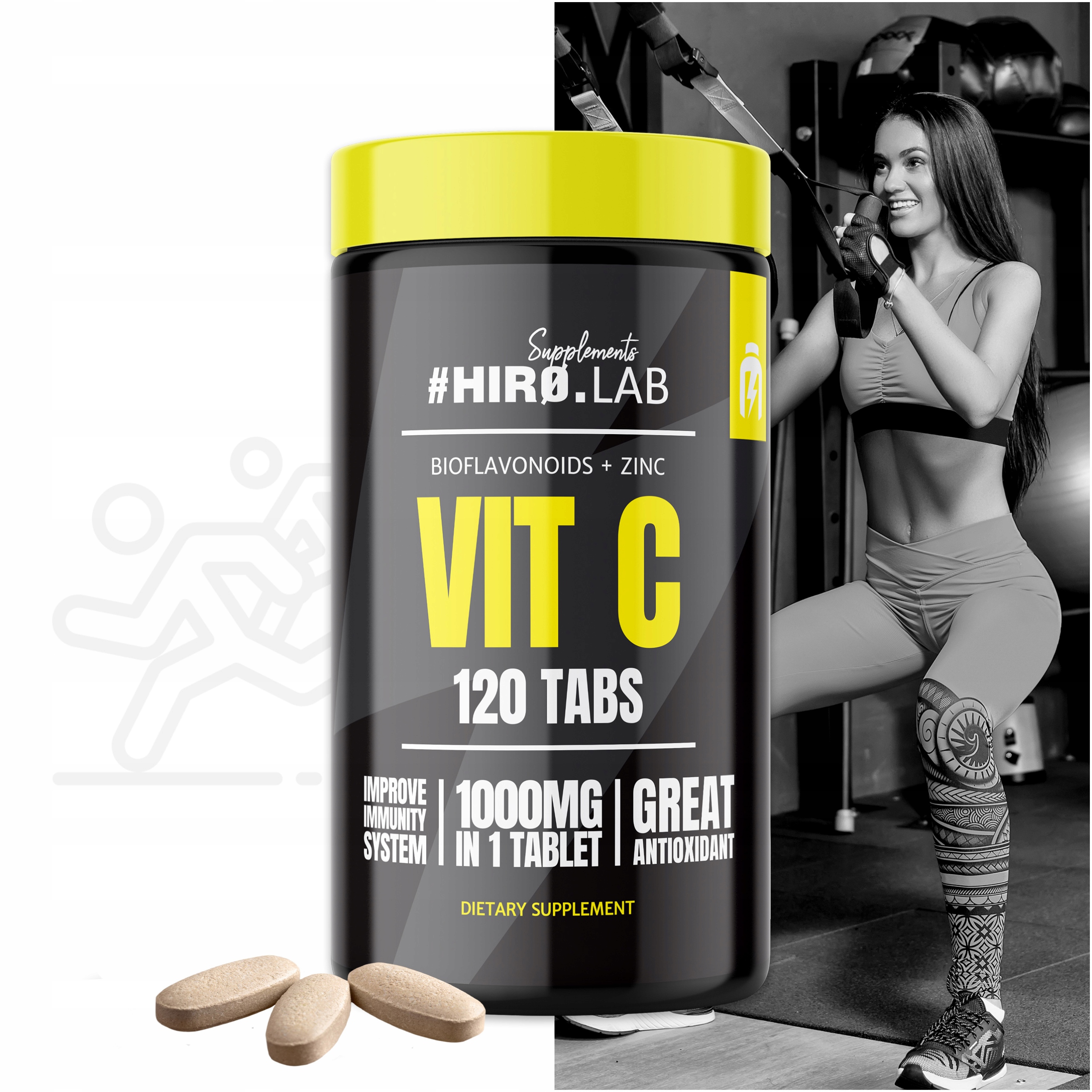 A unique ingredient – Hesperidin
Bioflavonoids and vitamin C work together in your body, increasing the power of the positives you will have from supplementation. Hesperidin is a very important bioflavonoid found in Bitter Orange, a component of Vit C by Hiro.lab. Hesperidin has a positive effect on blood vessels, reduces inflammation and improves blood circulation. If you lead an active lifestyle and a day without a gym is a wasted day for you, then Vitamin C is for you. It slows down the process of cell disintegration, thanks to which the muscles are able to regenerate faster. In addition, it promotes the production of collagen, which is a valuable protein in your body and the fundamental building block of tendons, ligaments, bones, skin and muscles.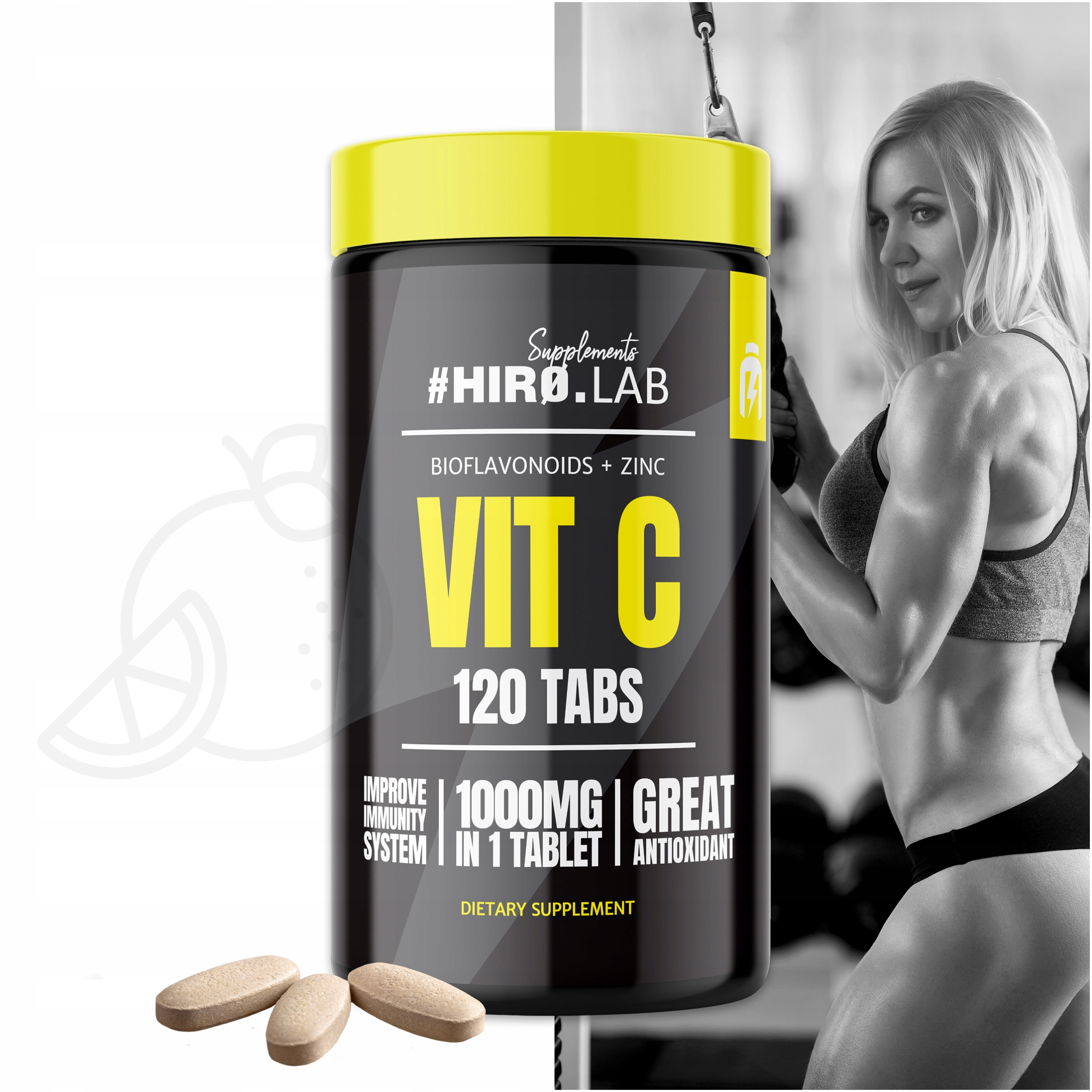 Vitamin C with Zinc and Echinacea
Vitamin C from Hiro.Lab has other, valuable ingredients that largely support the assimilation and absorption of L-ascorbic acid. What's more, Echinacea purpurea is a very popular plant that improves the immune system, reduces inflammation and is an antioxidant. Zinc is also important to your body as it is present in many biological processes such as wound healing, concentration and proper brain function. The list of Vitamin C and Zinc in the supplement from Hiro.Lab is a logical step to improve the work of your body and its many aspects.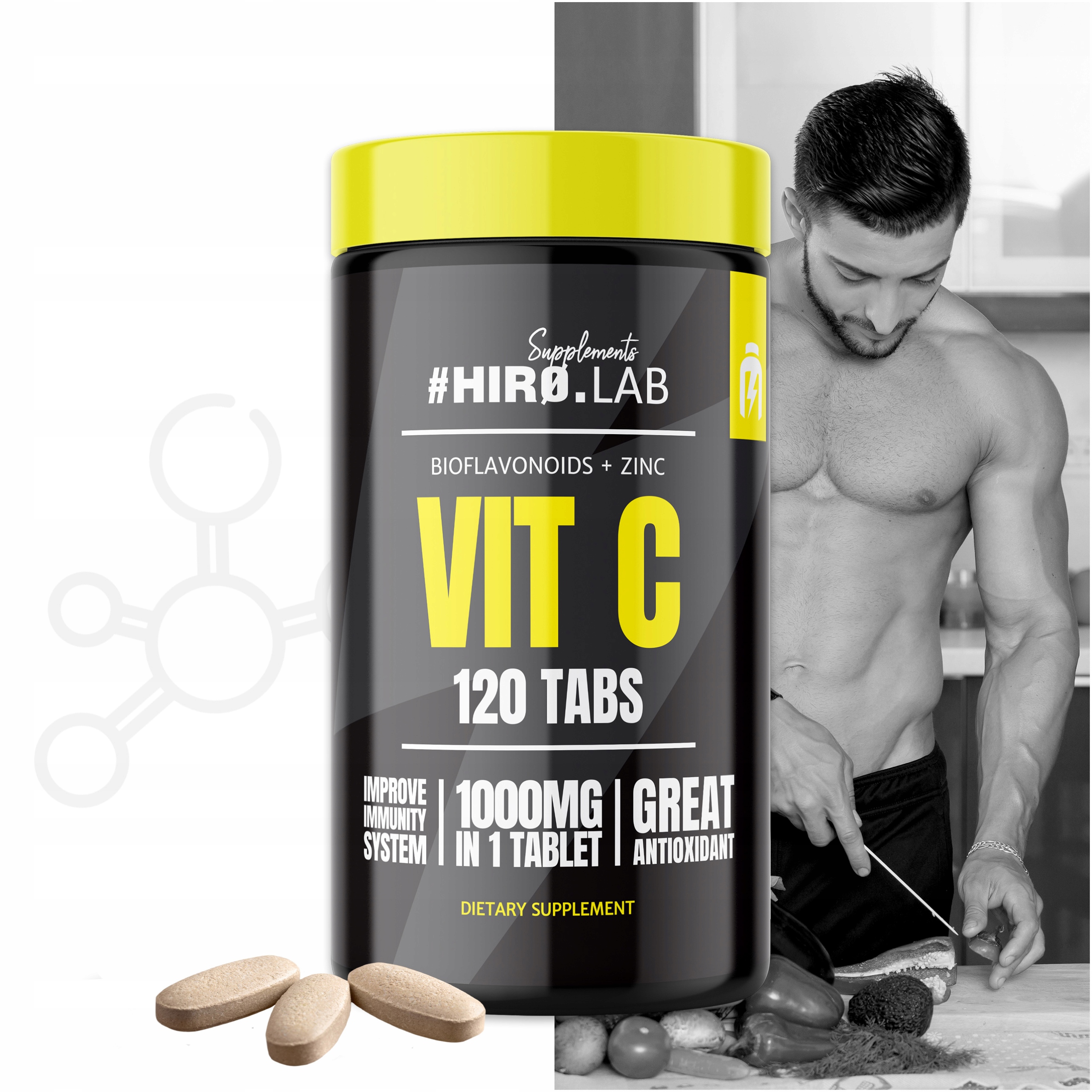 By purchasing this product you are supporting the charges of the Cancer Fighters foundation !!!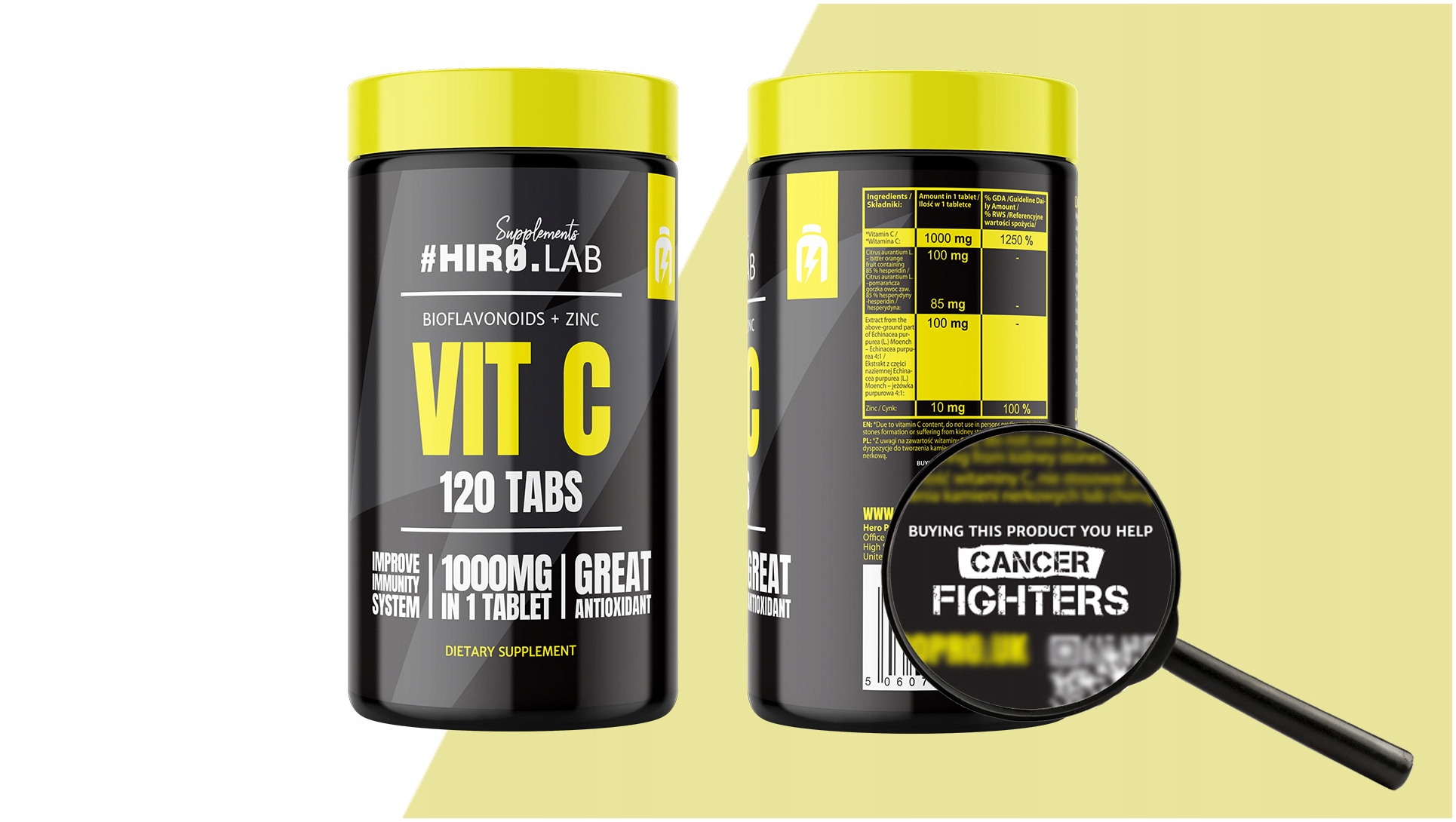 Ingredients
Portion: 1 tab
Portions in the package: 120
Package: 120 tabs
Viatmin C Ingredients: Vitamin C (L-ascorbic acid), Citrus aurantium L. – bitter orange fruit including 85% hesperidin, extract from the ground part Echinacea purpurea (L.) Moench – Echinacea 4: 1, zinc (zinc gluconate), carrier – acids fatty, anti-caking agent – calcium phosphates.
This product is not intended to diagnose, treat, cure, or prevent any disease.
Active ingredients – 1 tab
Vitamin C – 1000 mg
Citrus aurantium L. bitter orange with 85% hesperidin – 100 mg
including hesperidin – 85 mg
Extract from the ground part Echinacea purpurea (L.) Moench – Echinacea 4: 1 – 100 mg
Zinc – 10 mg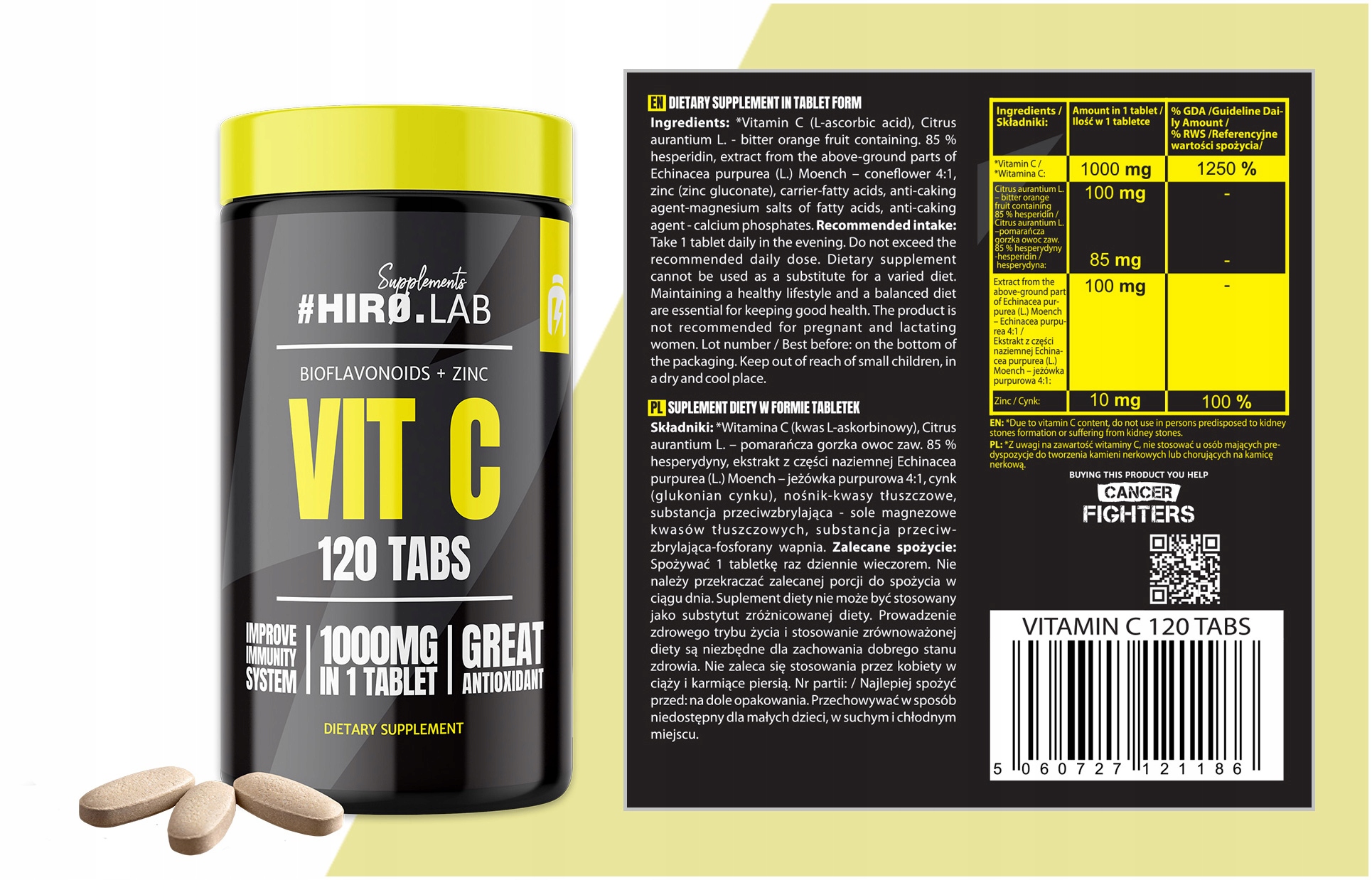 Usage
Usage of Vitamin C: Consume 1 tablet once a day in the evening.
Dietary supplements cannot be used as a substitute for a varied diet. Remember that only a healthy lifestyle and a balanced diet ensure the proper functioning of the body and maintain good condition.
Do not exceed recommended servings for consumption during the day. The product cannot be used by people who are allergic to any of its ingredients. Keep out of the reach of small children. Store in a dry place at room temperature in tightly closed containers.
Best before end: date and batch number are on the side / bottom of the packaging.
Net weight: 120 tabs