Description
Dear Customer! We ship products from many European countries. Orders shipped to the UK may incur customs charges.
⚡Turmeric by Hiro.Lab is anti-inflammatory
⚡ It supports the digestive processes and accelerates weight loss
⚡ Supports the proper functioning of the joints
⚡It is a powerful antioxidant and fights free radicals
⚡Piperine increases the absorption of curcumin
⚡It improves the mood and supports the condition of the body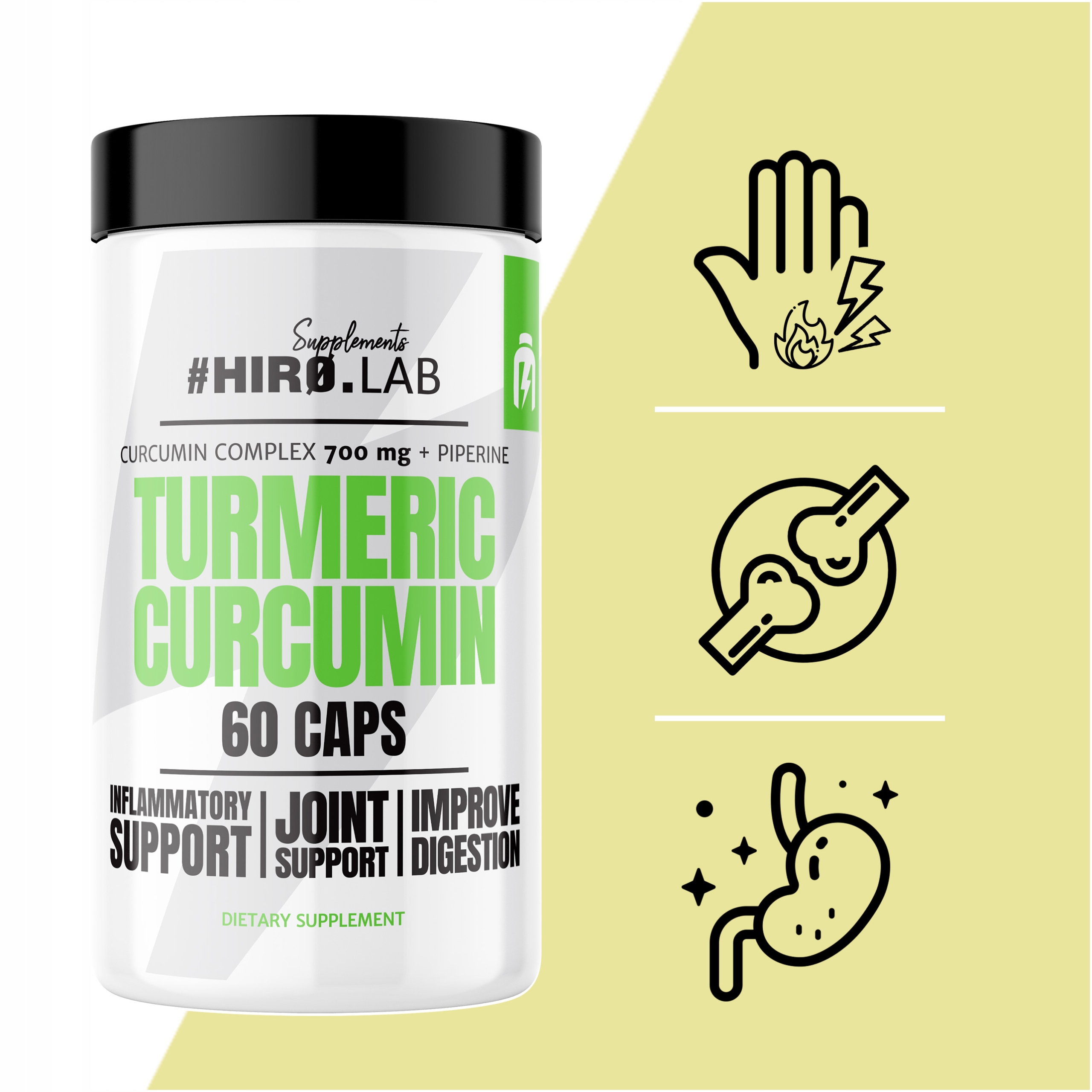 Turmeric Curcumin by Hiro.Lab
If you want to be a better version of yourself every day and constantly develop in every direction, the Hiro.Lab brand has created a preparation in the form of natural turmeric especially for you. It helps to regulate all ailments caused by the rush of life. The Turmeric supplement from Hiro.Lab will improve the functioning of your digestive system, thanks to which you will lose weight faster and get rid of any digestive problems. Thanks to the anti-inflammatory effect, the work of your muscles and joints will also improve. Now you can train and enjoy faster recovery after intense training.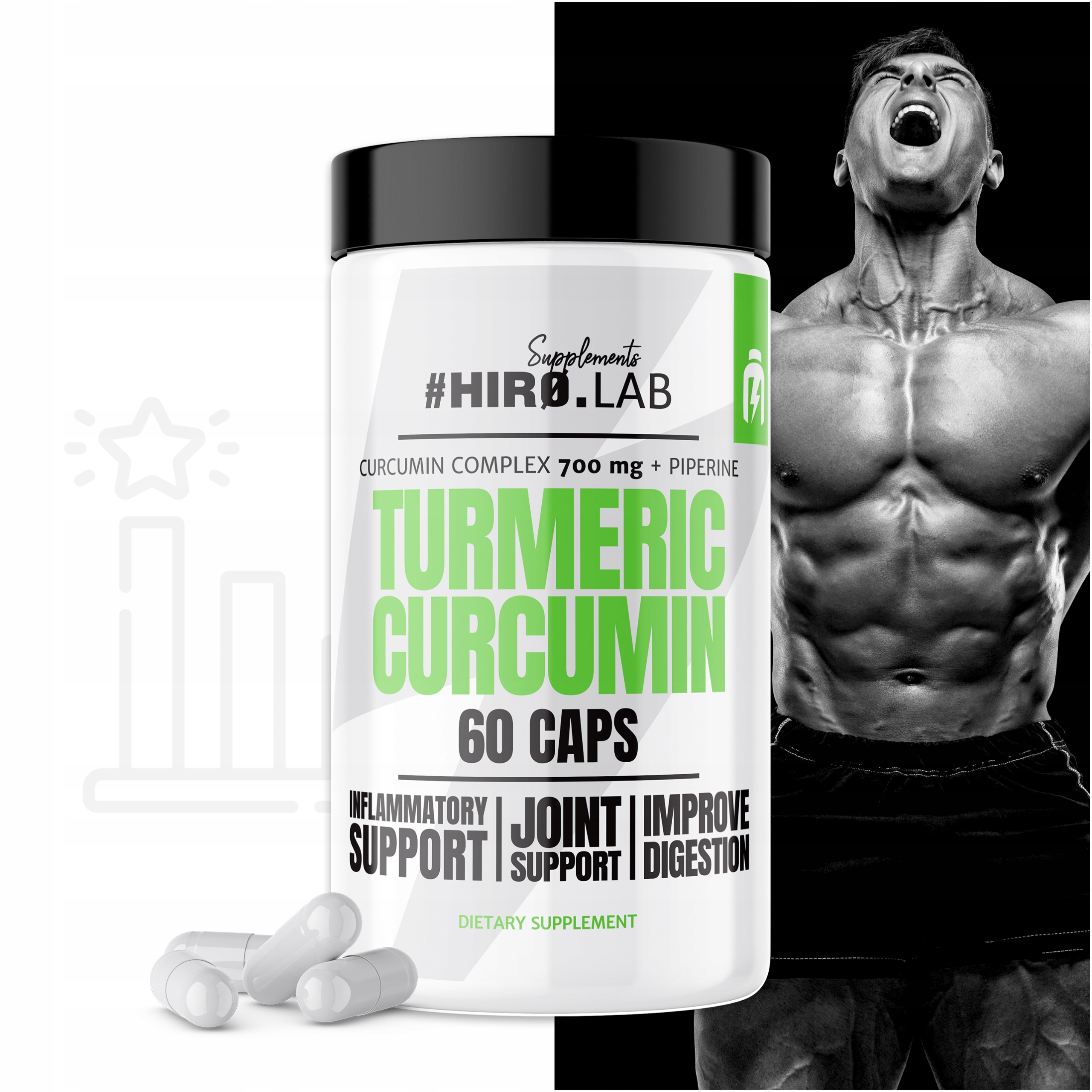 Body and mind support from Turmeric Hiro.Lab
You know turmeric very well! It is a popular, aromatic spice derived from Indian cuisine. More importantly, it has anti-inflammatory and antioxidant properties. Curcumin increases the level of the BDNF hormone, responsible for the production of new neurons, and also improves brain function and memory. It is also of great importance for blood clotting and regeneration of the circulatory system. Curcuminoids prevent joint injuries by inhibiting the development of inflammation. Turmeric is a safe and proven pain reliever, free from artificial filler ingredients and unnecessary additives.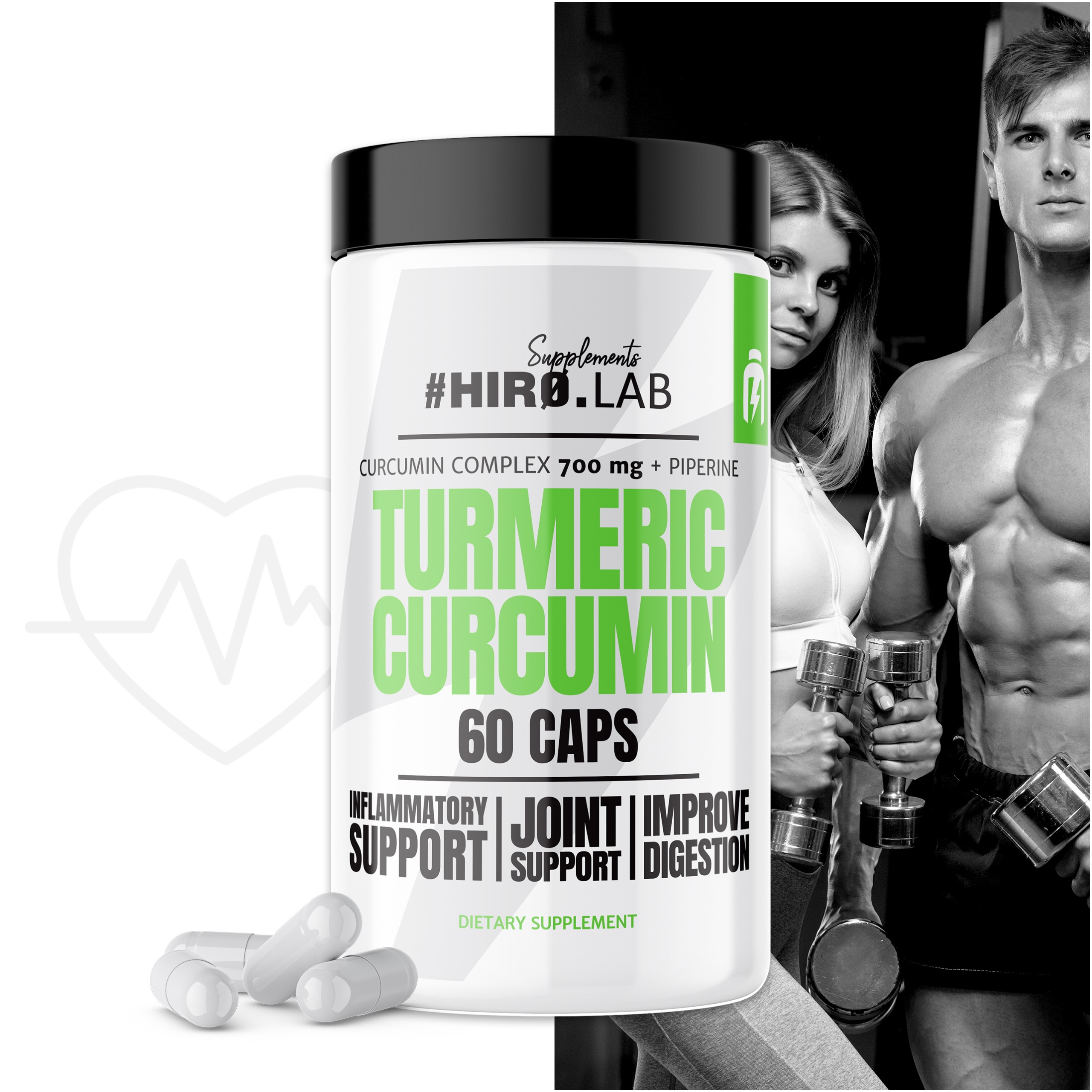 Turmeric Hiro.Lab will help you lose weight!
Adequate diet and regular training are the basis for losing weight, but it is good to try to get additional support! Manufacturers propose various measures to accelerate the shaping of a dream figure, but it is often a large spectrum of unnecessary fillers. Choose a natural solution and choose Turmeric from Hiro.Lab. This supplement promotes the production of bile in the stomach, i.e. digestive juice, which speeds up the metabolism. What's more, turmeric will allow you to limit your weight gain by slowing down the process of fat cell division. Thanks to this, you will achieve your goal of a slim figure much faster.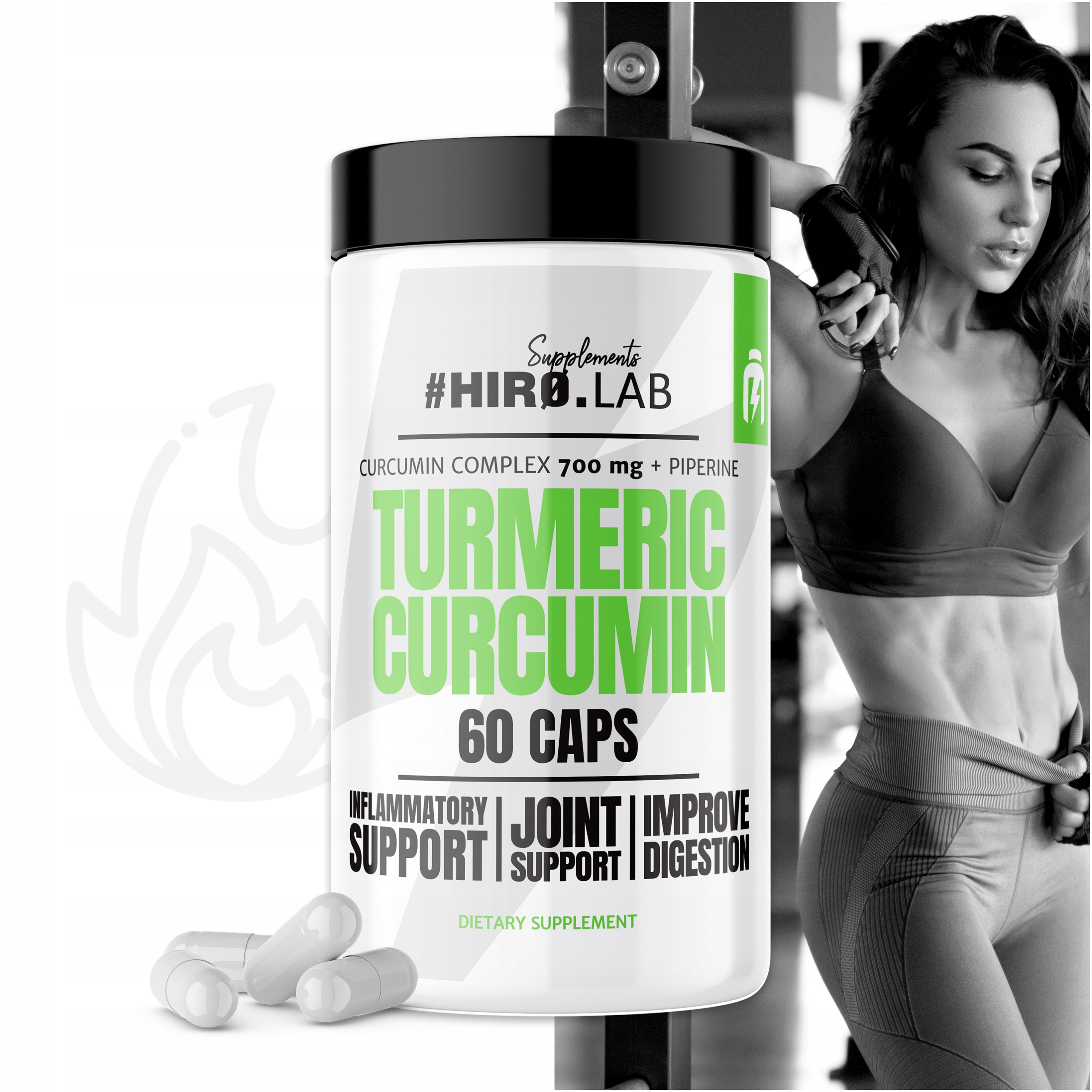 Better absorbability from Turmeric with Piperine
When deciding to include turmeric in your diet, choose the correct form and method of supplementation to achieve the most benefits. Curcumin, a key ingredient in turmeric, has a very low bioavailability. However, in order for you to enjoy all its positive properties, Hiro.Lab experts have added piperine, a bioactive ingredient found in black pepper. The combination of curcumin with piperine improves the absorption of curcumin by 2,000%, and also improves its penetration through the intestinal wall into the bloodstream and reduces its breakdown by the liver. By choosing a product from Hiro.Lab, you are guaranteed to obtain a large amount of high-quality nutritional value.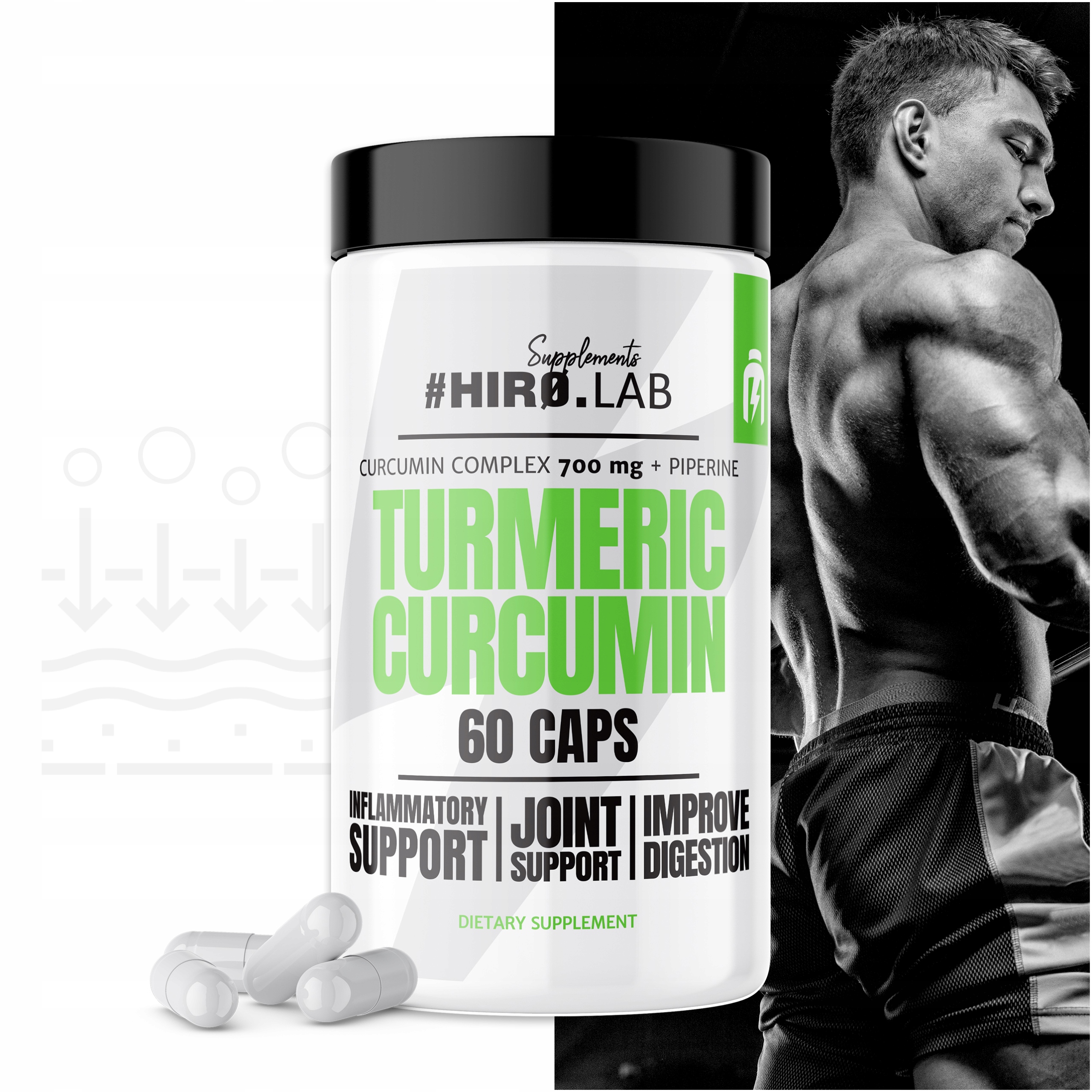 Hiro.Lab teams up with Cancer Fighters to fight cancer!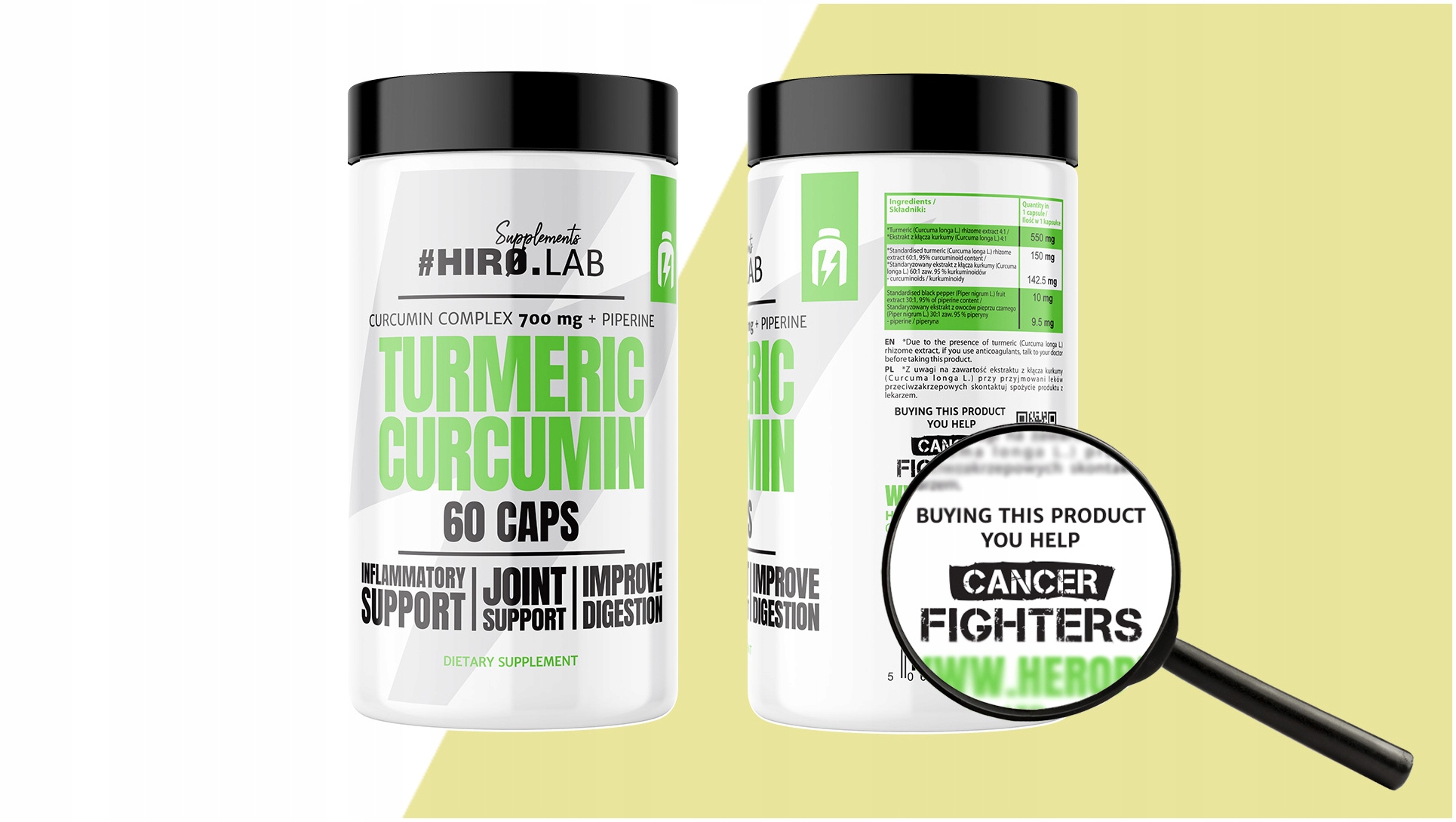 Ingredients
Portion: 1 cap
Servings in the package: 60
Pack: 60 caps
Ingredients  Turmeric Curcumin: *turmeric rhizome extract (Turmeric longa L.) 4: 1, bulking agent – microcrystalline cellulose, * standardized turmeric rhizome extract 60: 1 incl. 95% curcuminoids, USA – stacking agent – hydroxypropyl methylcellulose, anti-caking agent – magnesium salts of fatty acids, standardized fruit extract of black cassia fruit (Piper nigrum L.) 30: 1 95% piperine, anti-caking agent – silicon dioxide.
| Active ingredients | 1 capsule |
| --- | --- |
| Turmeric rhizome extract (Curcuma longa L.) | 550 mg |
| Standardized turmeric rhizome extract (Curcuma longa L.) 60: 1 incl. 95% curcuminoids | 150mg |
| including curcuminoids | 142.5 mg |
| Standardized black pepper fruit extract (Piper nigrum L 30: 1 content of 95% piperine | 10 mg |
| of which piperine | 9.5 mg |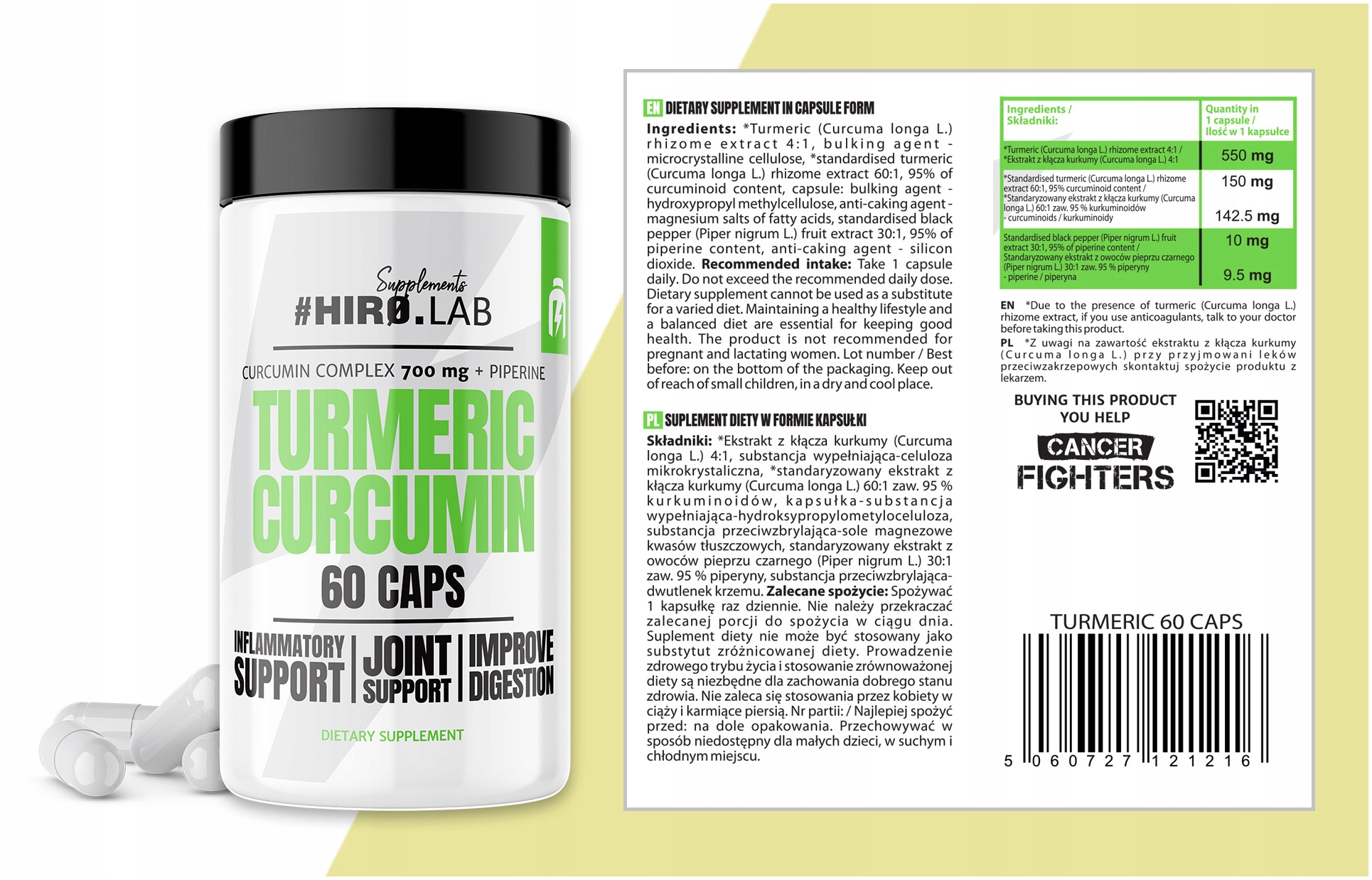 Usage
How to use Turmeric Curcumin: Take 1 capsule once a day.
Due to the content of turmeric rhizome extract (Curcuma longa L.) when taking anticoagulant medications, consult a doctor before taking the product.
Do not exceed the recommended daily dose.
Dietary supplements cannot be used as a substitute for a varied diet. Remember that only a healthy lifestyle and a balanced diet ensure the proper functioning of the body and maintain good condition.
It is not recommended for pregnant and lactating women.
Best before end: date and batch number are on the bottom / side of the label
Net weight: 60 tabs