Description
Dear Customer! We ship products from many European countries. Orders shipped to the UK may incur customs charges.
⚡The package is enough for 120 servings
⚡ It will make you have much more strength
⚡It will help you improve your results so far
⚡Guarantees lower water retention than when using monohydra
⚡The product is in the form of a powder that is easy to digest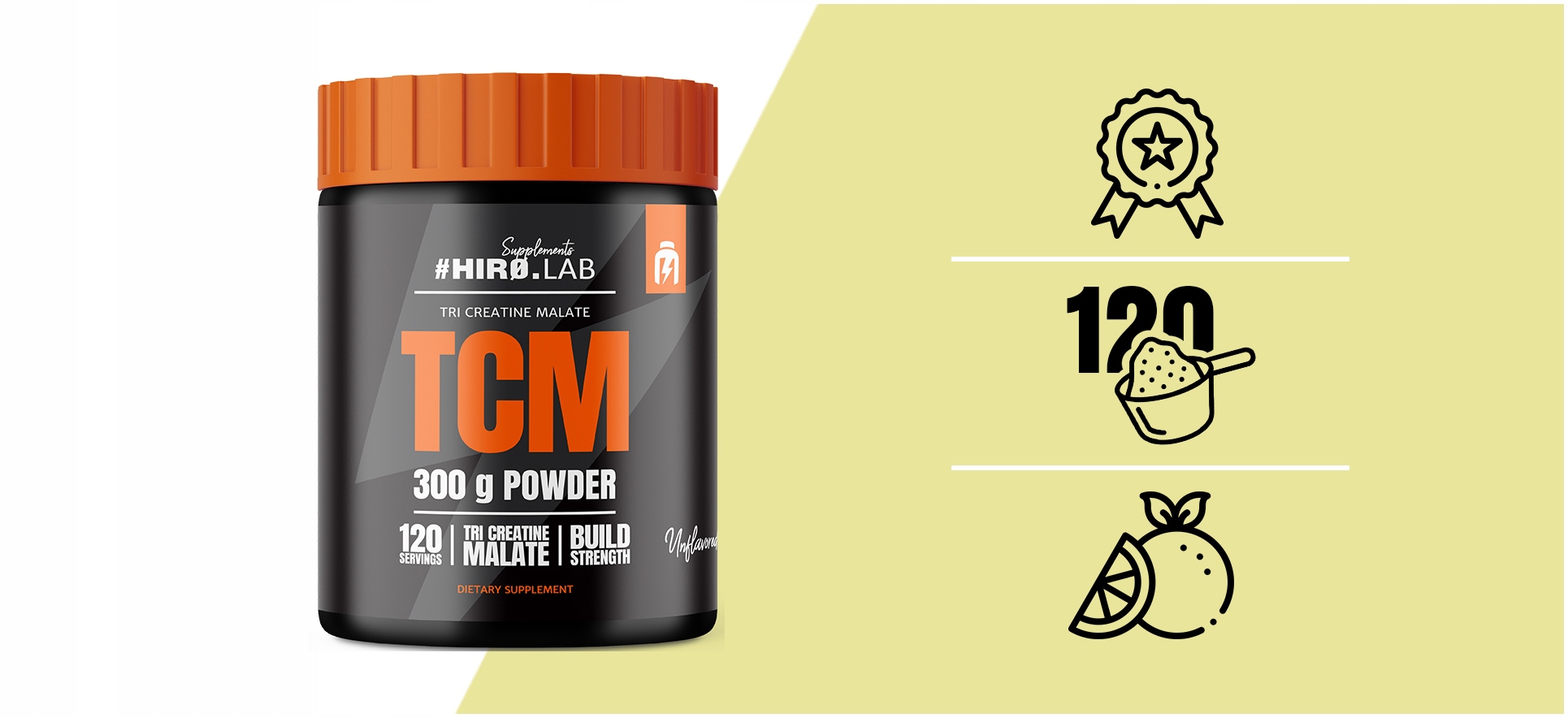 Increase your strength with TCM from Hiro.Lab!
Athletes of various fields have realized for a long time that creatine is essential for them. Therefore, if you care about even greater efficiency, it's time to introduce TCM from Hero.Lab to your supplementation. In its composition you will find as much as 89% creatine. Start using this product and see for yourself how beneficial it will have on your well-being and results. TCM by Hiro.Lab comes in the form of a convenient powder that dissolves well. Unlike other similar products, you will quickly feel the effects after using it.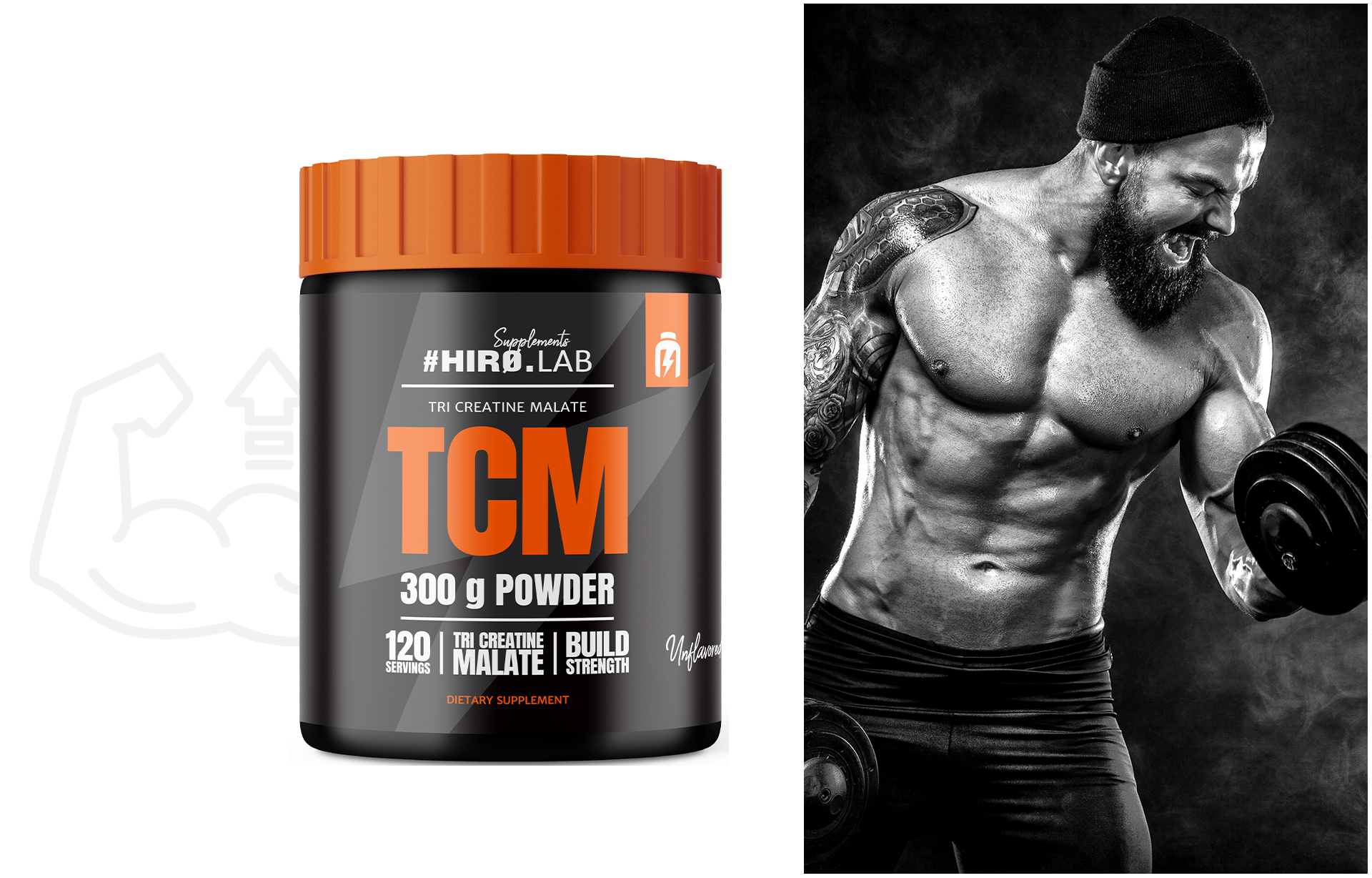 You Can Do More With Hiro.Lab TCM!
TCM from Hiro.Lab is a product that will meet the expectations of even the most demanding customers. Each serving has a huge dose of creatine. With the help of this dietary supplement, your strength will improve and your endurance will increase. Tri Creatine malate is much gentler on the digestive system than monohydrate and causes much less water retention. In other words, it will give you strength and, at the same time, it will also work well for people who have stomach problems.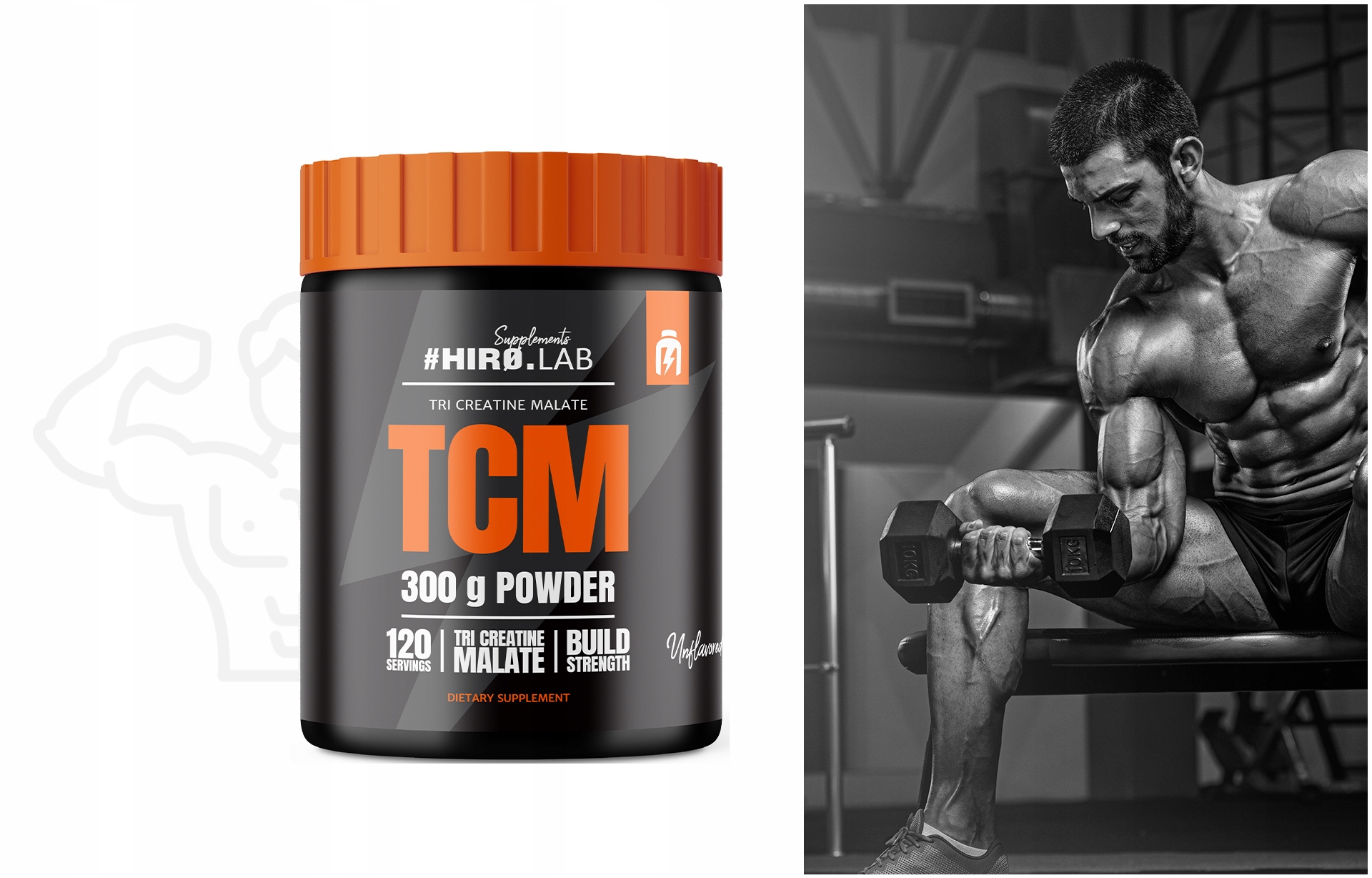 Hiro.Lab teams up with Cancer Fighters to fight cancer!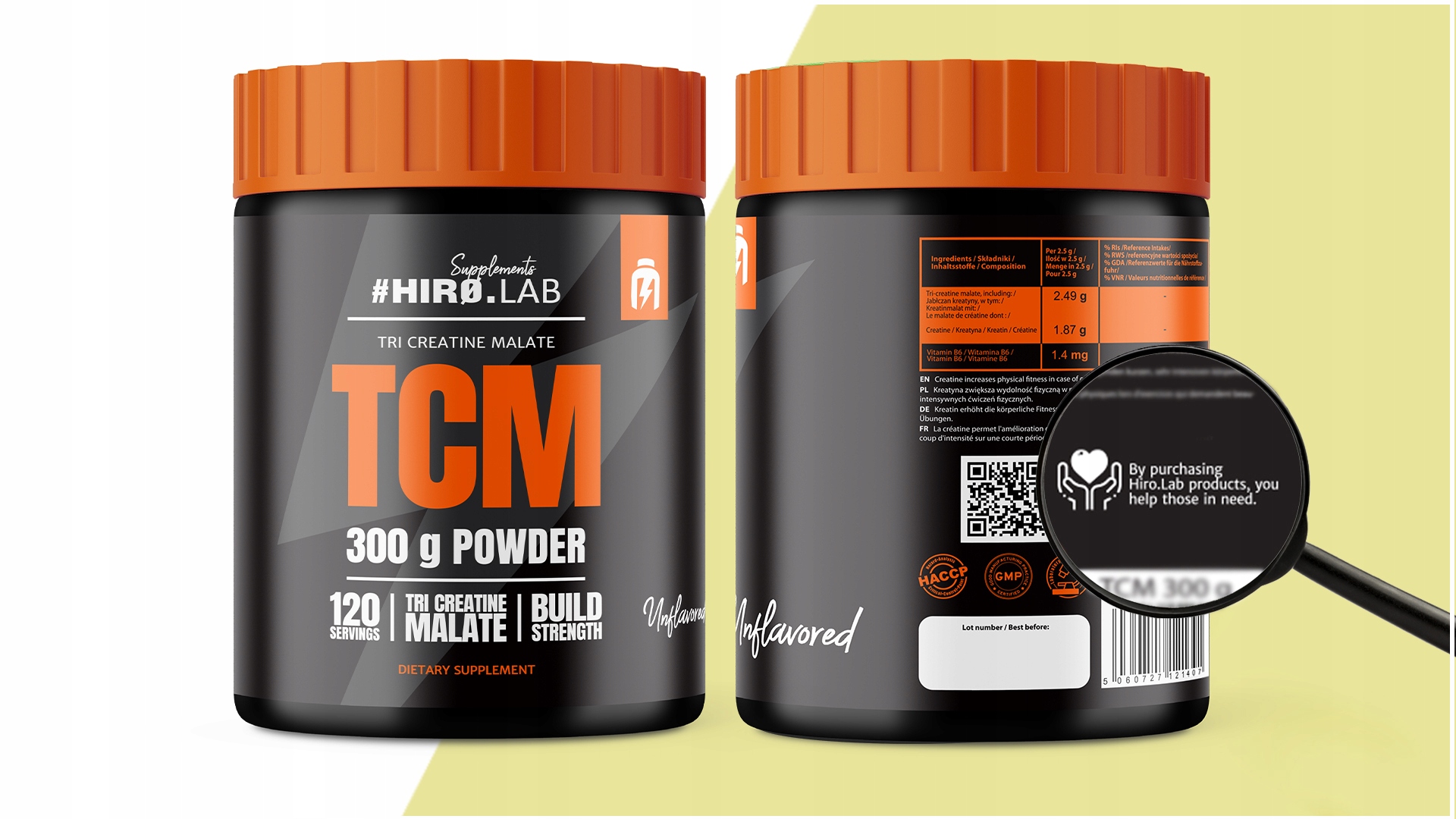 Ingredients
Portion:  2,5g
Servings in the package: 120
Pack: 300g
TCM ingredients : Creatine malate. 75.25% creatine, vitamin B6 (pyridoxine hydrochloride), anti-caking agent: silicon dioxide. May contain milk, soy, eggs and nuts.

| Active ingredients | per 2,5g portion |
| --- | --- |
| Creatine malate | 2,49 g |
| including creatine | 1,87 g |
| Vitamin B6 | 1,4 mg (100% RIV**) |
** Reference intake value for an average adult (8400 kJ / 2000 kcal)
* Ingredients, grammage and nutritional values ​​may slightly differ depending on the flavor variant of the product.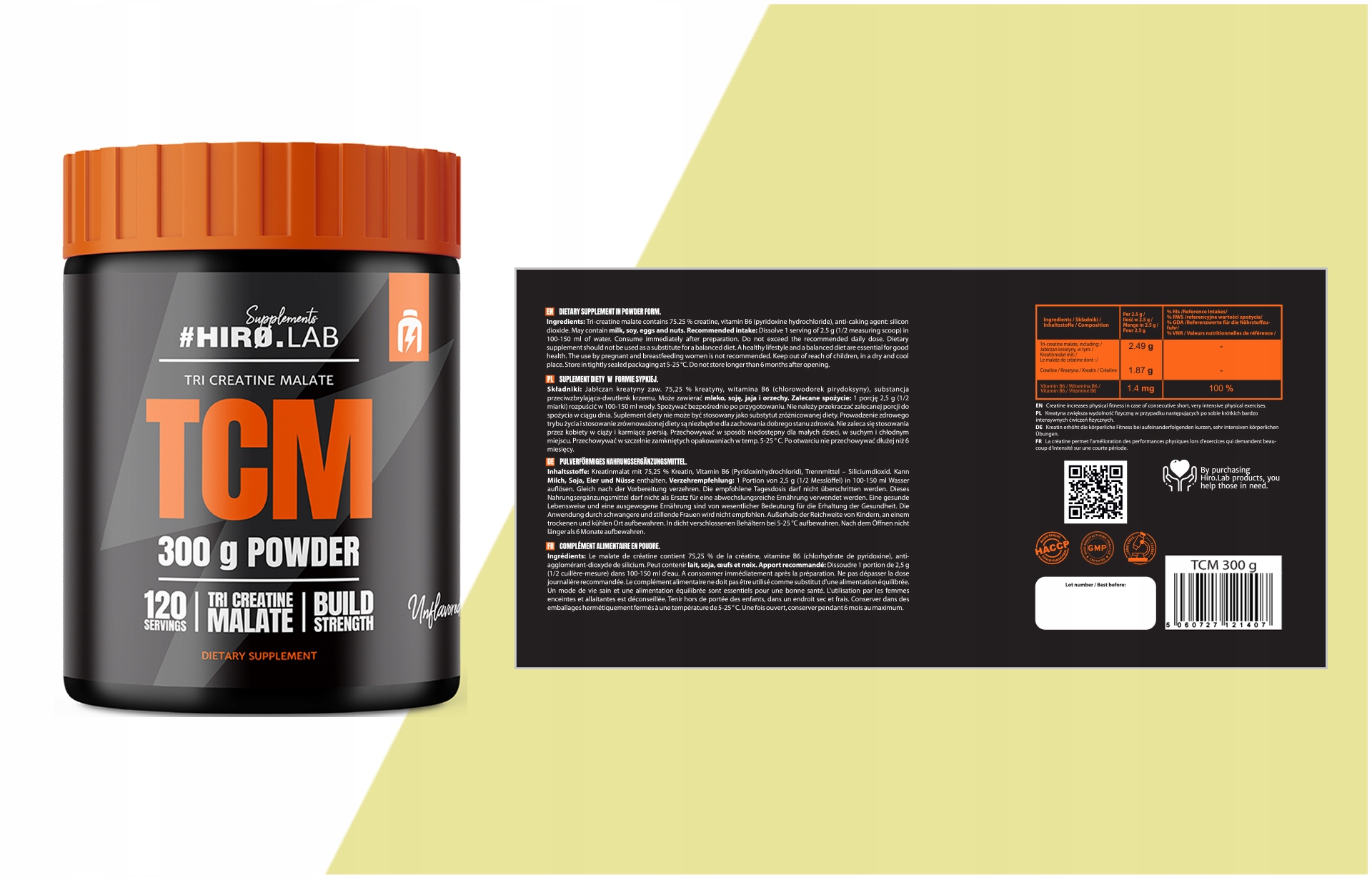 How to use TCM: Dissolve 1 serving of 2.5 g (1/2 scoop) in 100-150 ml of water or juice, on training days consume two portions a day, one immediately after waking up, and the other after training. On non-training days, drink one serving a day, after waking up.
Dietary supplements cannot be used as a substitute for a varied diet. Remember that only a healthy lifestyle and a balanced diet ensure the proper functioning of the body and maintain good condition.
Do not exceed recommended servings for consumption during the day. The product cannot be used by people who are allergic to any of its ingredients. Keep out of the reach of small children. Store in a dry place at room temperature in tightly closed containers.
Best before end: date and batch number are on the side / bottom of the packaging.
Net weight: 300g