Description
Dear Customer! We ship products from many European countries. Orders shipped to the UK may incur customs charges.
⚡ As much as 800 mg of n-Acetyl L-Cysteine ​​in one capsule
⚡Hiro.Lab NAC fights free radicals and oxidative stress
⚡ Increases the level of glutathione, contributing to weight gain!
⚡ It will help you lose weight and cleanse the body
⚡ Supports the proper functioning of the liver
⚡  It strengthens your immune system
⚡  You will be in your best shape! You will be healthier and more resistant!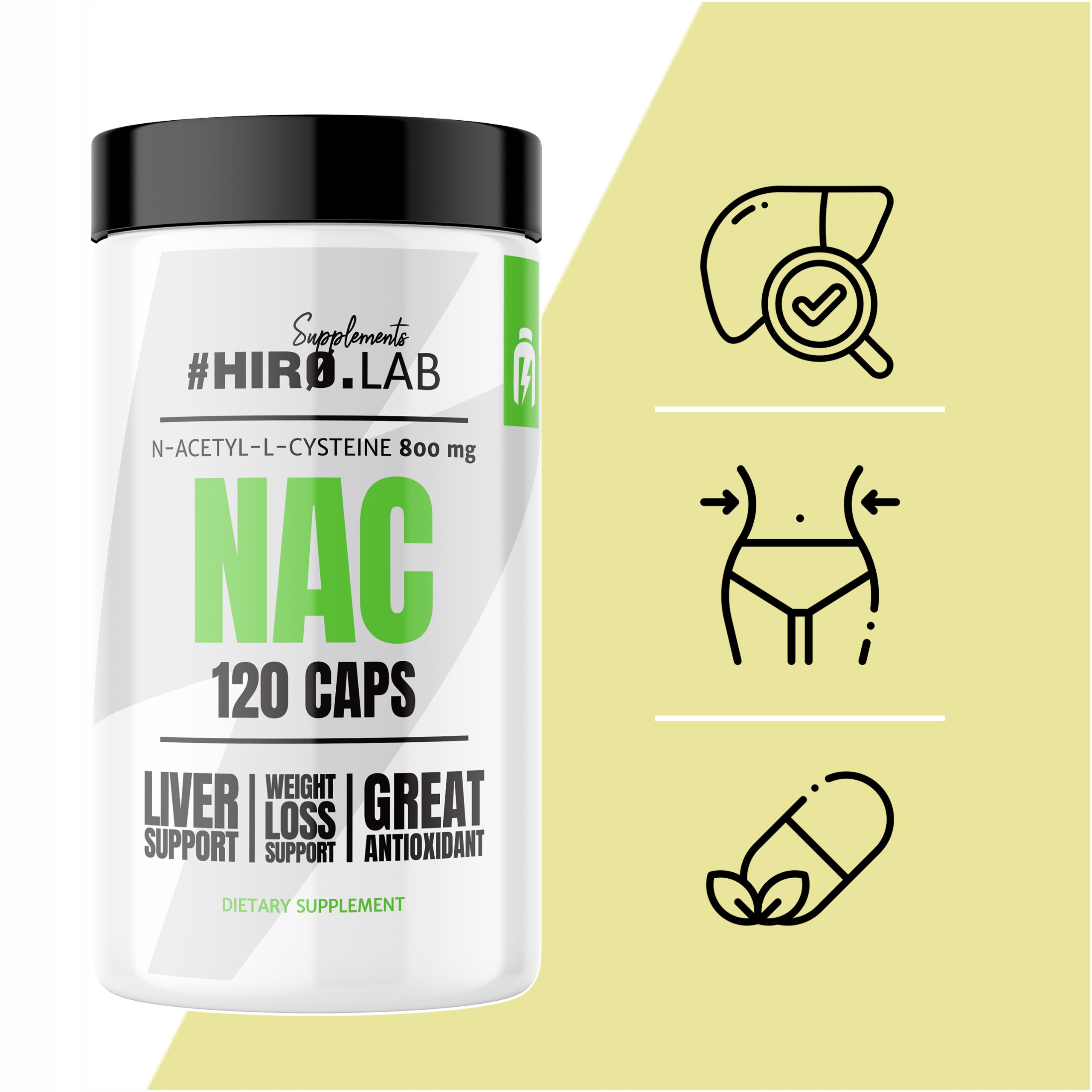 You can do more with NAC from Hiro.Lab
If you want to give your best in training and outside of it, you will surely be interested in the NAC dietary supplement from Hiro.Lab, the effects of which will surely surprise you. N-acetylcysteine ​​will guarantee your body amazing benefits, improve immunity and help you achieve better athletic performance. This transformed form of cysteine, present in Hiro.Lab NAC, has a significant antioxidant effect and will perfectly help you build muscles and a sports figure, give you strength and energy, and support you in the fight against extra kilograms. NAC is a supplement that comprehensively works on a number of functions in your body, thanks to which you will become healthier, stronger and more resistant.
Strong antioxidant effect
The main advantage of NAC from Hiro.Lab is increasing the level of glutathione in the cells, which is an important ingredient with antioxidant and body cleansing properties. It plays an important role in the fight against free radicals, making your body more resistant to oxidative stress and inflammation. It regulates the work of the liver and rebuilds its structure, thanks to which it cleans the body of toxins better. NAC or Acetylcysteine ​​helps prevent the development of infection by improving immune function by fighting viral cells. It allows you to limit the damage caused by the damaging effects of free radicals, which will help you better protect yourself against infections.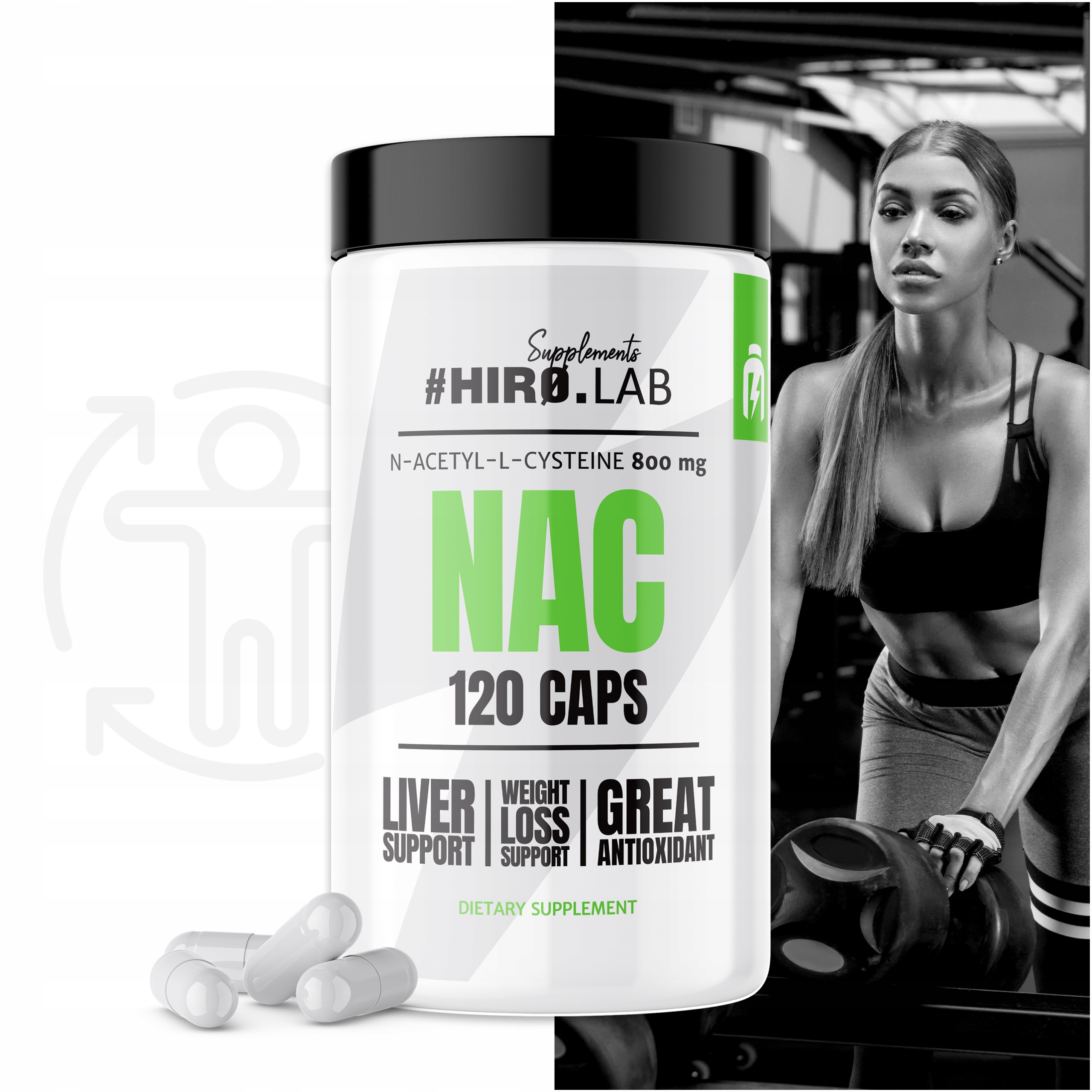 Stronger training with Nac Hiro.Lab
Unlike other antioxidants, NAC focuses its action inside the muscle cells, which is exactly where you need the antioxidant effect. Hiro.Lab's NAC preparation increases the concentration of glutathione, one of the key antioxidants, through the production of cysteine. It reduces the accumulation of unnecessary substances that have a destructive effect on the body and activates stronger sodium-potassium pumps. This is the key to keeping your muscles strong and efficient for longer, and the muscle fibers will tire much more slowly.
NAC from Hiro.Lab will help you lose weight
A particularly important feature of NAC among other advantages of this supplement is its effect on the reduction of body fat. It indirectly influences weight loss, increasing your efficiency during exercise and extending your training, and also directly supports fat burning by reducing the effect of insulin in contact with fat cells. NAC lowers insulin resistance, making it easier to lose weight, because proper insulin metabolism allows you to get energy from fats. Thanks to this, you will see the effects of your diet and regular training faster and build your dream figure.
Hiro.Lab teams up with Cancer Fighters to fight cancer!
Ingredients
Portion: 1 cap
Servings in the package: 120
Package: 120 caps
Ingredients   NAC: N-acetyl-L-cysteine, bulking agent: microcrystalline cellulose, capsule: hydroxypropyl methylcellulose (HPMC).
Manufactured in a facility that uses milk, soy, eggs and nuts.
This product is not intended to diagnose, treat, cure, or prevent any disease.
| Active ingredients | 1 capsule |
| --- | --- |
| N-Acetyl-L-Cysteine | 800 mg |
Usage
How to use NAC: Take 1 capsule once a day with a lot of water.
Keep the bottle tightly closed at 5-25 ° C. Store away from direct heat, moisture and sunlight. Do not store for more than 6 months after opening. Keep away from children
Do not exceed recommended servings for consumption during the day. The product cannot be used by people who are allergic to any of its ingredients. Keep out of the reach of small children. Store in a dry place at room temperature in tightly closed containers.
Dietary supplements cannot be used as a substitute for a varied diet. Remember that only a healthy lifestyle and a balanced diet ensure the proper functioning of the body and maintain good condition.
Best before end: date and batch number are on the side / bottom of the package.
Net weight: 120 caps