Description
Dear Customer! We ship products from many European countries. Orders shipped to the UK may incur customs charges.
⚡ A complete dose of vitamins, minerals and standardized high-concentration plant extracts
⚡ 31 active ingredients contained in a safe vegan capsule!
⚡ As much as 4000 IU of vitamin D per portion!
⚡ Immuno Shield Your immune shield – immune support complex!
⚡ Product with the addition of grape seed extract (95% OPC) DER 100: 1
⚡ HACCP and GMP certificates confirming production purity and safety of use
⚡Product tested for the presence of heavy metals – check it out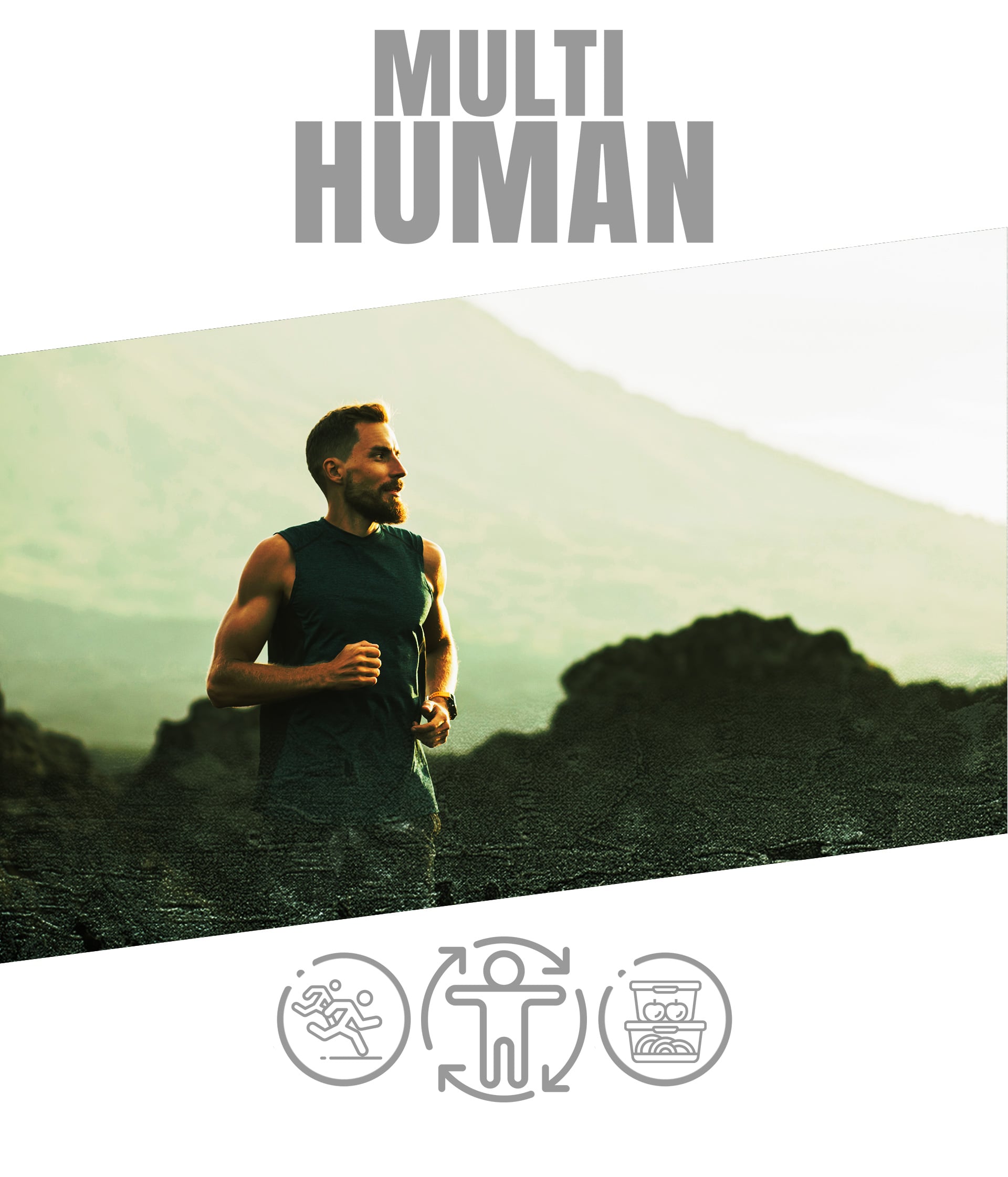 High efficiency thanks to the Multi Human multivitamin
You wake up, fully motivated, and you go for a routine start-up? Then you come back, take a quick shower and eat the champions' breakfast? We are sure that you feel alive from the very beginning of the day! Now it's time to go to work, where you are doing your best. You're a leader, or maybe you're just beginning your career? We know that you keep moving forward. The work is over and there is still an evening training to complete? You can do it! Self-discipline and regularity as well as a healthy lifestyle and a high-quality diet lead you to be in the best shape! However, we are aware that life in full swing requires comprehensive support. That is why experts of the Hiro.Lab brand come to the rescue. After many long and thorough research, they have developed the Multi Human complex of vitamins and minerals, supporting you on your way to the top!

Comprehensive support for the whole organism!
You certainly cannot deny yourself the lack of self-denial and motivation to act – after all, sports determination really starts in your head. However, in order for your body to keep up with this fast pace, recharge it with the right amount of vitamins and minerals. Multi Human in the form of vegan capsules will allow you to supplement the daily requirement for many different active ingredients in one serving, without the need to take separate supplements for each of the micronutrients. Compared to other vitamin complexes, with Multi Human you get a really high dose of excellent quality active ingredients. What's more, thanks to the unique Immuno Shield formula, you will strengthen your immune system by creating an immune shield that effectively protects you against viruses and bacteria.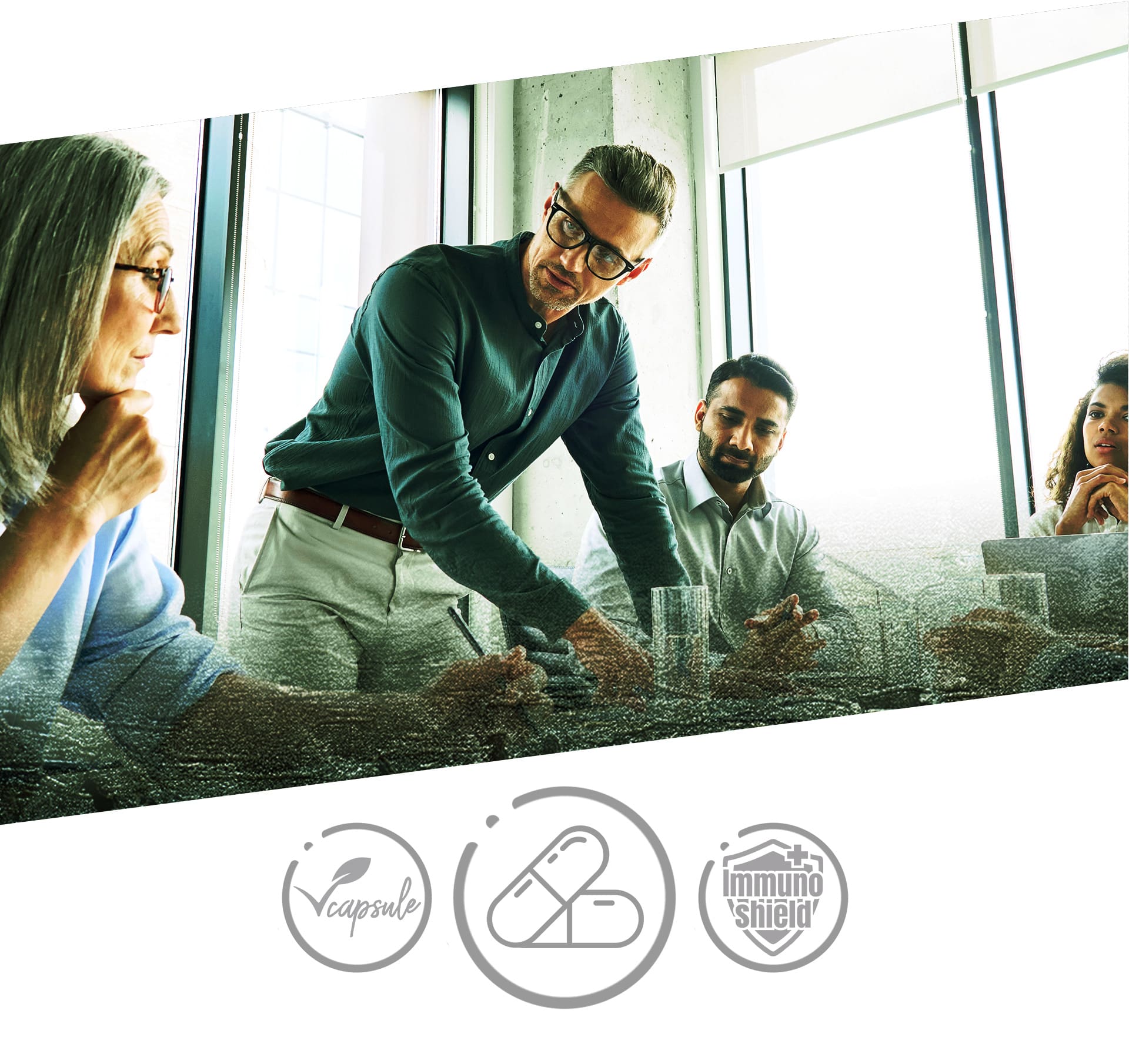 Be Multi Human!
A complete dose of B vitamins contributes to proper energy metabolism, supporting metabolism and improving thinking efficiency. In turn, magnesium is responsible for the proper functioning of the muscles and conduction of nerve impulses, and also contributes to the reduction of tiredness and weariness. In Multi Human, thanks to the increased dose of iron, you will provide more oxygen to your entire body, high manganese concentration will support the functioning of your skeletal system and joints. Thanks to the combination of a high content of zinc and vitamin D, the supplement has a very positive effect on the functioning of the nervous system, while vitamin D itself is an excellent support for the body's immunity. Calcium will help you maintain healthy, strong bones and teeth, which is also important in maintaining the proper level of hydration and electrolyte balance.
Standardized plant extracts
Nature has always been a valuable source of food and ingredients beneficial to human health. In the Multi Human supplement, these beneficial properties have been included in the form of the highest quality plant extracts, most of which are standardized. Thanks to this process, we get information on how much active substance is in one ingredient, which ensures effective operation. In the multivitamin from Hiro, we find, among others extract of bitter orange and artichoke leaves, which support the functioning of your digestive system, accelerate metabolism and improve digestive processes. The extracts of nettle herb and pumpkin seeds contained in Human have a beneficial effect on the functioning of the urinary system, while the green tea extract supports the work of the cardiovascular system.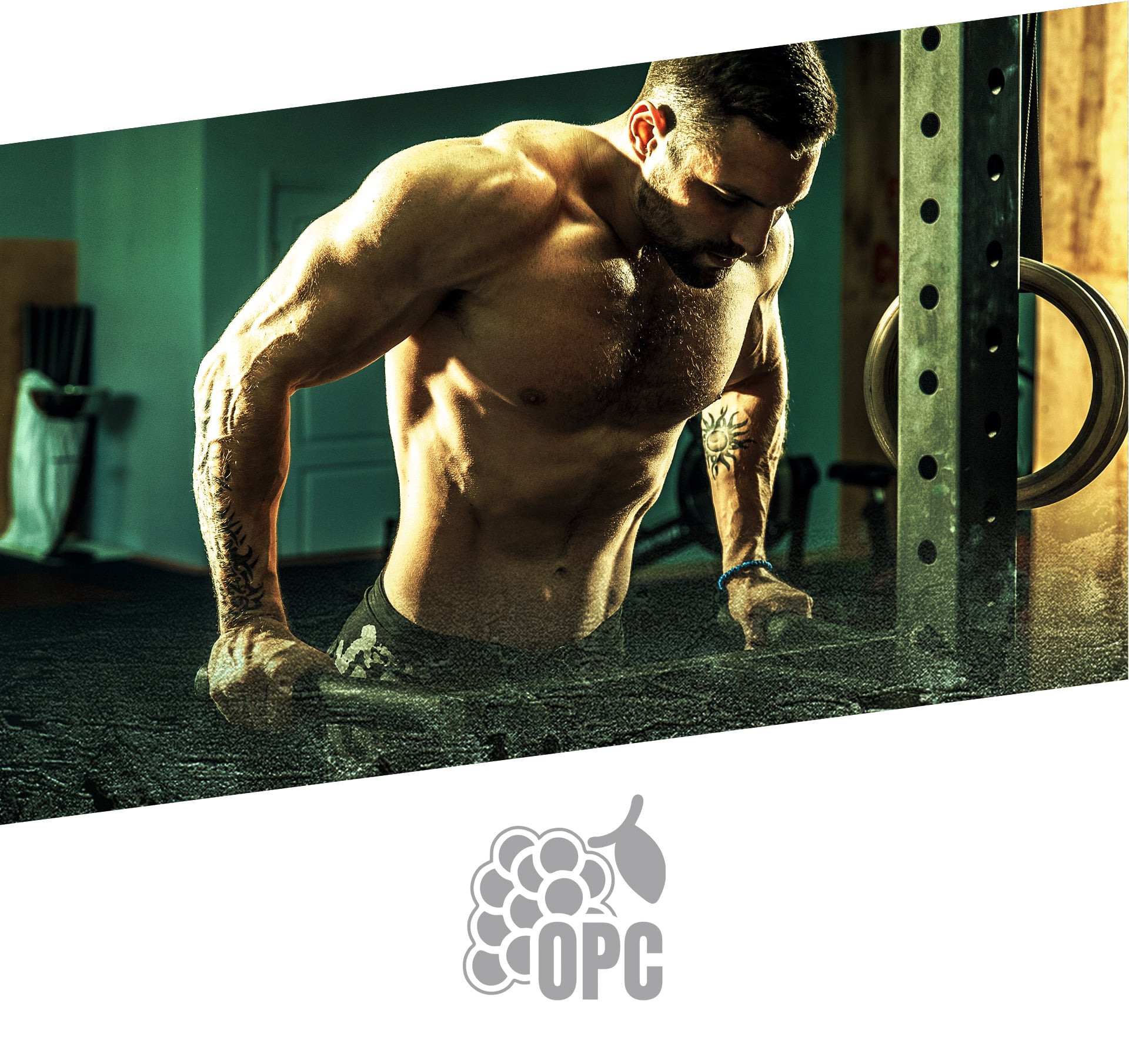 Grape Seed Extract – Oligomeric Proanthocyanidin Complexes Grape Seeds Extract
Another natural ingredient of the Hiro supplement, carrying a number of health-promoting properties, is grape seed extract, which contains significant amounts of active compounds, called oligomeric proanthocyanidins (OPCs). It is a multidimensional support for your body, especially due to its strong antioxidant effect, which prevents the development of inflammation caused by the accumulation of free radicals. With Multi Human you will prevent tissue damage, improve efficiency and regeneration, and make your body stronger, while maintaining a high level of energy. In addition, grape extract is a great carrier of vitamins and other microelements, increasing their absorption and intensifying their action.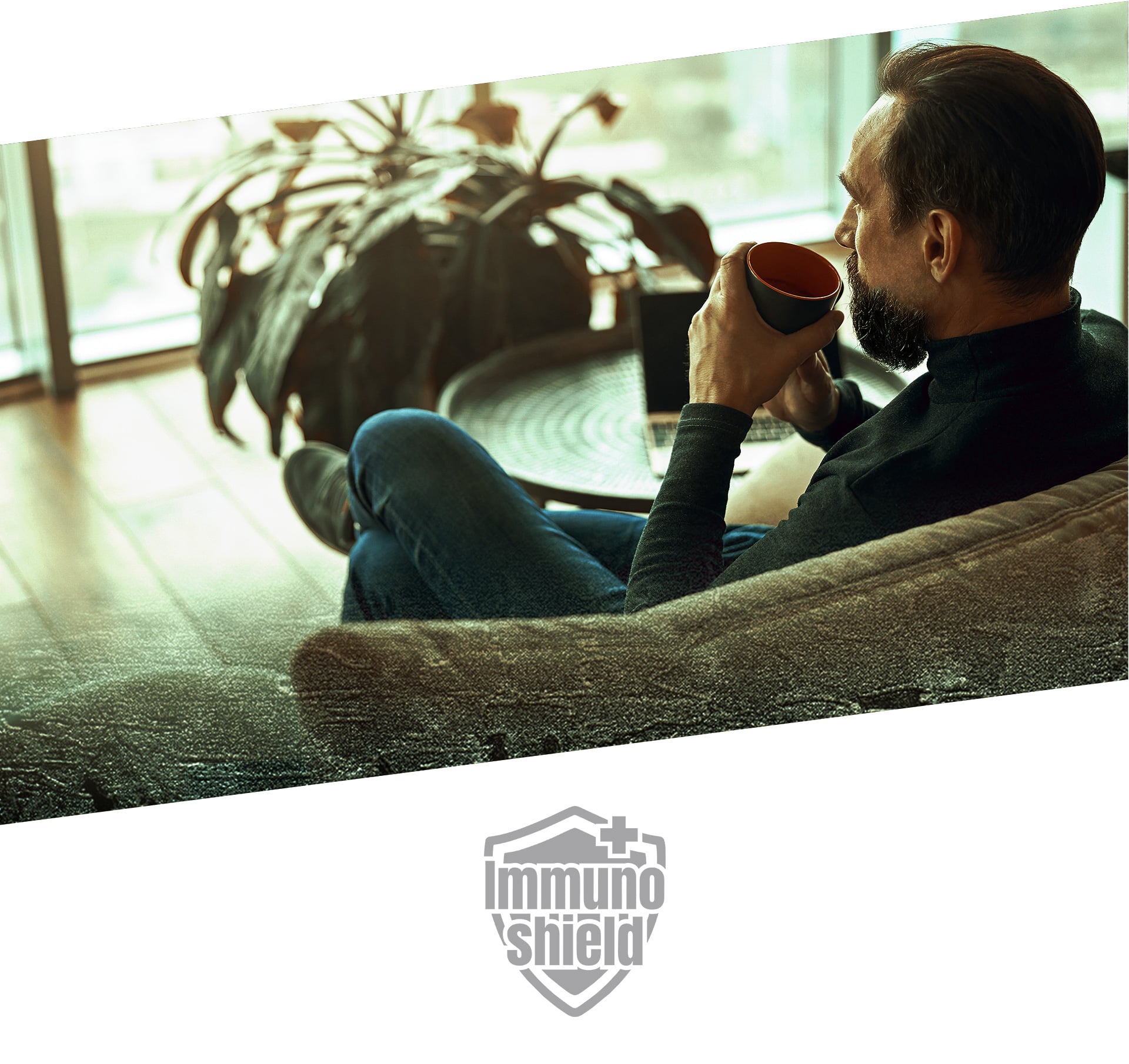 Strengthen your immunity with Multi Human
Hiro.Lab Multi Human is an irreplaceable foundation with which you will fill any gap between what you get from food and what your active lifestyle requires. Vitamin deficiencies can cause many undesirable effects, such as fatigue, decline in form and various types of infections. This has a significant impact not only on your well-being, but also your motivation to achieve your goals. The combination of Zinc, Vitamin C and Rutin will strengthen your immune system, creating an immune shield, the so-called Immuno Shield, effectively protecting you against viruses and bacteria. Every dose of Multi Human provides 4000IU of Vitamin D3 – the most important vitamin when it comes to your immune system. That means you won't need another supplement for this "vitamin of the sun".  You will keep your body healthy in any situation, all year round.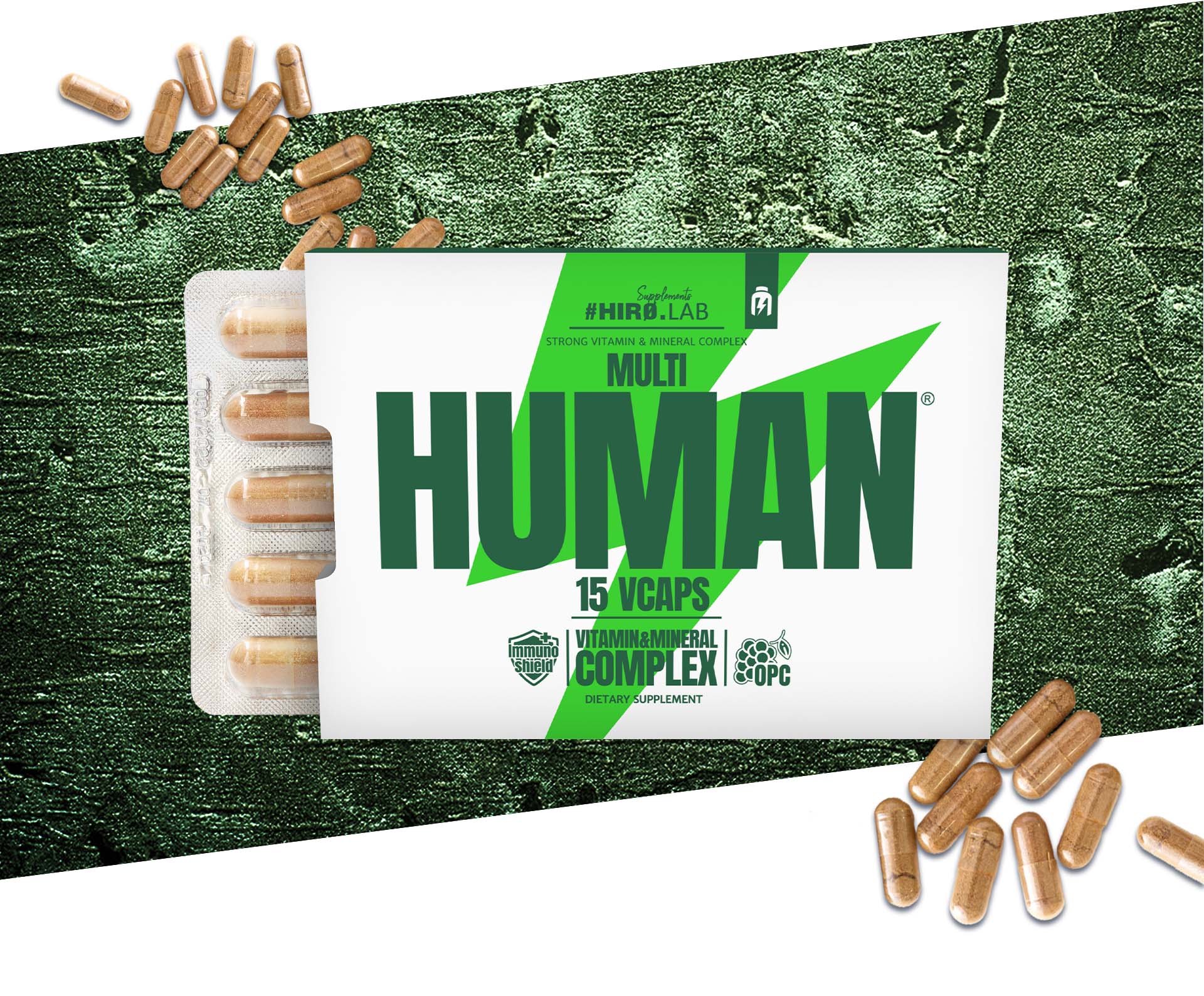 Safety first
The Hiro.Lab brand puts the safety of its supplements first. That is why you will find relevant research for most of them, showing the exact composition of the product, the presence of microorganisms, or, as in the case of Multi Human – heavy metals that are dangerous to health. You can check the evidence that Multi Human is a safe multivitamin supplement here.
Ingredients
Serving Size: 2 vcaps
Servings in the package: 7
Packaging: 15 vcaps
Multi Human ingredients: Bulking agent – microcrystalline cellulose, standardized grape extract (Vitis vinifera L.) 100: 1 95% OPC proanthocyanidin, cellulose shell gelling agent – hydroxypropyl methylcellulose, stabilizer – carrageenan, acidity regulator – potassium acetates, magnesium (oxide magnesium), calcium (calcium carbonate), standardized bitter orange fruit extract (Citrus aurantium L.) 6: 1 40% citrus bioflavinoids content, vitamin C (L-ascorbic acid), potassium (potassium chloride), standardized artichoke leaf extract (Cynara scolymus L.) 6: 1 5% cynarin content, pumpkin seed extract (Cucurbita pepo L.) 4: 1, nettle extract (Urtica dioica L.) 4: 1, standardized green tea extract (Camelia sinensis (L.) Kuntze) 10: 1 55% EGCG content, standardized water extract from the Japanese pagoda tree (Styphnolobinum japonicum (L.) Schott.) 6: 1 95% rutin content, iron (iron (II) phumerate), itamin E (dl-alpha tocopherol acetate), vitamin D (cholecalciferol), zinc (zinc oxide), anti-caking agent – magnesium salts of fatty acids, niacin (nicotinamide), riboflavin, vitamin B6 (pyroxidine hydrochloride), vitamin B1 (thiamine mononitrate) , selenium (L-selenomethionine), pantothenic acid (calcium D-pantothenate), anti-caking agent – silicon dioxide, ALA (alpha-lipoic acid), manganese (manganese sulfate), vitamin A (retinyl acetate), copper (copper sulfate), vitamin B12 (cyanocobalamin), standardized black pepper extract (Piper Nigrum L.), 95% piperine content, chromium (chromium (III) chloride), folic acid (pteroylmonoglutamic acid), iodine (potassium iodide), biotin (D-biotin ).
This product is not intended to diagnose, treat, cure, or prevent any disease.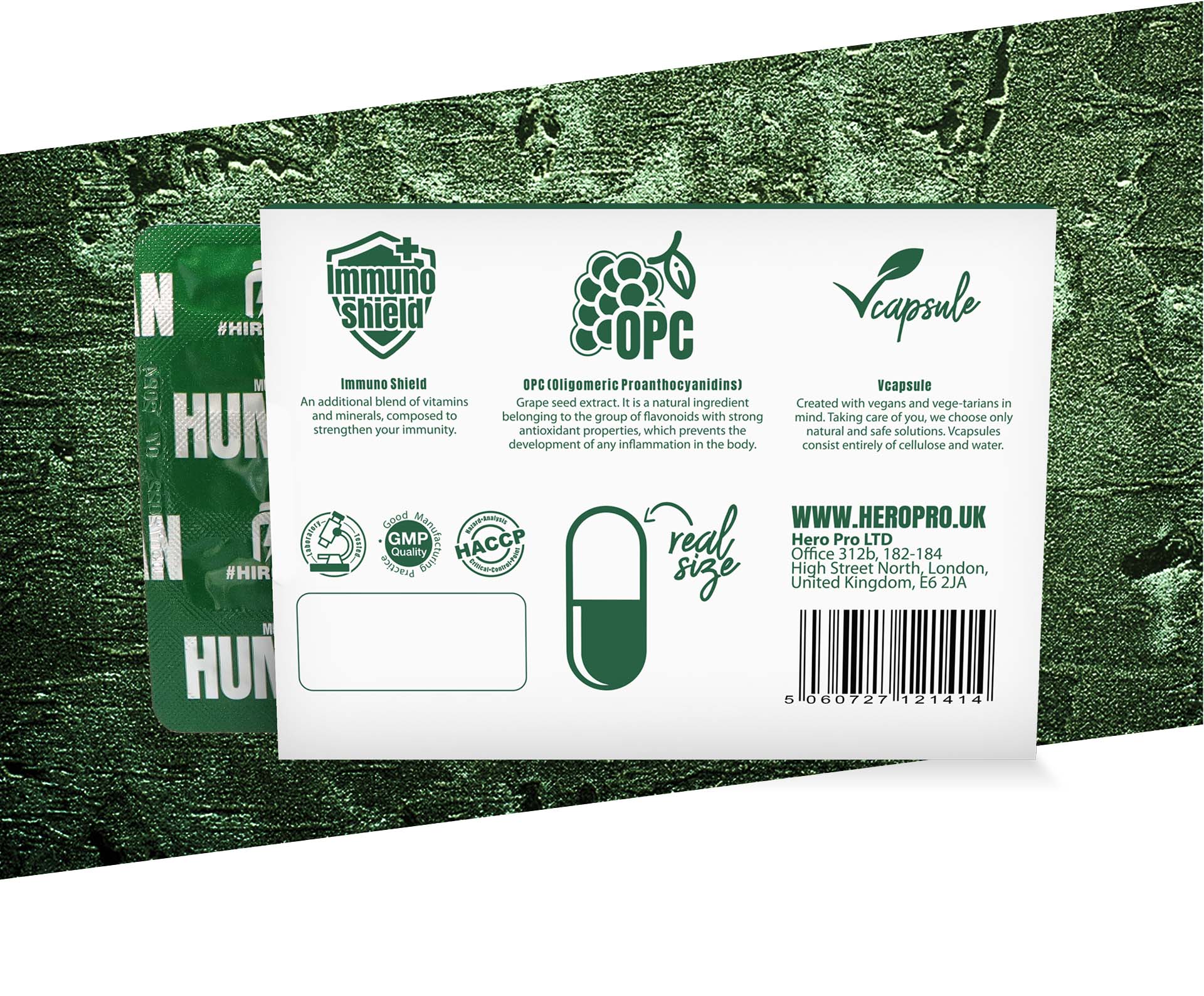 | Active ingredients | in portion 2 vcaps | *%RWS |
| --- | --- | --- |
| Standardized grape extract (Vitis vinifera L.) 100: 1 | 400 mg |  – |
| – 95% OPC proanthocyanidin | 380 mg |  – |
| Standardized bitter orange fruit extract 6: 1 | 200 mg |  – |
| – 40% citrus bioflavinoids | 80 mg |  – |
| Magnesium | 180 mg | 48% |
| Vitamin C | 160 mg | 200% |
| Calcium | 100 mg | 12,5% |
| Standardized artichoke leaf extract 6:1 | 80 mg |  – |
| – 5% cynarin | 4 mg |  – |
| Potassium | 75 mg | 3,8% |
| Pumpkin seed extract 4:1 | 60 mg |  – |
| Nettle extract 4:1 | 60 mg |  – |
| Standardized green tea extract 10:1 | 60 mg |  – |
| – 55% EGCG | 33 mg |  – |
| Standardized Japanese Pagoda Tree Water Extract 6:1 | 53 mg |  – |
| – 95% rutin | 50,4 mg |  – |
| Niacin | 31 mg | 193,80% |
| Zinc | 30 mg | 300% |
| Vitamin E | 24 mg | 200% |
| Vitamin B2 | 19,6 mg | 1400% |
| Vitamin B6 | 18,8 mg | 1342% |
| Vitamin B1 | 15 mg | 1364% |
| Iron | 15 mg | 107,20% |
| Pantothenic Acid | 12 mg | 200% |
| ALA | 10 mg |  – |
| Manganese | 3 mg | 150% |
| Black pepper standardized extract | 1 mg |  – |
| – 95% piperine | 0,94 mg |  – |
| Copper | 1 mg | 100% |
| Vitamin A | 1000 μg | 125% |
| Folic Acid | 400 μg | 200% |
| Iodine | 150 μg | 100% |
| Chromium | 150 μg | 375% |
| Biotin | 100 μg | 200% |
| Vitamin D | 100 μg | 2000% |
| Selenium | 75 μg | 136% |
| Vitamin B12 | 20 μg | 800% |
* Reference intake value for an average adult (8400 kJ / 2000 kcal)
How to use Multi Human: Take 2 capsules a day, best after a meal.
Do not exceed the recommended daily dose.
Dietary supplements cannot be used as a substitute for a varied diet. Remember that only a healthy lifestyle and a balanced diet ensure the proper functioning of the body and maintain good condition.
It is not recommended for pregnant and lactating women.
Best before end: date and batch number are on the bottom / side of the label
Net weight: 15 vcaps