Description
Dear Customer! We ship products from many European countries. Orders shipped to the UK may incur customs charges.
⚡It is a valuable source of energy
⚡ Neutral taste and very good solubility
⚡ It is a great alternative to "regular" oil
⚡ Perfect for a low-carb and ketogenic diet
⚡ Add it to bulletproof coffee

What is MCT Oil?
MCT Oil from Hero.Lab are fatty acids that are a great source of energy and strengthen the body. It is a product designed for people who train intensively, try to lose weight and need an additional boost of power. The product is perfect as an addition to meals and drinks, without burdening the digestive system.
Oil, diet and training
MCT oil is a great source of energy that keeps you full for a long time. Eating by effort alone is usually accompanied by a feeling of heaviness, but when we eat too early, we can get hungry, which affects the quality of our training. Thanks to MCT Oil, we can eat a pre-workout meal at a time convenient for us, thus eliminating the feeling of discomfort.
Ingredients
Portion: 45ml
Servings in the package: 8
Pack: 400ml
Ingredients: MCT oil containing medium-chain fatty acids (derived from palm oil, palm kernel oil and rapeseed oil).
This product is not intended to diagnose, treat, cure, or prevent any disease
| Active ingredients | 100 grams |
| --- | --- |
| Energy | 3700 kJ / 900 kcal |
| Fat | 100 grams |
| including saturated fat | 99,9 g |
| Carbohydrates | 0 g |
| including sugar | 0 g |
| Protein | 0 g |
| Salt | 0 g |
| Active Ingredients | 45 ml |
| Caprylic acid | 25,5 g |
| Caproc Acid | 17 g |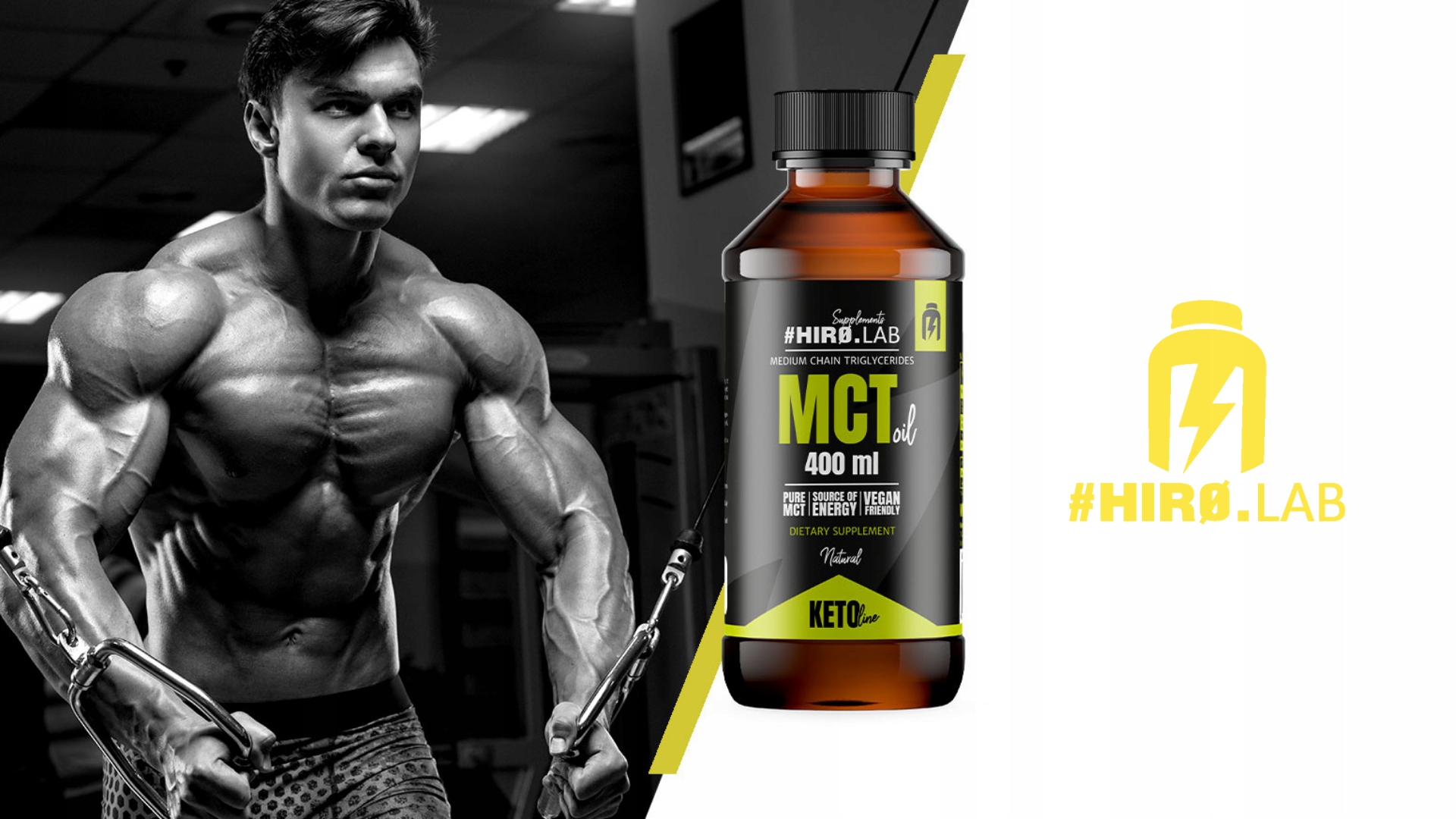 How to use Hero.Lab MCT Oil: It is recommended to consume 1 tablespoon 3 times a day with meals.
Dietary supplements cannot be used as a substitute for a varied diet. Remember that only a healthy lifestyle and a balanced diet ensure the proper functioning of the body and maintain good condition.
Do not exceed recommended servings for consumption during the day. The product cannot be used by people who are allergic to any of its ingredients. Keep out of the reach of small children. Store in a dry place at room temperature in tightly closed containers.
Best before end: date and batch number are on the side / bottom of the packaging.
Net weight: 400ml