Description
Dear Customer! We ship products from many European countries. Orders shipped to the UK may incur customs charges.
⚡ Naturally increases testosterone levels
⚡ Increases libido, improves fertility, strengthens erection
⚡ Supports the immune system and helps build muscle mass
⚡ Maca Hiro.Lab supports the work of the brain, improves memory and concentration
⚡ It improves the functioning of the nervous system and reduces the level of stress
⚡ It improves the quality of sexual life in women and men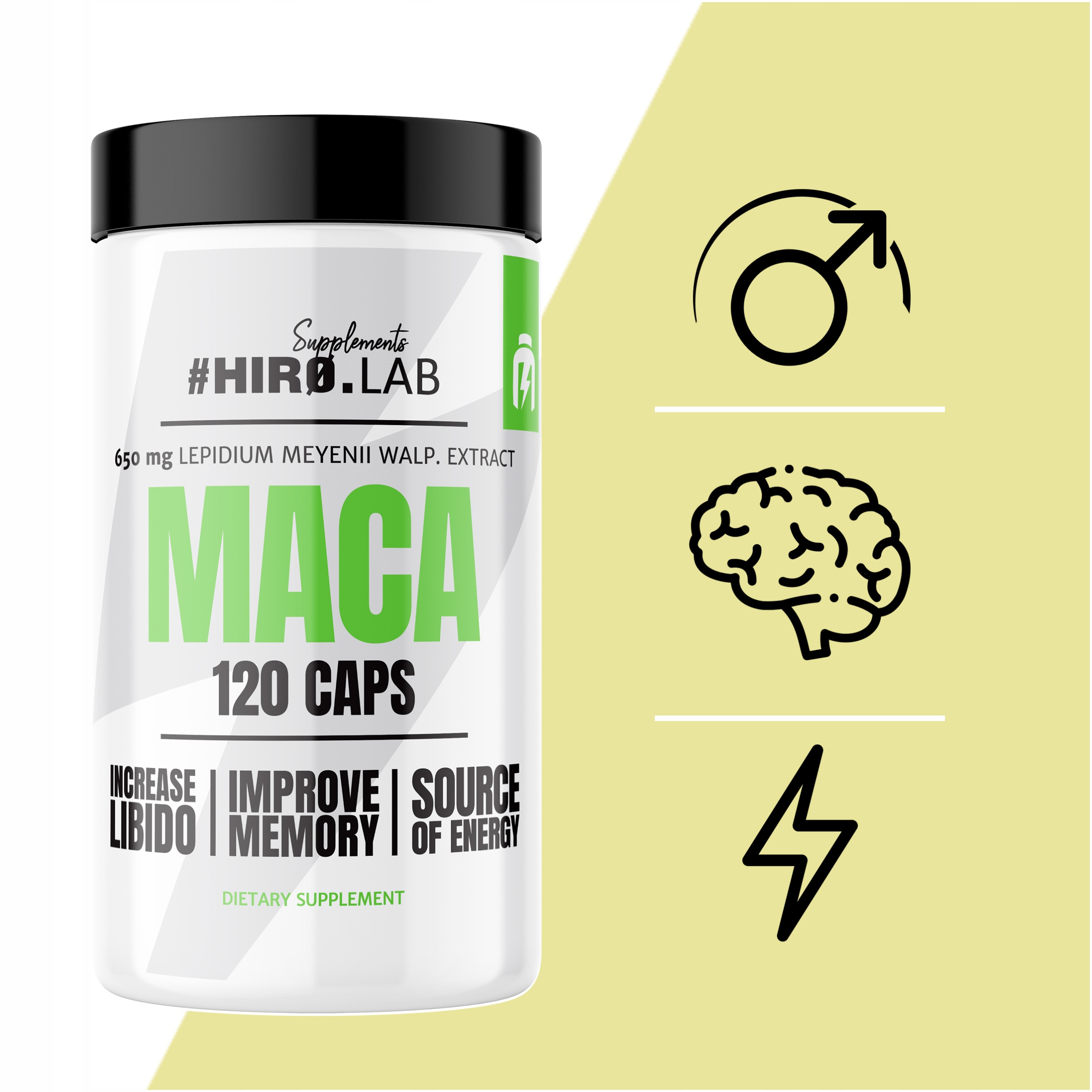 Stay fit day and night with Maca
The Hiro.Lab brand presents the Maca dietary supplement that will allow you to live life at full capacity during the day and successfully complete your bed matters at night. This is due to the natural ingredient Maca root, also known as Peruvian Ginseng. By taking Hiro.Lab Maca, you will gain much more strength that comes naturally from your body, which will translate into an improvement in the quality of your life. Having enough strength and power, you will easily overcome all the challenges posed by every day full of work and training. In this way, you and your significant other will be fully satisfied.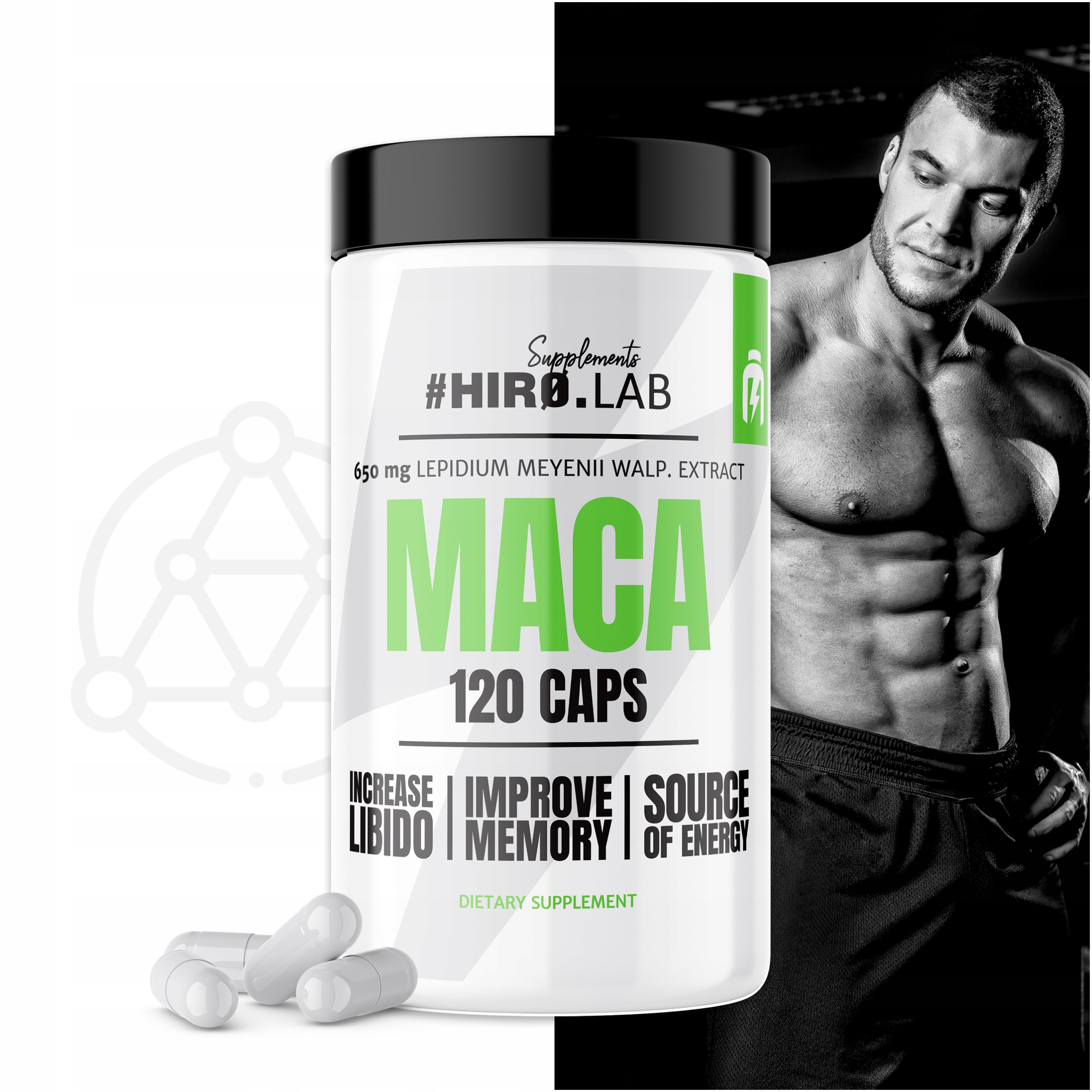 Maca Hiro.Lab will support you comprehensively
Maca root has been an important element of both South American cuisine for centuries, as well as a way to improve the efficiency of the body. Systematically used Maca supplement from Hiro.Lab will allow you to always be in good shape. What's more, Lepidium Meyenii, through its stimulating effect, will improve your performance during training. You will exercise harder, longer, and use your full potential, and your muscles will regenerate faster. Maca also regulates hormone levels and supports libido, making your sex life better than ever. Take care of your body, be strong and persistent thanks to Hiro.Lab Maca.
Regulation of hormones with Maca Hiro.Lab
The negative factors in your life, such as stress or even irregular sleep, can lead to a decrease in libido and reduce sexual performance. And although there are various ways to improve this situation, opt for natural hormone support, i.e. the Maca supplement from Hiro.Lab. It regulates the activity of the endocrine glands responsible for the production of hormones in the blood and prevents erection problems and increases sex drive. It is also a way to increase testosterone levels, improve sperm quality and sperm mobility, and strengthen bones and muscle protein synthesis. Maca is also recommended for pre- and postmenopausal women due to its ability to support overall hormone production.
Hiro.Lab Maca means better sports results
An additional property of the Maca supplement from Hiro.Lab is supporting the building of muscle mass. Thanks to the presence of sterols, which work in a similar way to anabolic steroids, you will build and maintain muscle mass. It will increase your motivation to act, and you will do each training as best and as hard as possible. Moreover, Maca is known as "superfood" which means that it is very rich in unique nutrients such as polyphenolic compounds. The high content of micronutrients in the Hiro supplement will make your immune system function flawlessly.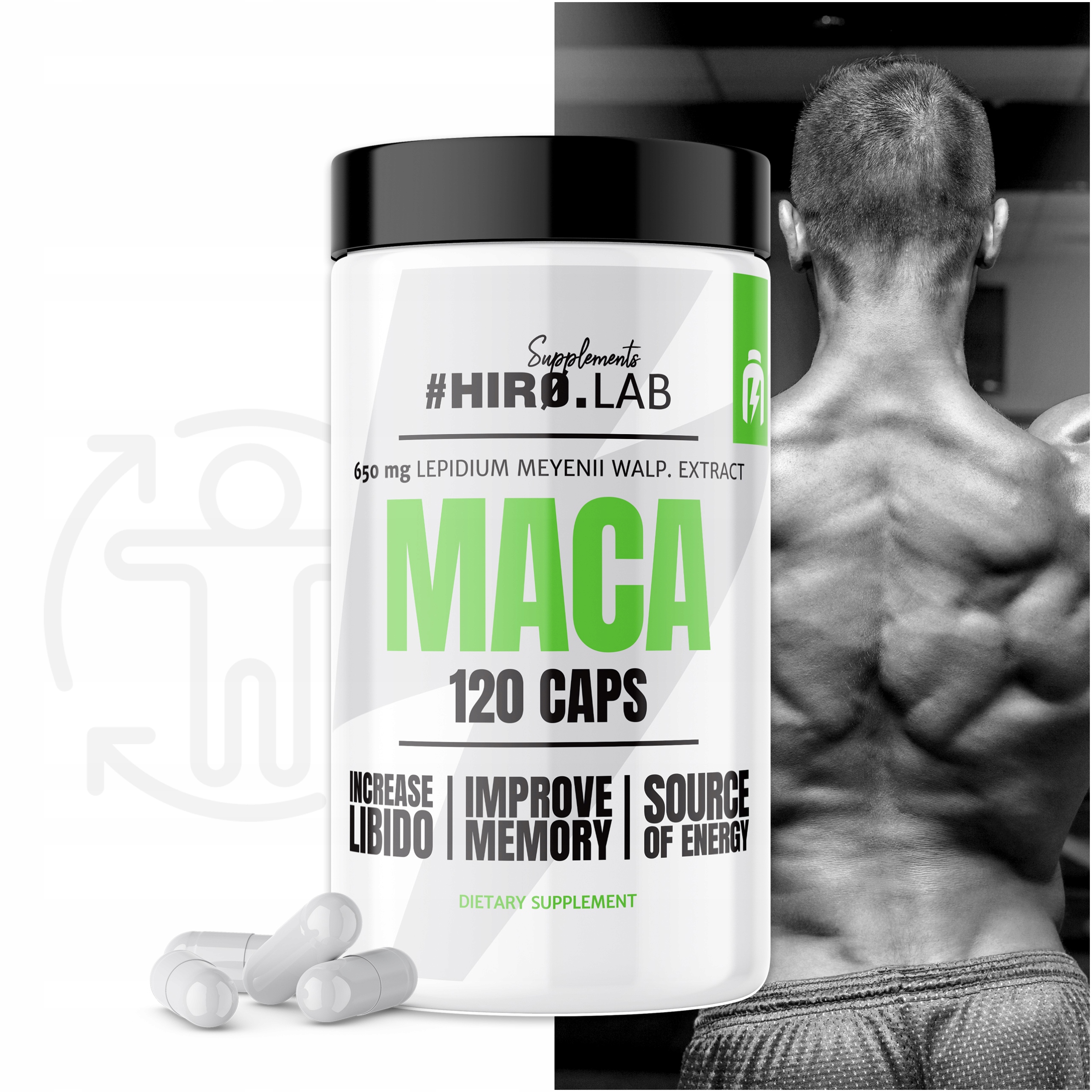 Hiro.Lab teams up with Cancer Fighters to fight cancer!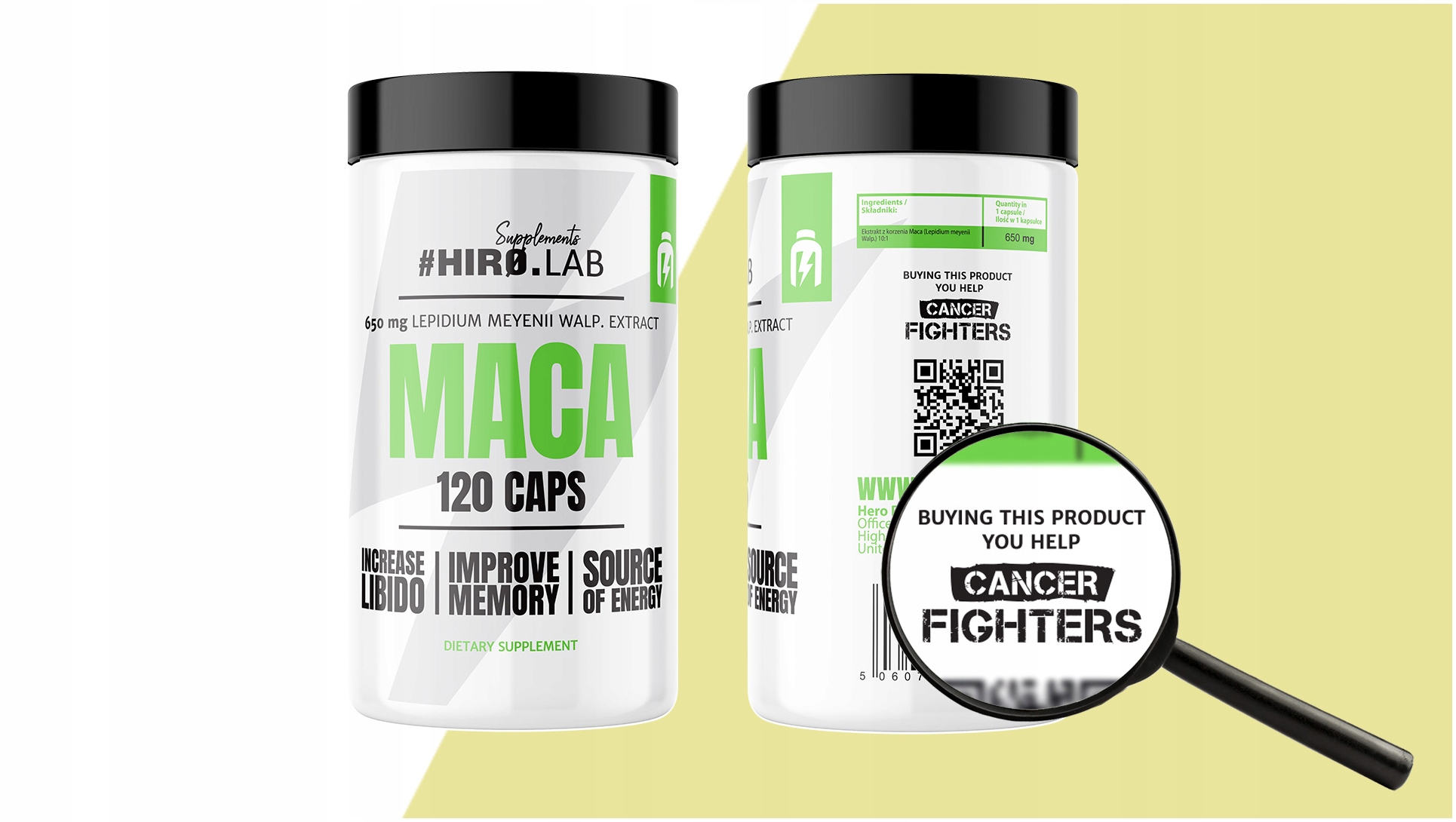 Ingredients
Portion:  1 capsule
Servings in the package: 120
Pack: 120 caps
Ingredients Maca 120 caps: Maca root extract (Lepidium meyenii Walp.) 10: 1, bulking agent – hydroxypropylmethyl cellulose, anti-caking agent – magnesium salts of fatty acids, anti-caking agent – silicon dioxide.
| Active ingredients | 1 cap |
| --- | --- |
| Maca root extract (Lepidium meyenii Walp.) 10: 1 | 650 mg |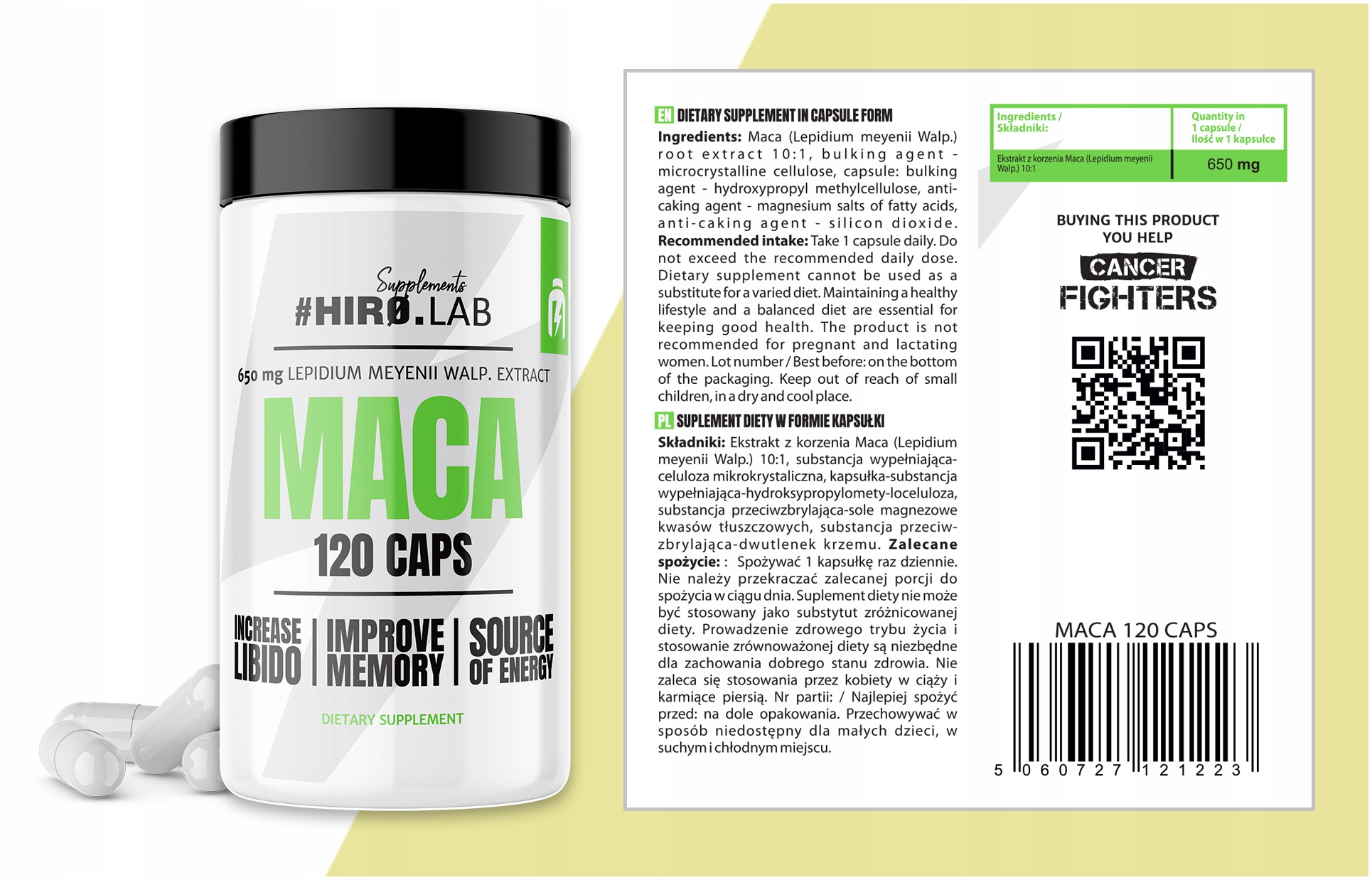 Usage
How to use Maca 120 caps: Consume 1 capsule once a day.
Dietary supplements cannot be used as a substitute for a varied diet. Remember that only a healthy lifestyle and a balanced diet ensure the proper functioning of the body and maintain good condition.
Do not exceed recommended servings for consumption during the day. The product cannot be used by people who are allergic to any of its ingredients. Keep out of the reach of small children. Store in a dry place at room temperature in tightly closed containers.
It is not recommended for pregnant and lactating women.
Best before end: date and batch number are on the side / bottom of the packaging.
Net weight: 120 caps