Description
Dear Customer! We ship products from many European countries. Orders shipped to the UK may incur customs charges.
⚡ Product tested – check it
⚡ Great solubility
⚡ Many different flavors to choose from
⚡ A large dose of protein
⚡ Created with the highest production standards
⚡ It gets absorbed about 45 minutes after consumption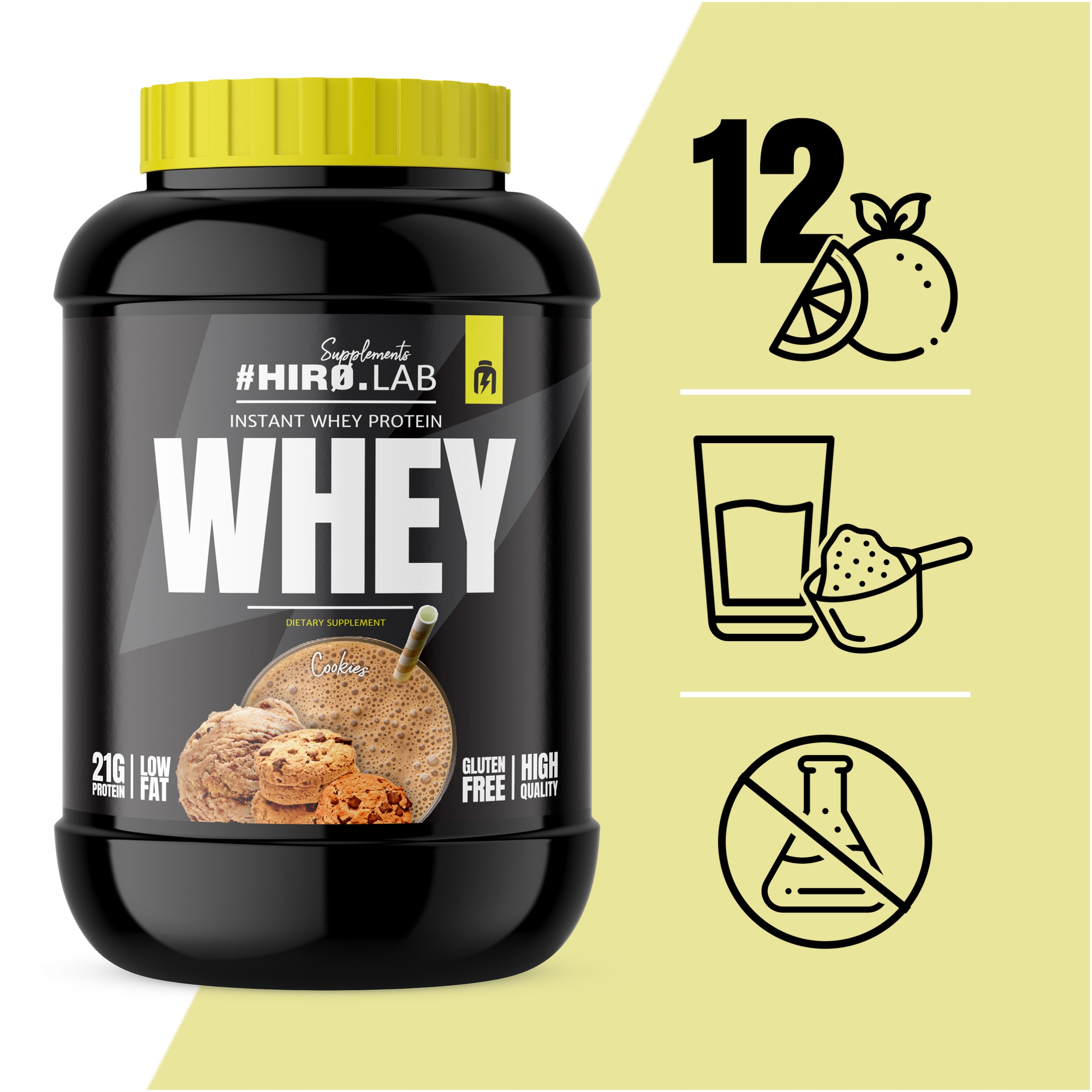 Build mass with Instant Whey Protein
Protein supplements are becoming more and more popular because they allow you to develop muscle mass faster. They are used not only by people for whom sport is a profession – it is increasingly chosen by amateurs and even people on a diet. Hiro.Lab brings WPC to a completely new, previously unknown level by combining excellent quality, great price and delicious taste. Hiro.Lab's Whey is a great whey protein concentrate that dissolves perfectly and does not cause foam. It is characterized by a very high protein content of up to 21g per serving. It does not contain artificial colors or glucose.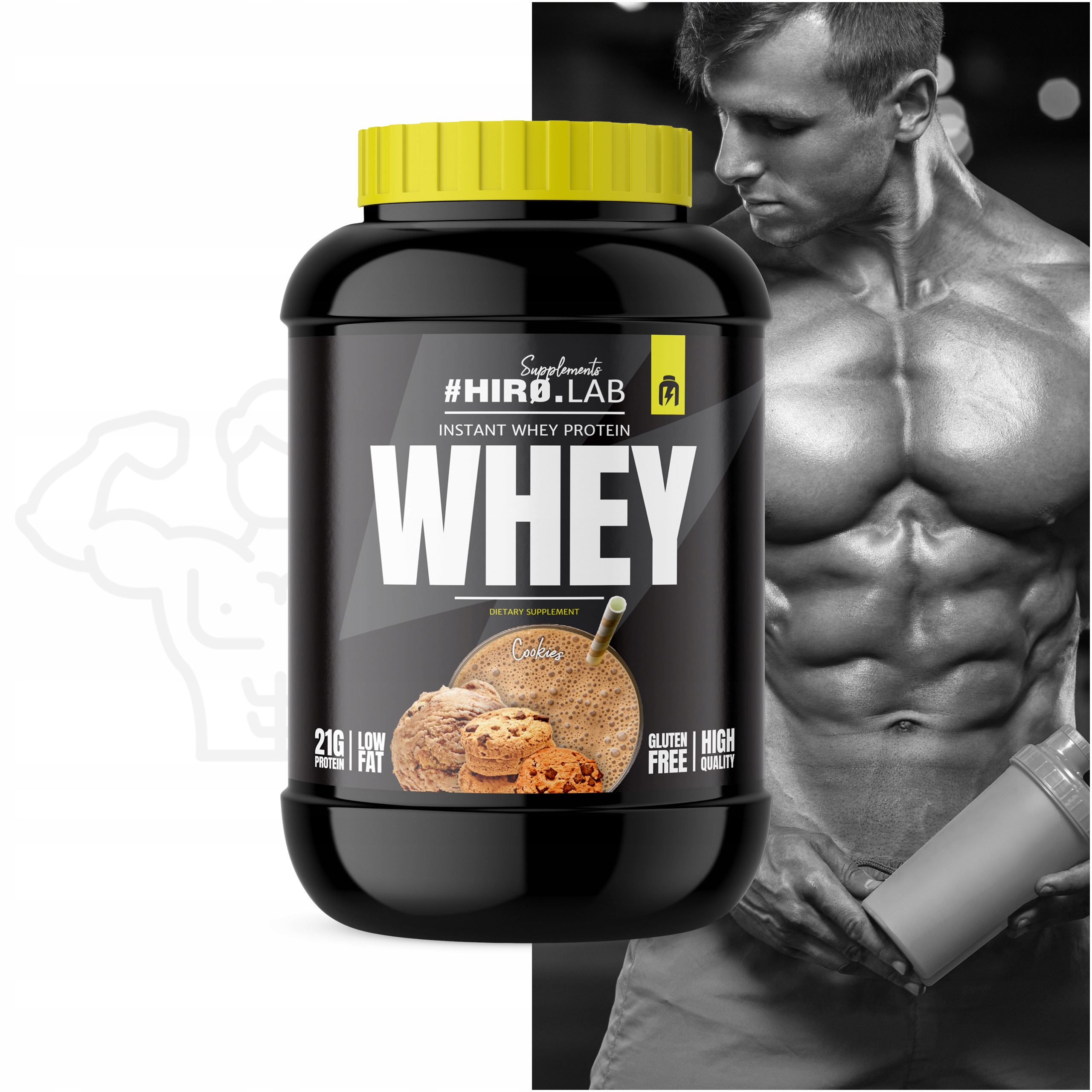 No Digestion Problems
Stomach ache? This is not your problem! The use of protein supplements brings numerous benefits, but many people complain about digestive discomfort associated with their consumption. All because of lactose, which often causes stomach cramps and flatulence. By choosing a protein supplement from the Hiro.Lab brand, this problem will be forgotten! Lactose is nothing more than sugar, but if you have problems with tolerating it, you don't have to give up the use of protein supplements. The Hiro product consists of at least 80% protein and a small amount of lactose. This is due to the microfiltration process used, which removes unnecessary additives from the proteins. As a consequence, you get exactly what you need without causing digestive discomfort.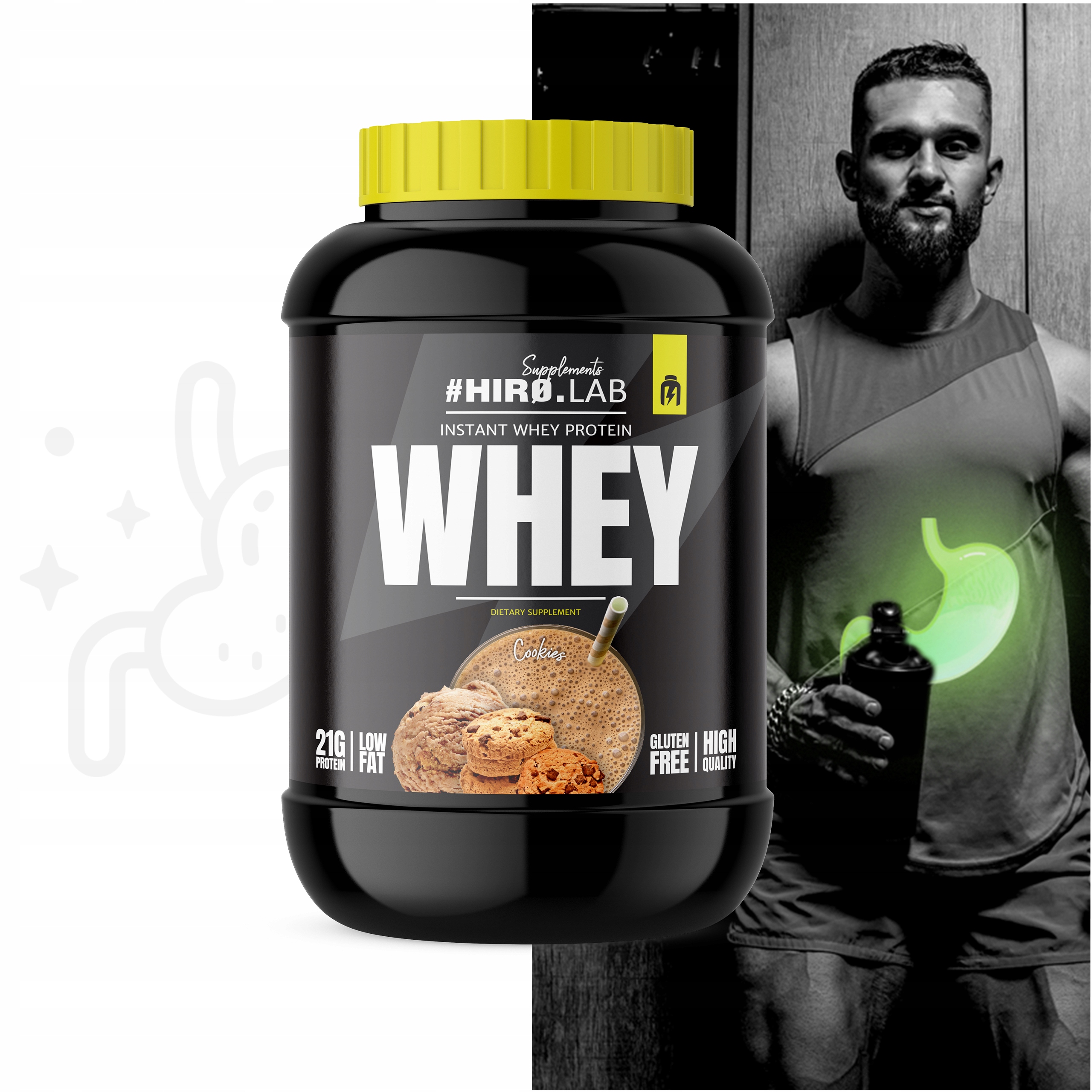 Drink protein and feel great
If you have been afraid of consuming protein supplements so far, because they caused you nausea or stomach pains, you will be happy to know that Hiro.Lab has something for you! This protein supplement has been specially created in such a way as to eliminate the risk of indigestion after eating a protein shake. In addition, it is rich in valuable amino acids, it is relatively quickly absorbed and digested. Depending on your preferences, you can mix it in water or milk using a shaker, blender or a regular spoon! The amino acids contained in the supplement are the basis of supplementation for every athlete who is serious about their training. They are responsible, among others, for reducing the feeling of fatigue that occurs after training. Thanks to this, your workouts will be more frequent and more intense.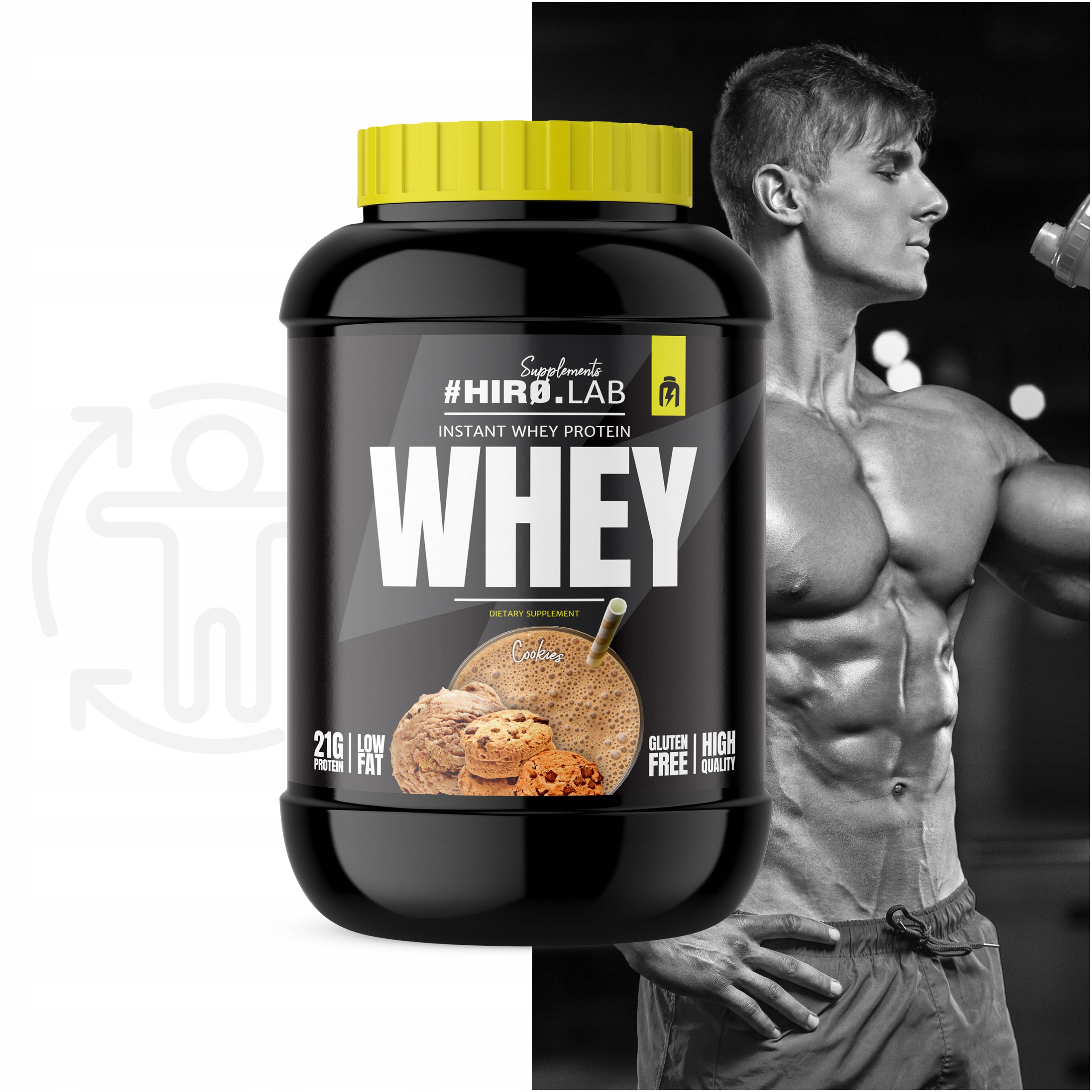 Hiro.Lab – We created the best
Instant Whey Protein does not contain artificial colors and gluten, and it has little fat. Thanks to the fact that it comes in twelve flavor variants, you can be sure that you will find something for yourself. Regardless of whether you are an amateur of chocolate, vanilla, fruit flavors or other flavors, Hiro.Lab has the answer to every need. The product includes WPC, or whey protein concentrate, with excellent solubility. Just mix 30g of powder in 150-180ml of water or milk. See for yourself how quickly this conditioner gains velvety smoothness without unpleasant lumps. It is perfect even for the pickiest connoisseurs and gourmets!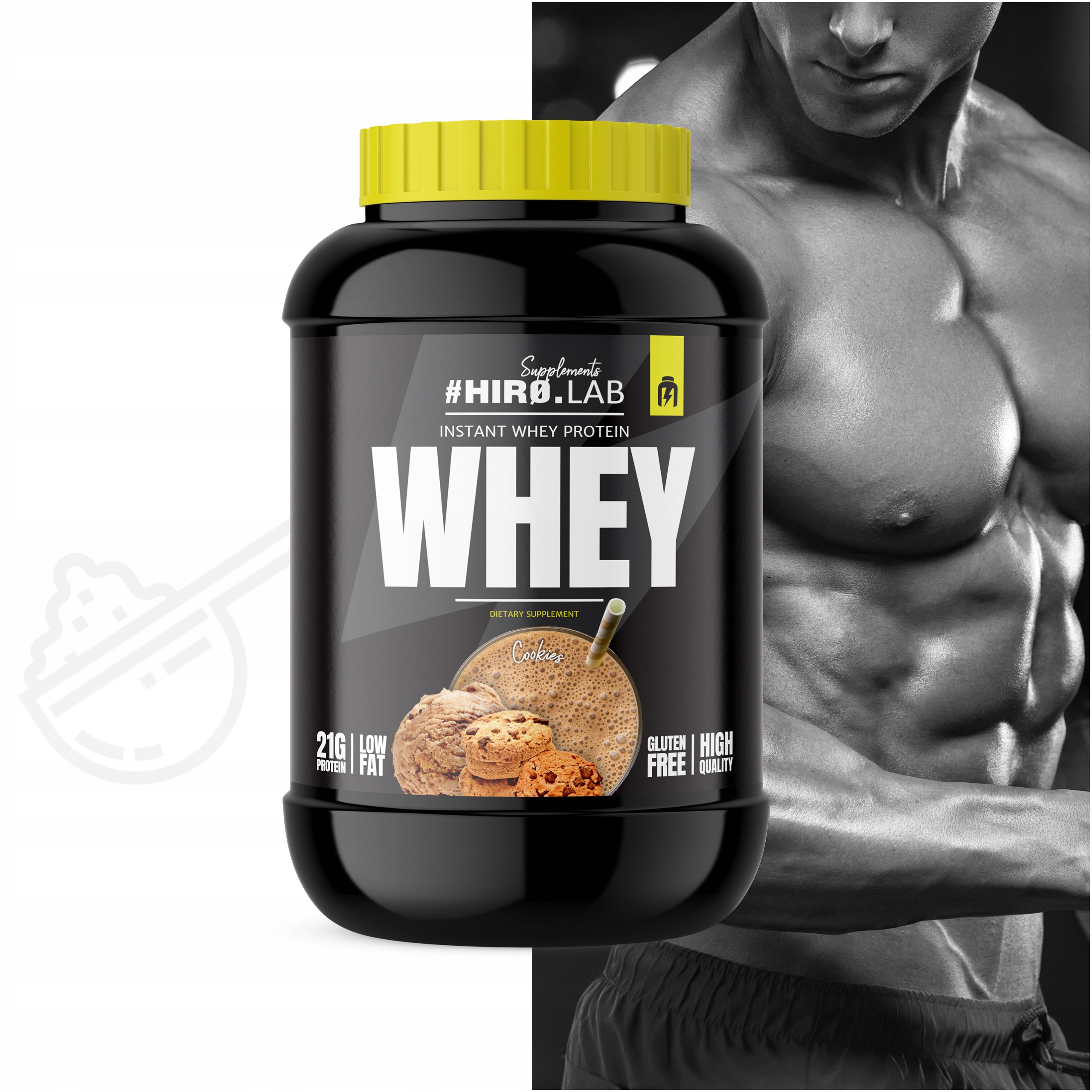 Excellent taste and solubility of protein from Hiro
WPC begins to be absorbed about 45 minutes after consumption. Due to the fact that it contains carbohydrates and fats, it passes through the digestive system much more slowly, and the amino acids resulting from the breakdown of whey protein are absorbed in the intestine. The best time to consume is 20 minutes after training, or 90 minutes before it. Unlike other products, this protein does not have a chemical aftertaste and does not foam. It has a very good solubility and many flavors to choose from.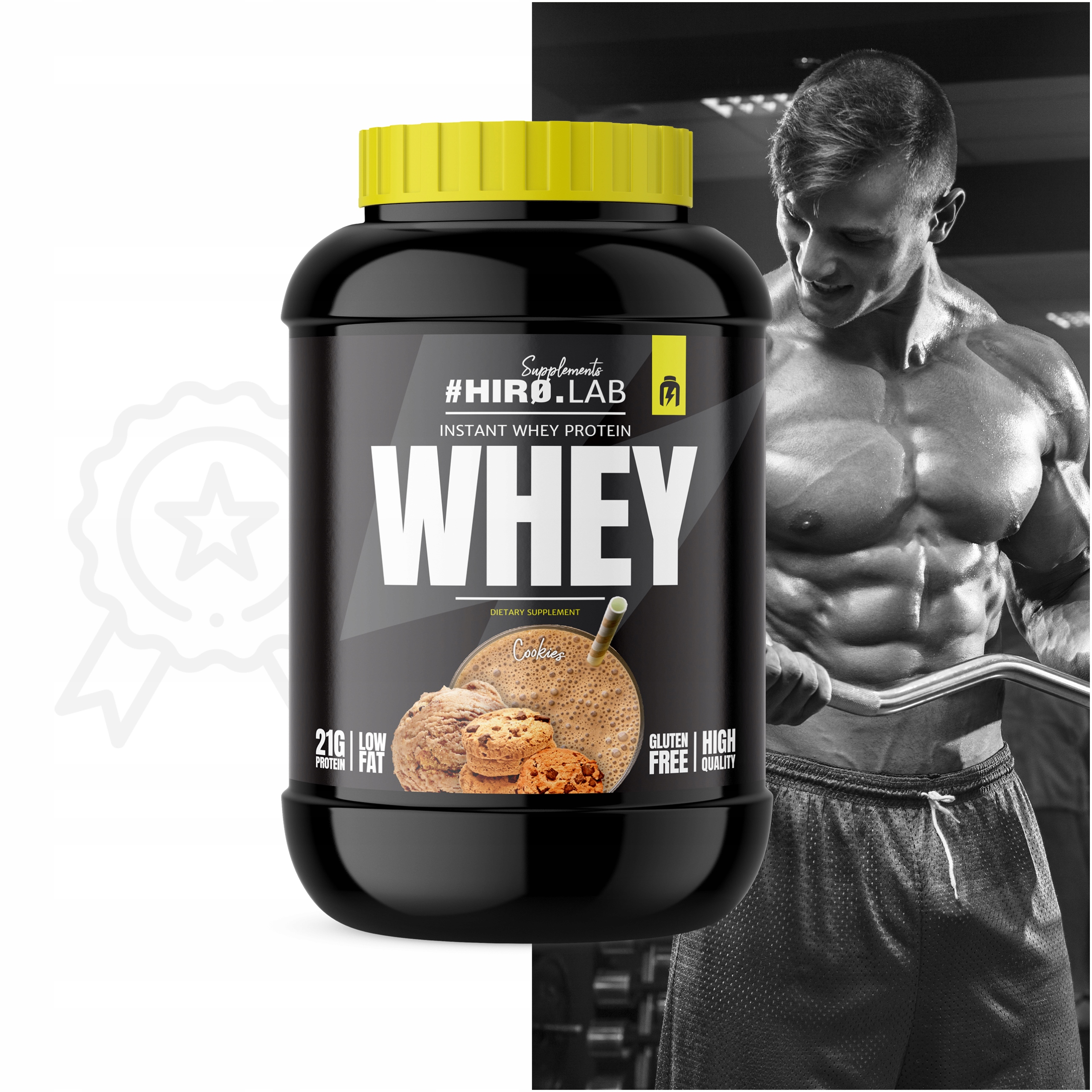 High quality of protein confirmed by research
Instant Whey Protein is up to 21 g of protein per serving, so you can be sure that you control what you provide to the body. This whey protein concentrate, unlike others, has a reduced fat content and is free of gluten. HIRO.LAB is HACCP and GMP certified, which guarantee the excellent quality of this protein supplement. Instant Whey Protein is distinguished by great solubility and no foam. Its taste, unlike many others, is not chemical. And the conditioner itself does not contain artificial dyes, so popular for other brands' products. Bet on great quality at a very good price and choose WPC from Hiro.Lab! You can check the composition tests and the amino acid profile here.
As a gift you will receive a Water Jug 1.89l
⚡ Convenient drinking hole, closed with a latch
⚡ Large water canister
⚡ Tight water container – does not leak
⚡ High-quality print
⚡ Free of BPA, aluminum and cadmium
⚡ The canister has passed toxicity tests at a certified TÜV Rheinland center
⚡ Built-in pillbox
⚡ Does not absorb the smell of liquids stored in it
Attention! Please remember that our water canister is designed to safely store drinking water and other beverages. We do not recommend exposing it to boiling water as this may negatively affect its durability.
Water jug Crater Cap from Hiro.Lab is a handy water canister with a handle that helps in carrying it. The second handle located on the side of the container helps to hold the bottle while drinking and is covered with a special, non-slip material. Water Jug has a measuring cup that indicates the liquid level and a convenient drinking spout with a snap closure, which you can open and close even with sweaty hands. The canister from Hiro.Lab is made of durable plastic that does not absorb the smell of the drinks you keep in it. In addition, it has a built-in pillbox in which you can store supplements in tablets and capsules.
Ingredients
Portion: 30g
Servings per package: 66 + 25
Packaging: 2000g + 750g
Instant Whey Protein Ingredients: Whey protein concentrate (from milk), hydrolyzed maize starch, dextrose, gum arabic stabilizer, acidity regulator – malic acid, emulsifier – lecithin (from soy), emulsifier-lecithin (from sunflower), flavor, sweetener – sucralose, thickener carboxymethylcellulose. May contain egg white and nuts.
| Nutritional value | 100 g | %DV | 30 g | %DV |
| --- | --- | --- | --- | --- |
| Energy | 1666 kJ / 394 kcal | 20% | 500 kJ / 118 kcal | 6% |
| Fat | 5,7 g | 8,1% | 1,7 g | 2,4 % |
| of which saturated fat | 3,3 g | 16,5% | 1 g | 5% |
| Carbohydrates | 15,6 g | 6% | 4,7 g | 1,8% |
| of which sugar | 9,9 g | 11% | 3 g | 3,3% |
| Protein | 70 g | 140% | 21 g | 42% |
| Salt | <0,3 g | <5% | <0,1 g | <1,7% |
| Whey Protein Concentrate (from milk) | 87,5 g | – | 26,3 g | – |
| Hydrolyzed Corn Starch | 6,1 g | – | 1,8 g | – |
| Dextrose | 4,9 g | – | 1,5 g | – |
To see Nutritional values of other flavors click HERE
** Reference intake value for an average adult (8400 kJ / 2000 kcal)
* Ingredients, grammage and nutritional values ​​may slightly differ depending on the flavor variant of the product.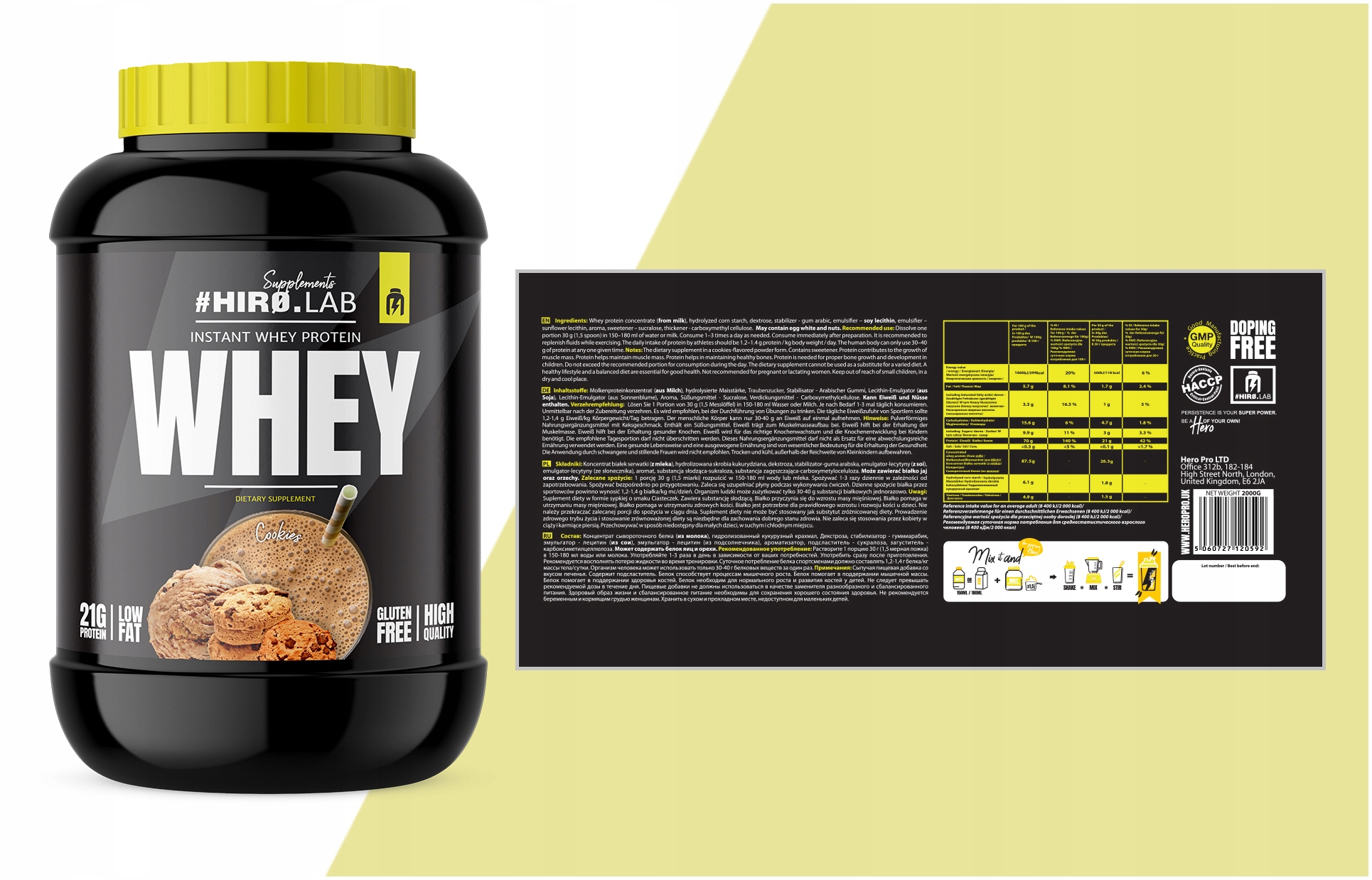 How to use Instant Whey Protein: Dissolve 1 serving of 30g (1.5 scoops) in 150-180ml of water or milk. Consume 1-3 times a day depending on your needs. Consume immediately after preparation.
Dietary supplements cannot be used as a substitute for a varied diet. Remember that only a healthy lifestyle and a balanced diet ensure the proper functioning of the body and maintaining good condition.
Do not exceed recommended servings for consumption during the day. The product cannot be used by people who are allergic to any of its ingredients. Keep out of the reach of small children. Store in a dry place at room temperature in tightly closed containers.
Best before end: date and production batch number are on the side/bottom of the packaging.
Net Weight: 2000g + 750g