Description
Dear Customer! We ship products from many European countries. Orders shipped to the UK may incur customs charges.
⚡ Product tested – check here
⚡ Beautiful and thick hair!
⚡ Strong and unbreakable nails!
⚡ Shiny and healthy skin!
⚡ As much as 10 mg of pure Biotin in one tablet!
⚡ 120 tablets in 1 package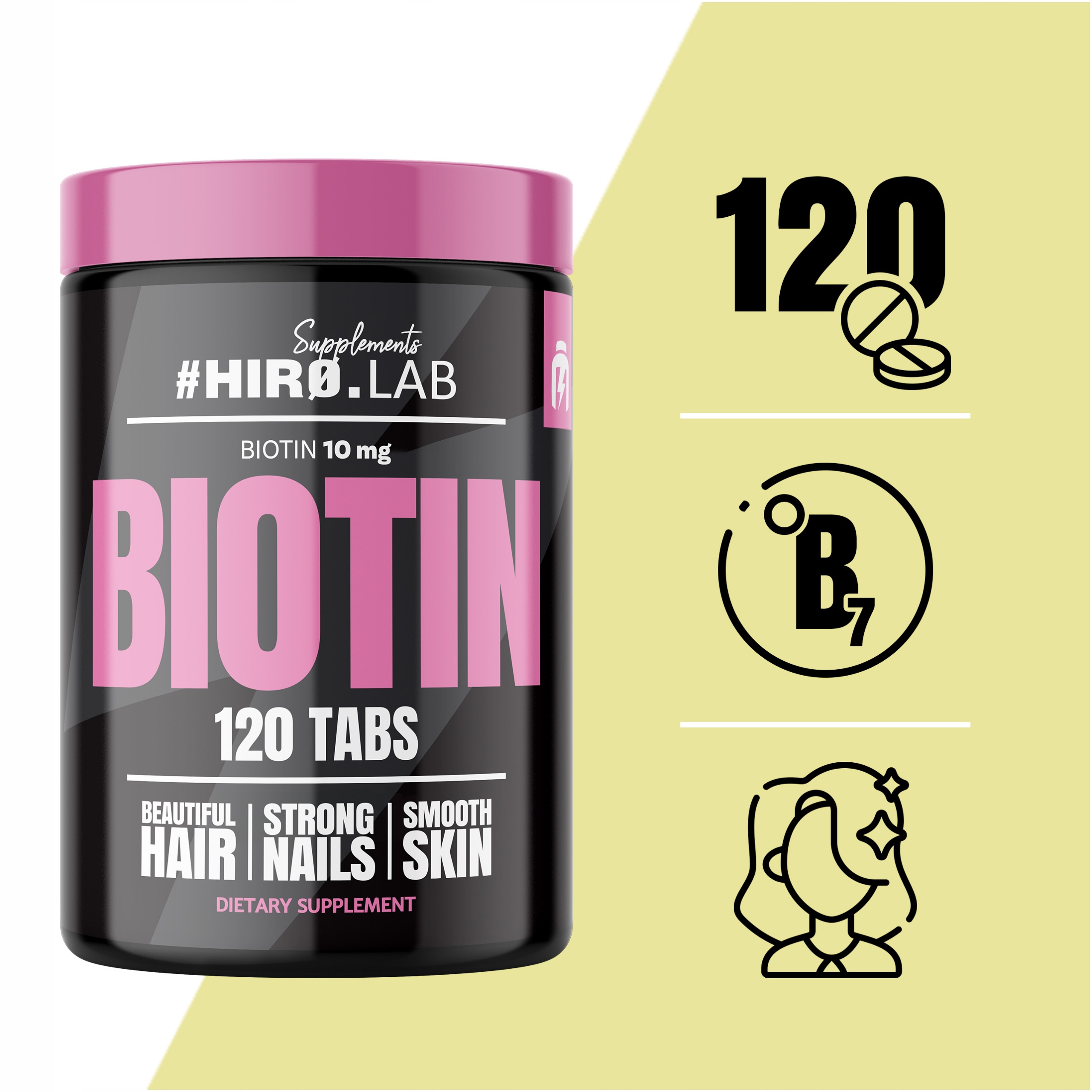 D-biotin from Hiro.Lab – high bioavailability
Biotin, also known as Vitamin B7 and Vitamin H, is one of the most popular supplements supporting a healthy appearance. Biotin from the Hiro.Lab brand is a dietary supplement in the form of tablets, which contains the best absorbable form of D-biotin. Vitamin B7 occurs in various forms, but only d-biotin is biologically active and well absorbed by the human body. Biotin has a positive effect on the structure of hair and nails, thanks to which they are much harder and less brittle. Vitamin B7 also supports the skin, which keeps it moisturized and perfectly smooth. Biotin contained in the supplement from Hiro.Lab supports the maintenance of proper energy metabolism and supports the work of the nervous system, while affecting psychological functions.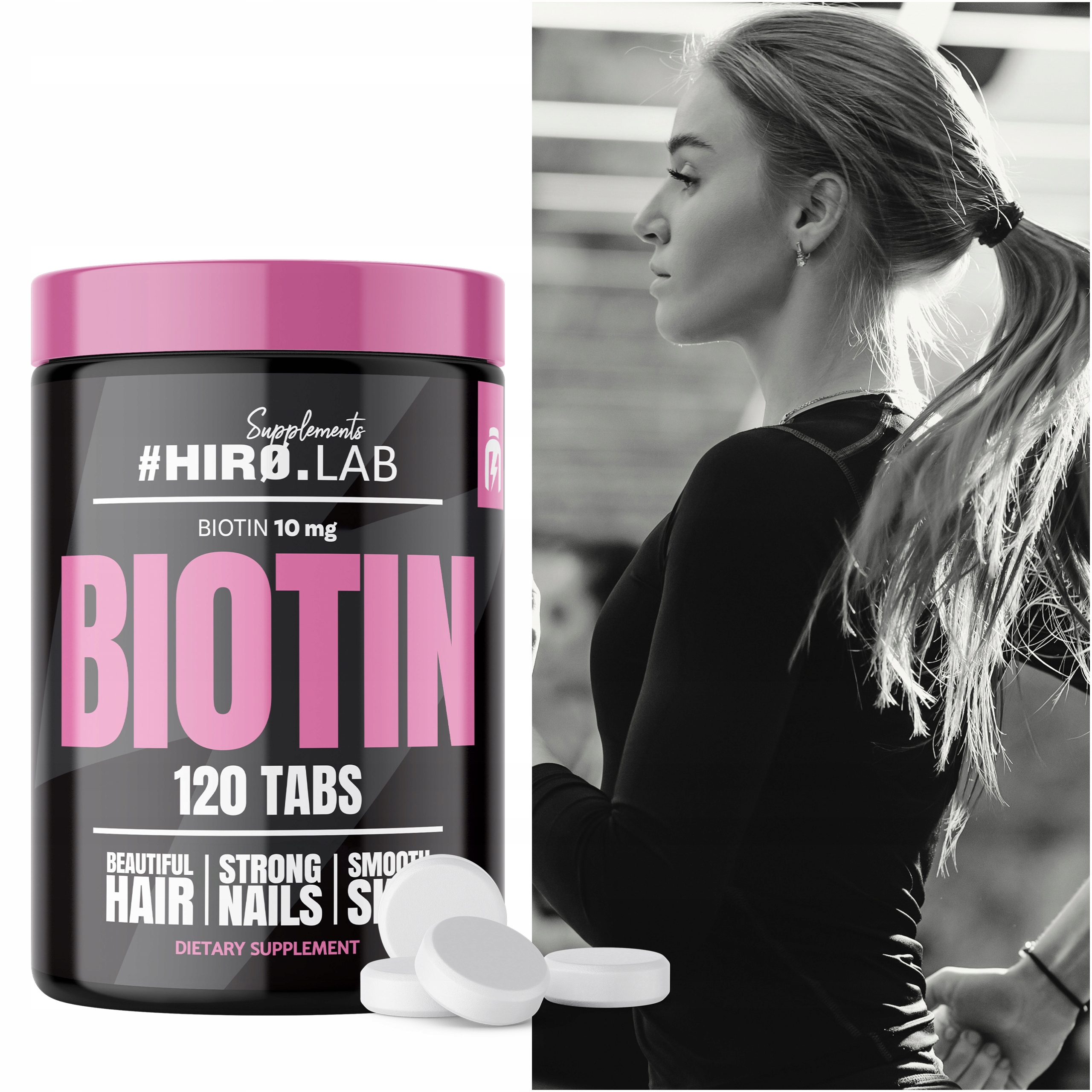 Biotin supports the skin, hair and nails
Biotin is one of the most important B vitamins, the human body can produce it itself or take it from products such as milk, eggs, rice, almonds, carrots and tomatoes. However, if you have problems with excessive hair loss, brittle nails and dry skin, it is worth supporting your body with additional supplementation with a product from the Hiro.Lab brand. Why is vitamin H so important for our beauty? Biotin contains sulfur atoms, which are one of the building blocks of skin, hair and nails. This building block is a protein in the form of keratin. It is worth remembering that biotin prevents the increased activity of the sebaceous glands, so its supplementation is recommended for people suffering from acne.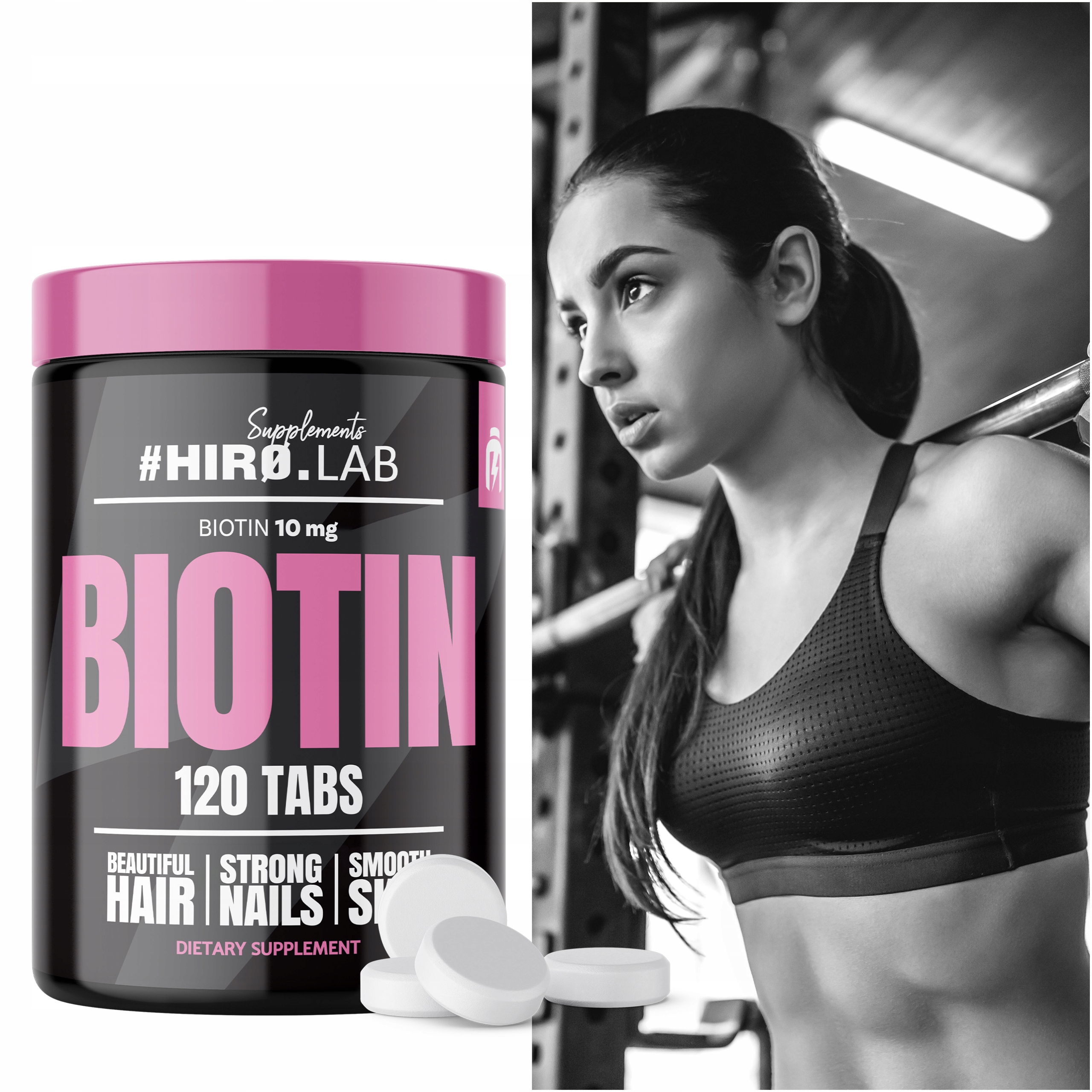 An essential element for your body!
Not only is biotin your closest ally in keeping you healthy and fit, it can also improve other important bodily functions. This vitamin is involved in the metabolism of lecithins and glucose and plays a large role in the synthesis of fatty acids, which means that it contributes to the maintenance of proper energy metabolism. Simply put, biotin supports the body in producing energy that comes from nutrients. D-biotin from the Hiro.Lab brand supports the nervous system, helps fight stress, has a positive effect on well-being. Vitamin H supports the functioning of the thyroid gland and blood clotting. If you want to take care of your whole body, do not wait any longer and start supplementing with Biotin at its best.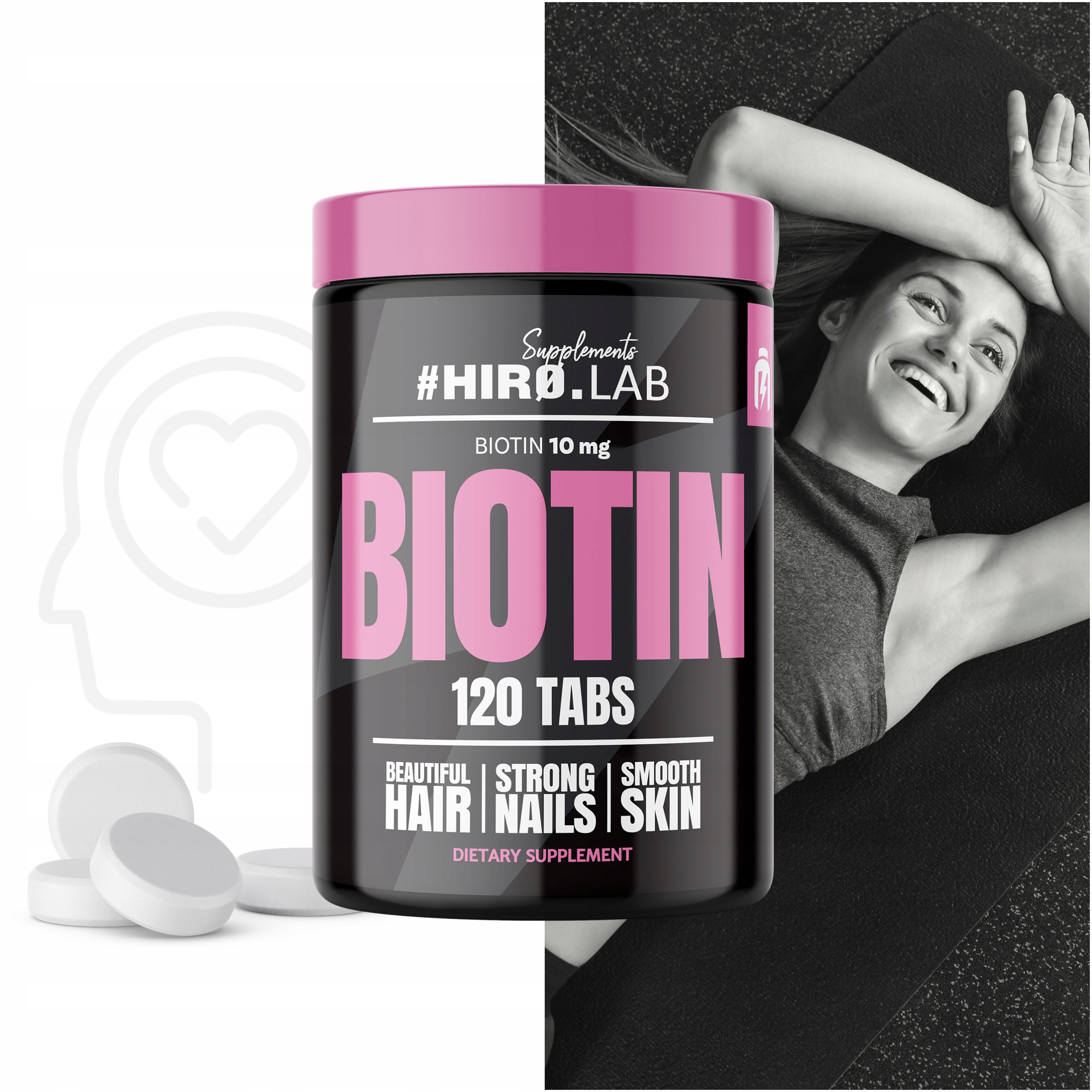 We put quality first
Hiro.Lab pays particular attention to the quality of their products and full transparency of their composition. That's why most of their supplements come with relevant research informing about their exact composition and quality. It is no different for the Biotin product – by clicking here you can be 100% sure that the supplement you take contains the highest quality biotin.
By purchasing Hiro.Lab products, you help those in need!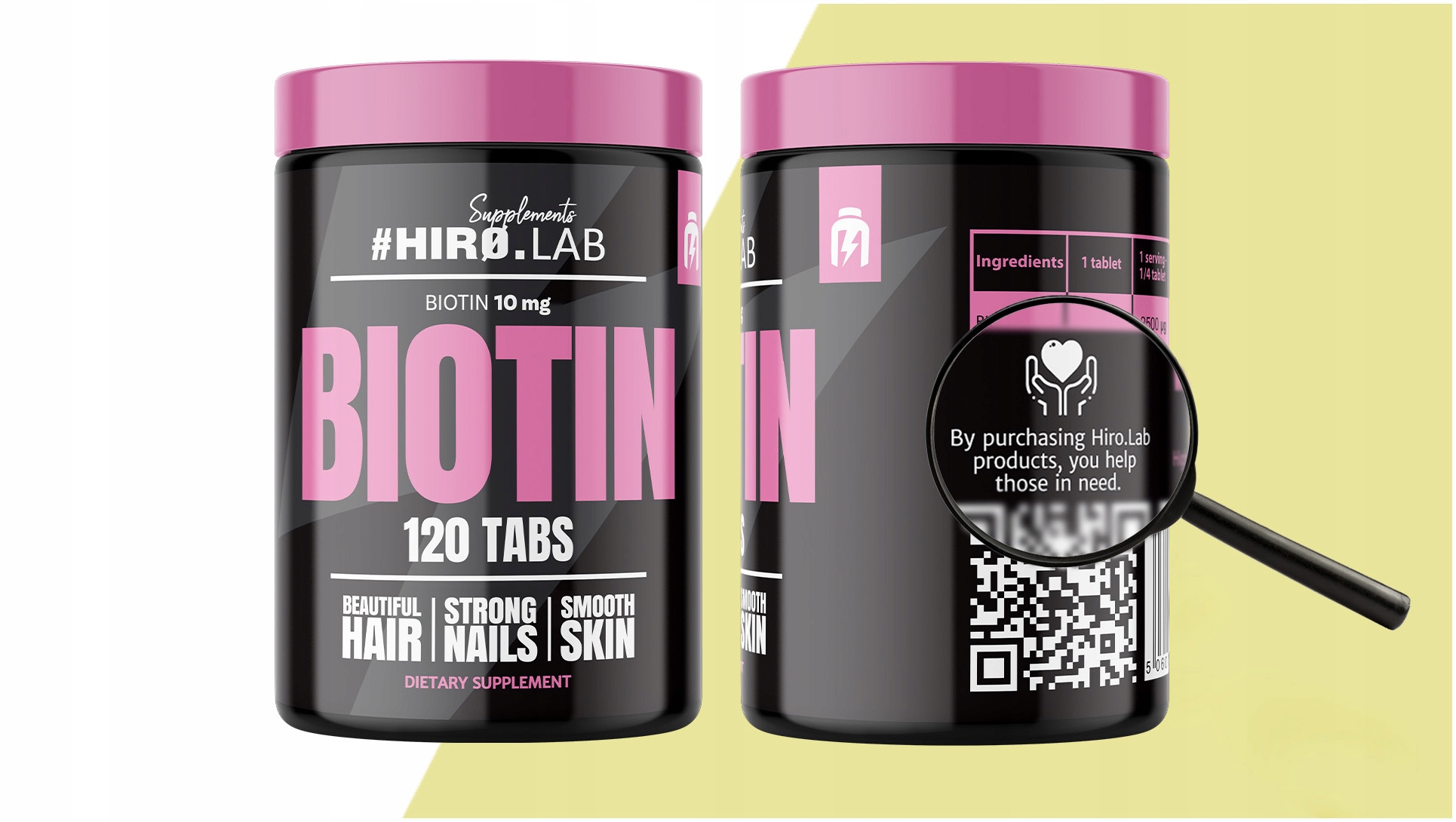 Ingredients
Portion: 1/4 tab
Servings in the package: 480
Packaging: 120 tabs
Hiro.Lab Biotin ingredients: Bulking agent – sorbitols, anti-caking agent – magnesium salts of fatty acids, biotin (D-biotin).
May contain gluten, soy, milk.
This product is not intended to diagnose, treat, cure, or prevent any disease
| Active ingredients | in 1 tablet | in portion (1/4 tab) | **%RWS |
| --- | --- | --- | --- |
| Biotin | 10 000 µg | 2500 µg | 5000% |
* Reference intake value for an average adult (8400 kJ / 2000 kcal)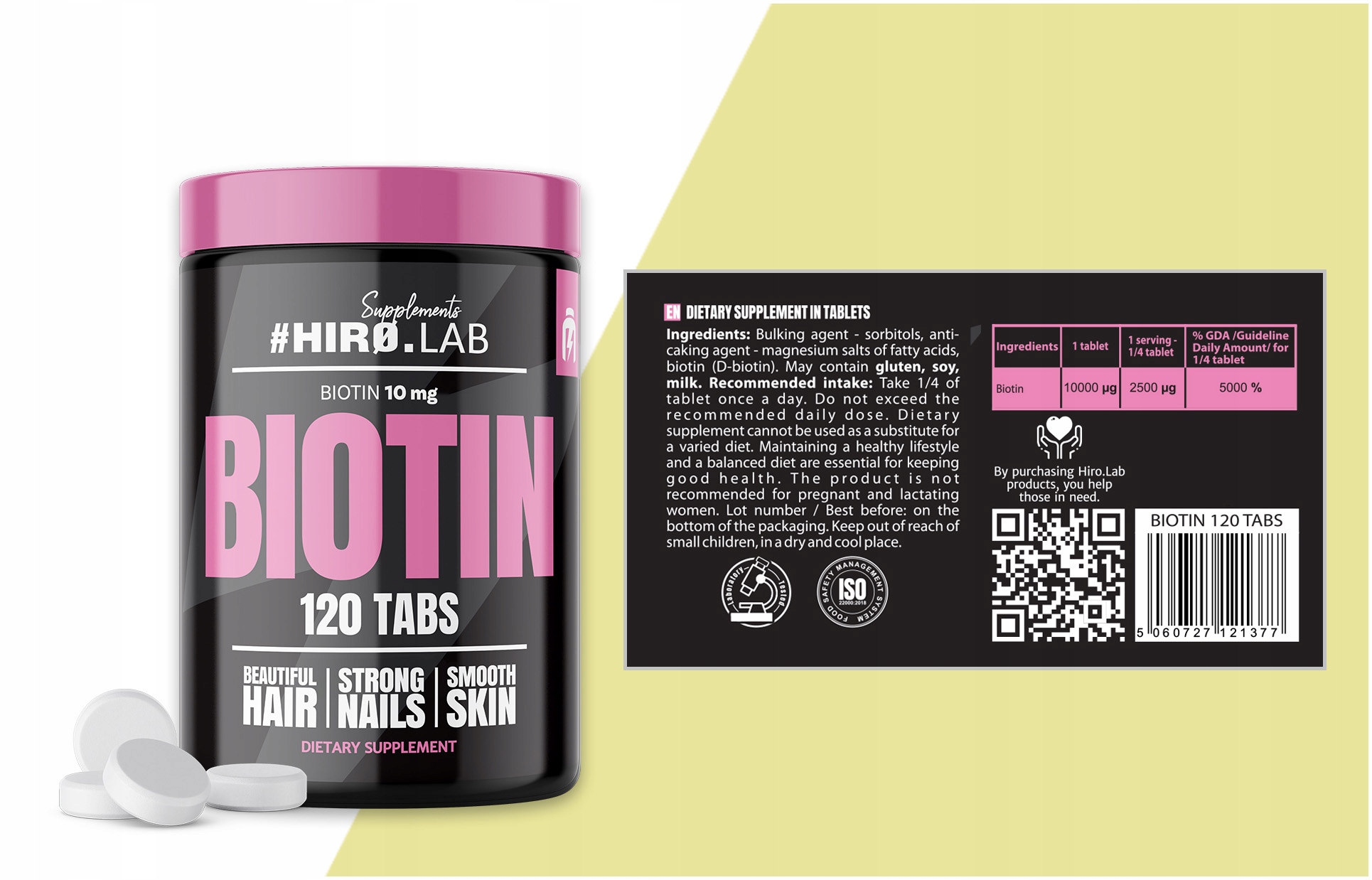 How to use Hiro.Lab Biotin: Take 1/4 tablet a day.
Dietary supplements cannot be used as a substitute for a varied diet. Remember that only a healthy lifestyle and a balanced diet ensure the proper functioning of the body and maintain good condition.
Do not exceed recommended servings for consumption during the day. The product cannot be used by people who are allergic to any of its ingredients. Keep out of the reach of small children. Store in a dry place at room temperature in tightly closed containers.
Best before end: date and batch number are on the side / bottom of the packaging.
Net weight: 120 tabs
Check: