Description
Dear Customer! We ship products from many European countries. Orders shipped to the UK may incur customs charges.
⚡ 100% pure supplements, no unnecessary fillers
⚡ High content of BCAA branched amino acids
⚡ Regeneration of damage and reduction of muscle protein degradation
⚡ Instant formula, ensuring great solubility
⚡ ASTRAGIN® increases the absorption of amino acids by up to 30%
⚡ Hiro BCAA Pure will support the development of your muscle mass
⚡ You'll be stronger, stronger and faster!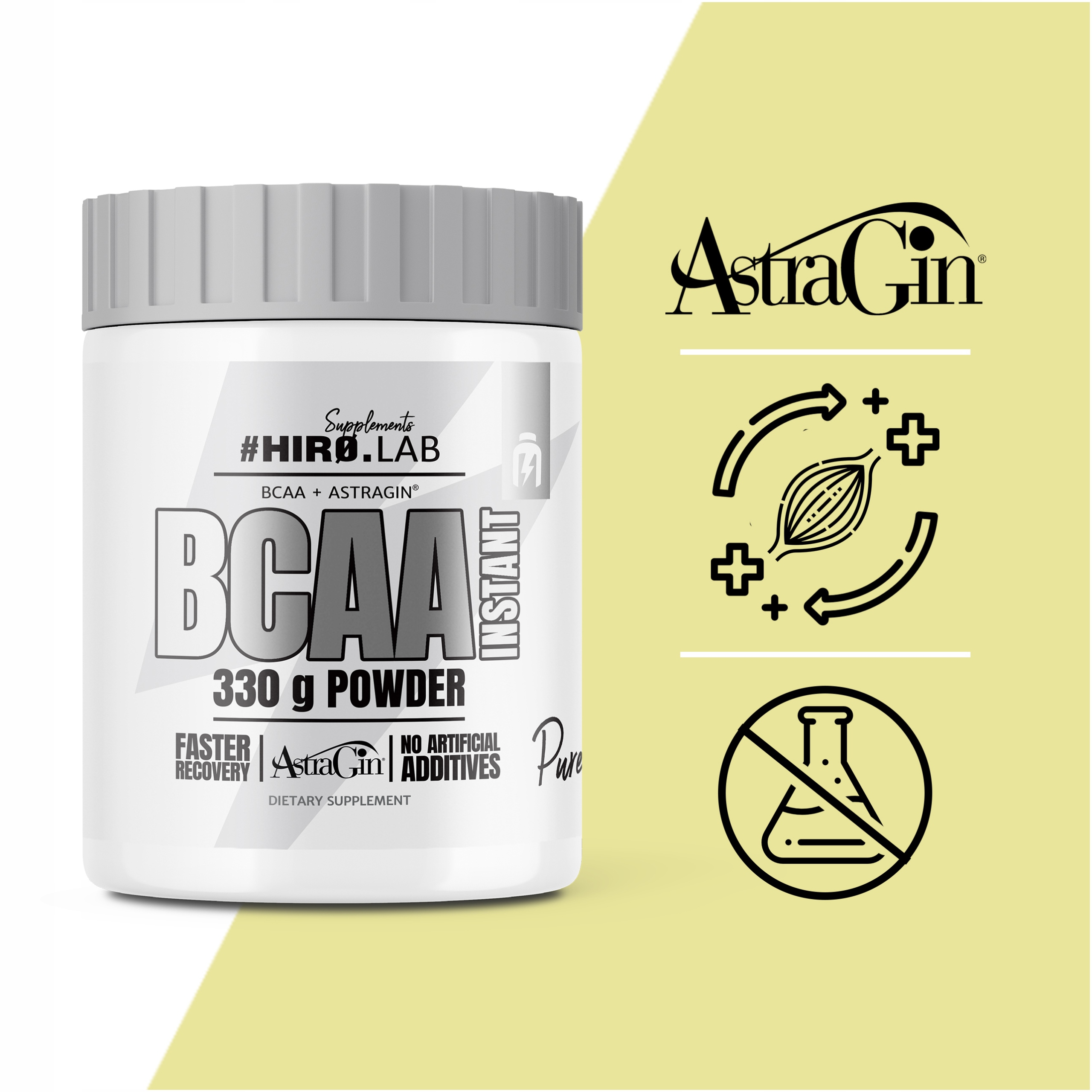 Better results with BCAA Pure from Hiro.Lab
Do you want to improve the quality of your training by exercising harder, faster and longer? So you need to comprehensively take care of the work of your muscles, improve their endurance and performance, not forgetting about regeneration. The Hiro.Lab BCAA Instant Pure supplement, containing valine, leucine and isoleucine in a 2: 1: 1 ratio, will help you with this. It is a pure blend of amino acids, with no added glutamine. The HIRO brand wants to take the next steps with you in achieving your sports goals, supporting you in every situation, giving you energy and strength to act.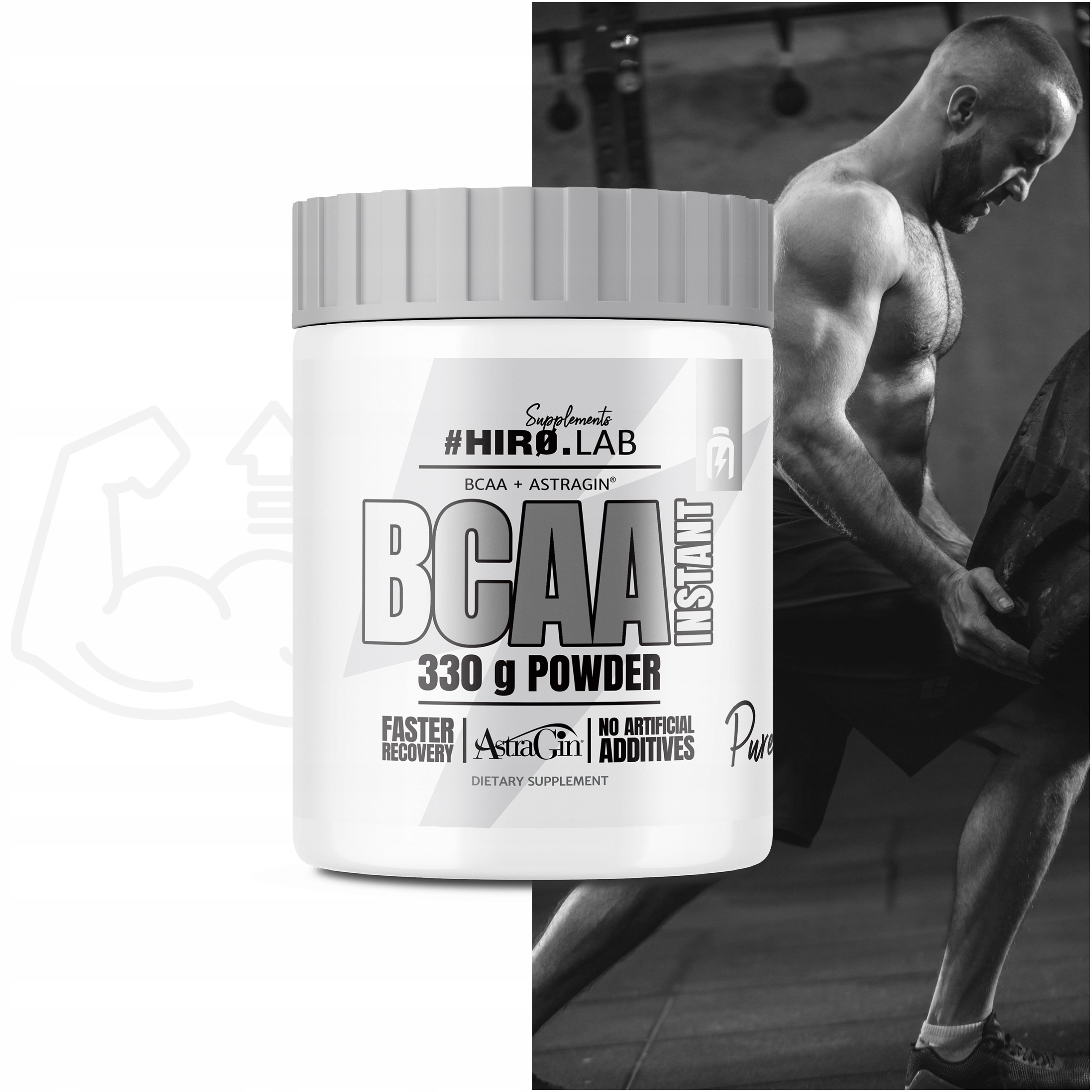 BCAA Instant Pure in a claen formula!
BCAA Pure is a concentrated formula of amino acids without unnecessary additives, thanks to which you take less powder, containing exactly the dose, support you need. What's more, the experts from Hiro.Lab have included a greater amount of amino acids in the product, which are perfectly absorbed by your body, thanks to the support of Astragin. It improves their bioavailability and enhances their action. In turn, the Instant formula is responsible for great solubility and fewer lumps.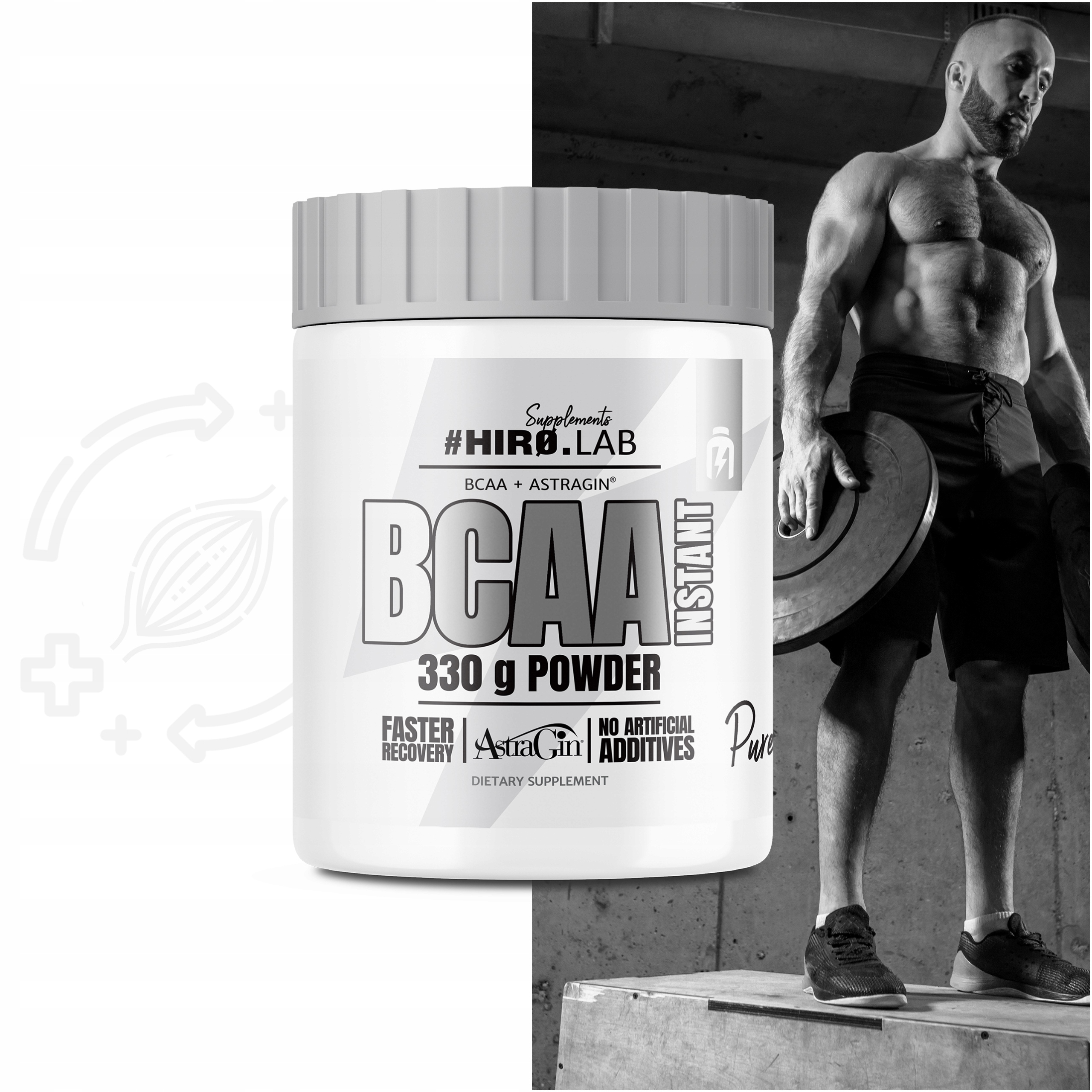 What is Hiro.Lab BCAA Pure and how does it work?
BCAAs are unique amino acids supporting many life functions. Your body does not produce them on its own, so they should be provided in the form of food or supplements. If you are a person who trains intensively, it is worth supplementing BCAAs to prevent their deficiencies. Thanks to BCAA Hiro.Lab, you can train longer, thanks to the comprehensive support of the muscles and the improvement of the regeneration process. By taking the supplement pre-workout, you will support the synthesis of muscle fibers. This Amino complex will help you do your best during intense exercise and build lean muscle mass.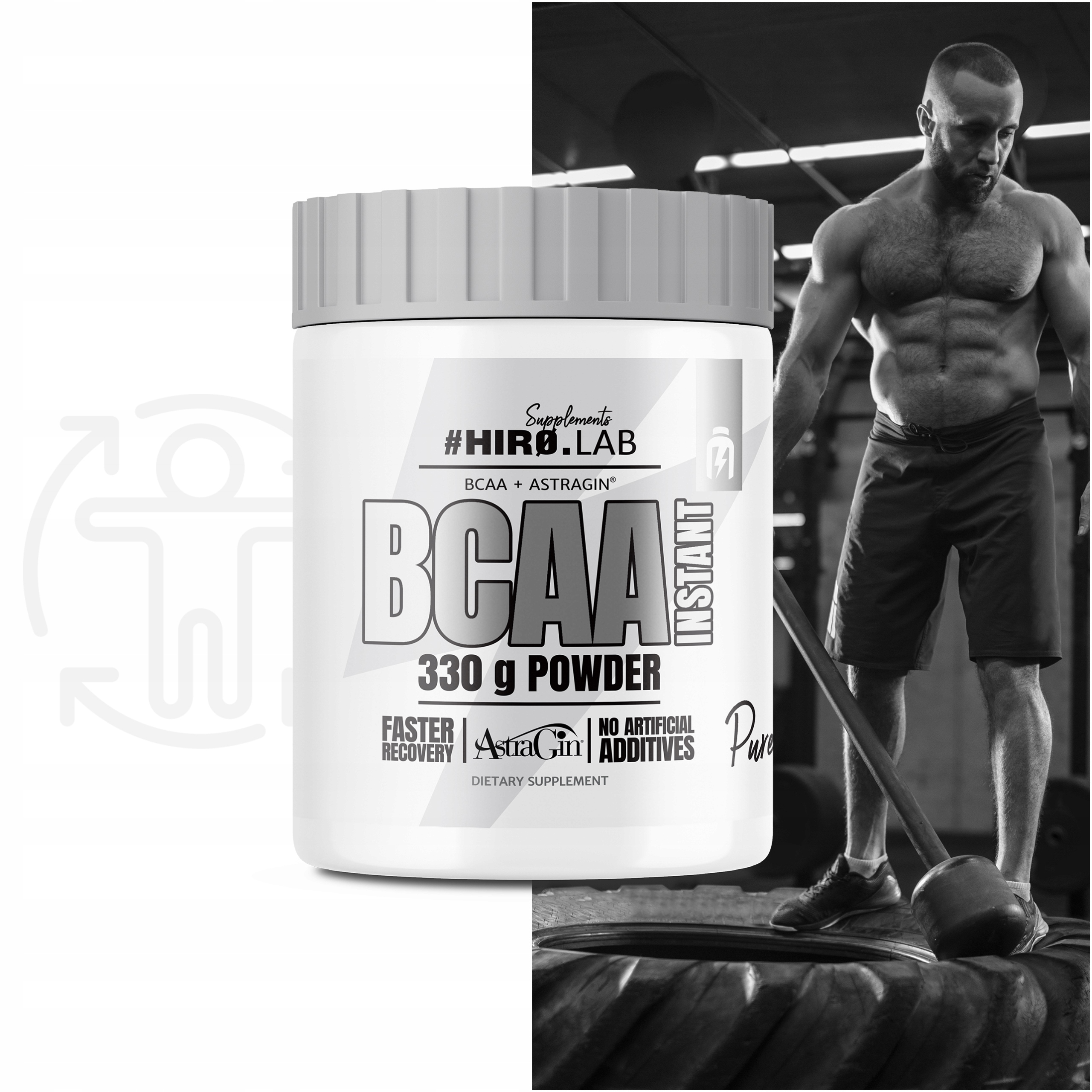 A number of amino acid properties BCAA from Hiro.Lab
By choosing the BCAA Instant Hiro.Lab supplement, you will supplement the level of amino acids necessary for the proper functioning of the body. When used together, all three amino acids are the best stimulants to keep fit. Leucine regulates the synthesis of muscle proteins and limits their breakdown, especially after intense strength exertion. It also stimulates growth hormone and regulates blood sugar levels. On the other hand, Isoleucine improves energy transport, is involved in building muscles and plays an important role in the production of hemoglobin and red blood cells. L-valine, on the other hand, prevents muscle breakdown. What's more, it stimulates action and regenerates damaged tissues. BCAA HIRO is a comprehensive support for your body.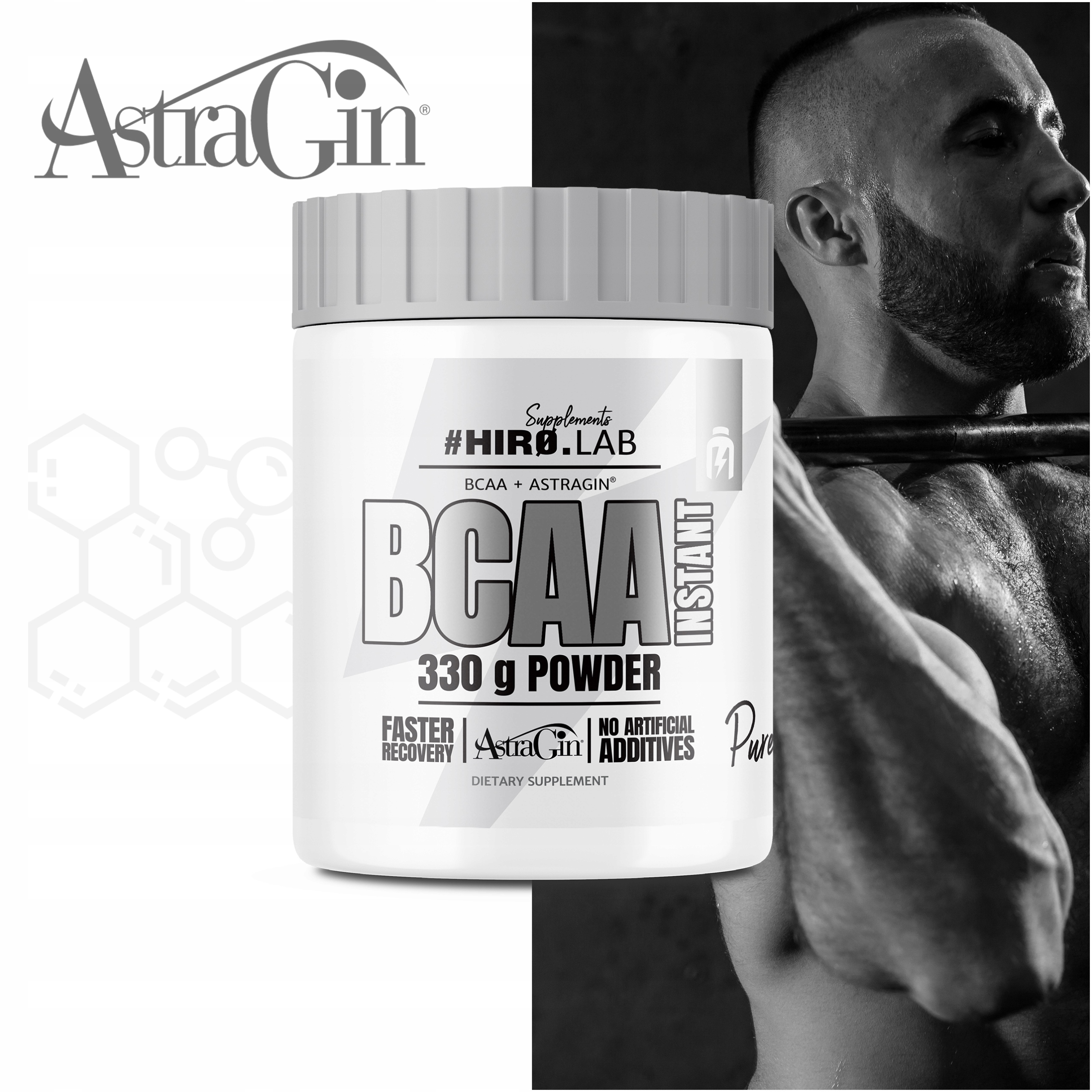 AstraGin® and better absorption of amino acids
AstraGin® is a formula patented by NuLiv Science, manufactured by proprietary pharmaceutical technology. According to research published in the Journal of Agricultural and Food Chemistry, Molecular Nutrition & Food Research and Scientific Reports, Astragin brings a number of benefits, such as improving the bioavailability of nutrients, amino acids, fatty acids, and vitamins and supporting their bioavailability. Thanks to the cooperation with the NuLiv Science brand, BCAA from Hiro.Lab is characterized by the improved performance of mRNA expression and transport protein. What's more, AstraGin® supports the work of the intestines and regenerates intestinal epithelial cells and supports the synthesis of proteins in the muscles, which leads to the improvement of protein synthesis by activating the mTOR signaling pathway.

By purchasing this product you are supporting the charges of the Cancer Fighters foundation !!!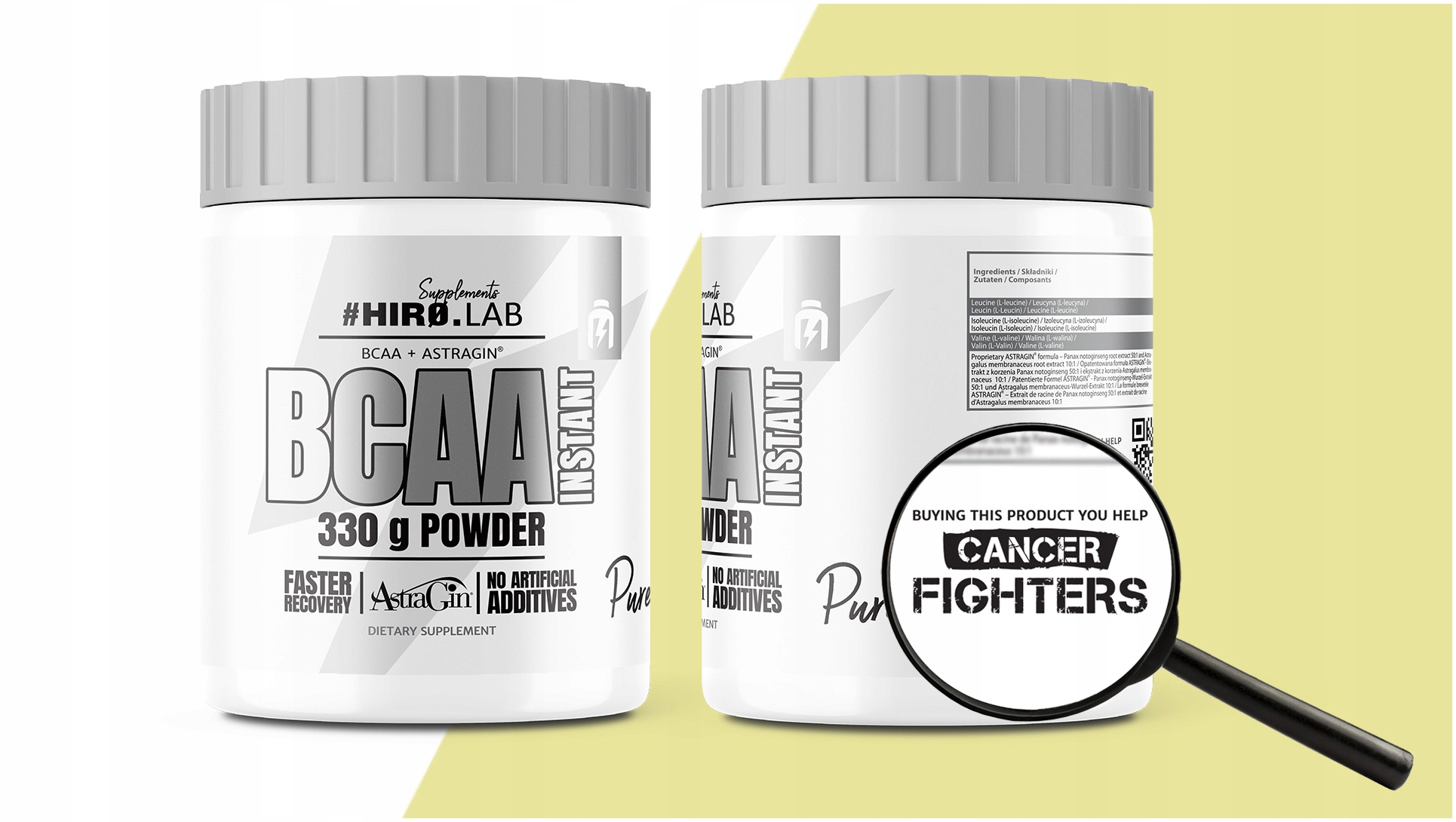 Ingredients
Portion: 6 g
Portions in the package: 55
Package: 330 g
BCAA Instant Pure Ingredients: Leucine (L-leucine), Isoleucine (L-isoleucine), valine (L-valine), Patented ASTRAGIN formula – Panax notoginseng root extract 50: 1 and Astragalus membranaceus root extract 10: 1, anti-caking agent – silicon dioxide.
This product is not intended to diagnose, treat, cure, or prevent any disease.
Active ingredients – in portion 6 g
Leucine (L-Leucine) – 2982 mg
Isoleucine (L-Isoleucine) – 1482 mg
Valine (L-Valine) – 1482 mg
Patented ASTRAGIN® formula – Panax notoginseng root extract 50: 1 and Astragalus membranaceus root extract 10: 1 – 50 mg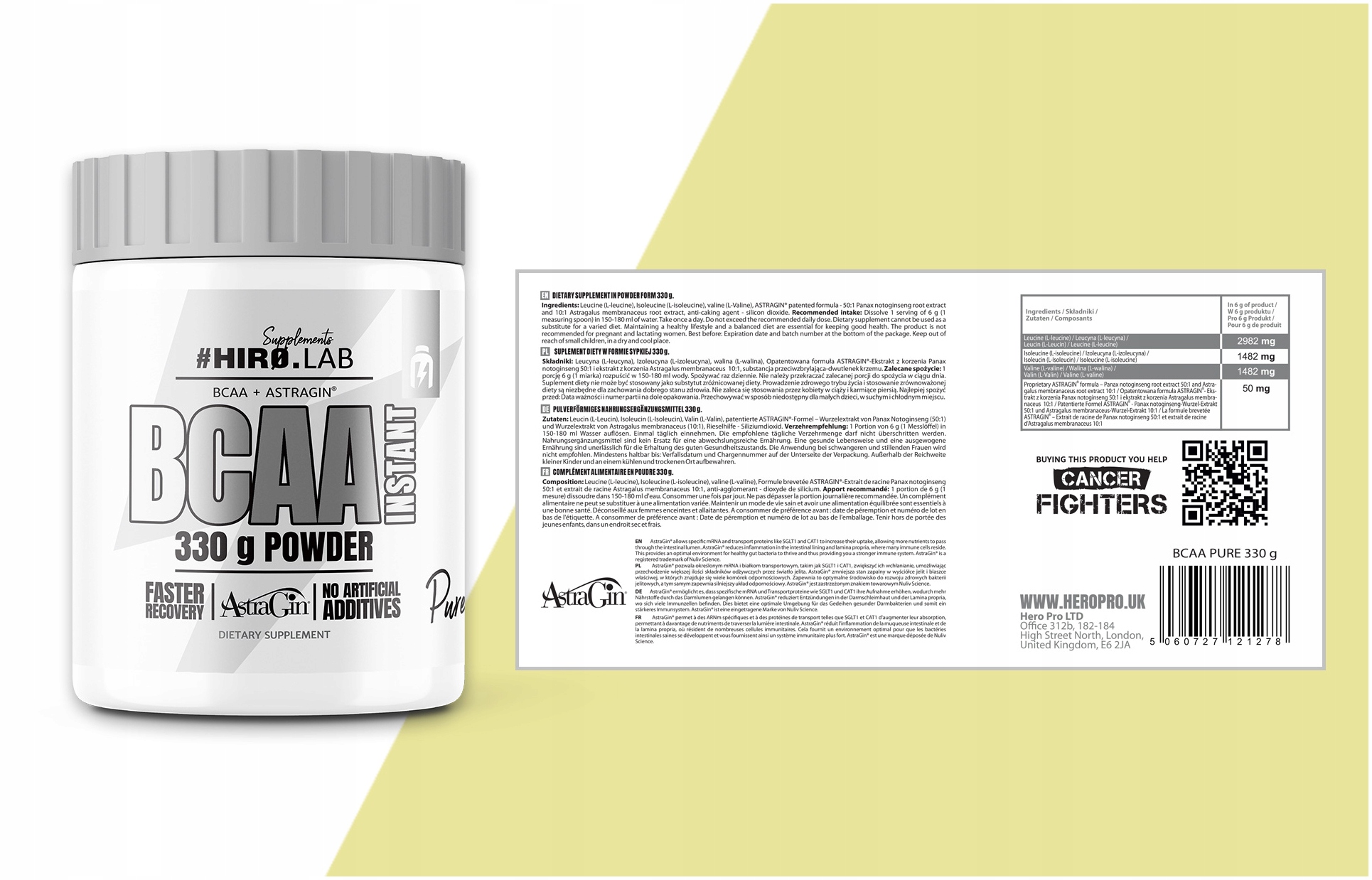 Usage
Usage of BCAA Instant Pure: Dissolve 1 portion of 6g (1 scoop) in 150-180 ml of water. Consume once a day.

Do not exceed recommended servings for consumption during the day. The product cannot be used by people who are allergic to any of its ingredients. Keep out of the reach of small children. Store in a dry place at room temperature in tightly closed containers.
Dietary supplements cannot be used as a substitute for a varied diet. Remember that only a healthy lifestyle and a balanced diet ensure the proper functioning of the body and maintain good condition.
Best before end: date and batch number are on the side / bottom of the packaging.
Net weight: 330g