Description
⚡ Pure, high-quality BCAAs
⚡ Laboratory-tested composition – you can check it at the bottom of the offer
⚡ Supports muscle regeneration and protects against muscle damage
⚡ The patented ASTRAGIN® ingredient supports the absorption of amino acids
⚡ Helps in building muscle mass
⚡ Regulates the level of hydration with electrolytes
⚡ Adds energy and extends training time

BCAA by Hiro.Lab is your way to better results
Do you want to improve the quality of your training by exercising harder, faster and longer? So you need to comprehensively take care of your muscles, improve their endurance and performance, not forgetting about regeneration. The Hiro.Lab BCAA supplement will help you with this, containing valine, leucine and isoleucine, which are three of the nine essential amino acids that have a significant impact on the work of your body. It is a pure blend of amino acids, with no added glutamine. The HIRO brand wants to support you in achieving your next sports goals, supporting you in every situation, giving you energy and strength to act.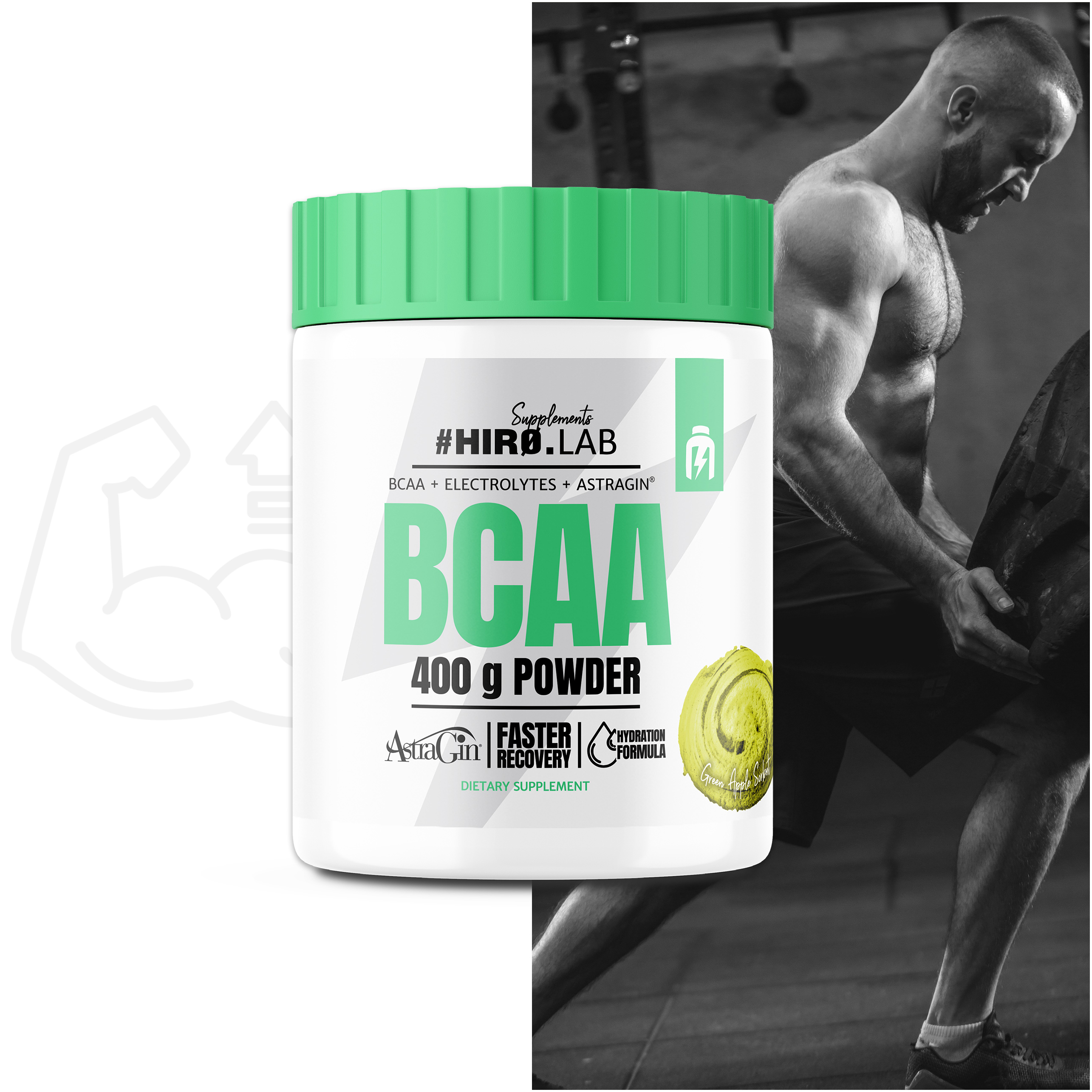 What is Hiro.Lab BCAA and how does it work?
BCAAs are unique amino acids supporting many life functions. However, the body does not produce them on its own, they should be provided in the form of food or supplements. If you are a person who trains intensively, it is worth supplementing BCAAs to prevent their deficiencies. Thanks to BCAA Hiro.Lab, you can train longer, thanks to the comprehensive support of the muscles and the improvement of the regeneration process. By taking the supplement pre-workout, you will support the synthesis of muscle fibers. This Amino complex will help you do your best during intense exercise and build lean muscle mass.
A range of BCAA properties from Hiro.Lab
By choosing the BCAA Hiro.Lab supplement, you will supplement the level of amino acids necessary for the proper functioning of the body. When used together, all three amino acids are the best stimulants to keep fit. Leucine regulates the synthesis of muscle proteins and limits their breakdown, especially after intense strength exertion. It also stimulates growth hormone and regulates blood sugar levels. On the other hand, Isoleucine improves energy transport, is involved in building muscles and plays an important role in the production of hemoglobin and red blood cells. L-valine, on the other hand, prevents muscle breakdown. What's more, it stimulates action and regenerates damaged tissues. BCAA HIRO is a comprehensive support for your body.
AstraGin® – amazing ingredient
AstraGin® is a formula patented by NuLiv Science, manufactured by proprietary pharmaceutical technology. According to research published in the Journal of Agricultural and Food Chemistry, Molecular Nutrition & Food Research and Scientific Reports, Astragin brings a number of benefits, such as improving the bioavailability of nutrients, amino acids, fatty acids, and vitamins and supporting their bioavailability. Thanks to the cooperation with the NuLiv Science brand, BCAA from Hiro.Lab is characterized by the improved performance of mRNA expression and transport protein. What's more, AstraGin® supports the work of the intestines and regenerates intestinal epithelial cells and supports the synthesis of proteins in the muscles, which leads to the improvement of protein synthesis by activating the mTOR signaling pathway.
* The above data comes from research on Astragin prepared by the NuLiv Science brand. Not all of the examples of amino acids need to be included in Hiro.Lab BCAA. The exact composition of the product can be found in the nutritional table.
** More information on Astragine research can be found in the link at the bottom of the offer.
Extra hydration with electrolytes
A good solution during training is the successive absorption of the BCAA drink, starting before exercise and ending in the middle of it. By choosing an BCAA supplement from Hiro.Lab, at the same time you will be perfectly hydrated thanks to the electrolytes present in the composition. Moreover, they improve muscle contractions, regulate the functioning of the nervous system and balance blood pressure. This type of supplement is ideal for people who train in strength and endurance sports and is needed where fast hydration is important. Drinking BCAA with electrolytes works in many ways and may work better than regular carbohydrate and electrolyte drinks.
By purchasing this product you are supporting the charges of the Cancer Fighters foundation !!!
Ingredients
Portion: 10 g
Portions in the package: 40
Package: 400 g
BCAA Ingredients: Leucine (L-leucine), Isoleucine (L-isoleucine), valine (L-valine), potassium (potassium citrate), thickener-guar gum, flavors suitable for taste, emulsifier-lecithin (from sunflower), acidity regulator-acid lemon, sweetener-sucralose, anti-caking agent-silicon dioxide, sodium (magnesium citrate), patented formula ASTRAGIN® – Panax notoginseng root extract 50: 1 and Astragalus membranaceus root extract 10: 1, vitamin B6 (pyridoxine hydrochloride), dye -carotenes.

This product is not intended to diagnose, treat, cure, or prevent any disease.
Active ingredients – w portion 10 g
Leucine (L-Leucine) – 2500 mg
Isoleucine (L-Isoleucine) – 1250 mg
Valine (L-Valine) – 1250g
Potassium (potassium citrate) – 300 mg
Sodium (sodium citrate) – 230 mg
Magnesium (magnesium citrate) – 70 mg
Patented ASTRAGIN® formula – Panax notoginseng root extract 50: 1 and Astralagus membranaceus root extract 10: 1 – 50 mg
Vitamin B6 – 0,7 mg
Usage
Usage of BCAA: dissolve 1 portion of 10 g (2 scoops) in 150-180 ml of water. Consume once a day.
Do not exceed recommended servings for consumption during the day. The product cannot be used by people who are allergic to any of its ingredients. Keep out of the reach of small children. Store in a dry place at room temperature in tightly closed containers.
Dietary supplements cannot be used as a substitute for a varied diet. Remember that only a healthy lifestyle and a balanced diet ensure the proper functioning of the body and maintain good condition.
Best before end: date and batch number are on the side / bottom of the packaging.
Net weight: 400g
Tests: