Description
Dear Customer! We ship products from many European countries. Orders shipped to the UK may incur customs charges.
⚡ Ashwagandha helps you relax
⚡ Increases resistance to stress
⚡ Strengthens the body's vitality and adds energy
⚡ Standardized active ingredient formula from SABINSA
⚡ Strong antioxidant – prevents premature aging
⚡ Improves focus and strengthens concentration
⚡ It has a positive effect on memory
⚡ Supports slimming and regeneration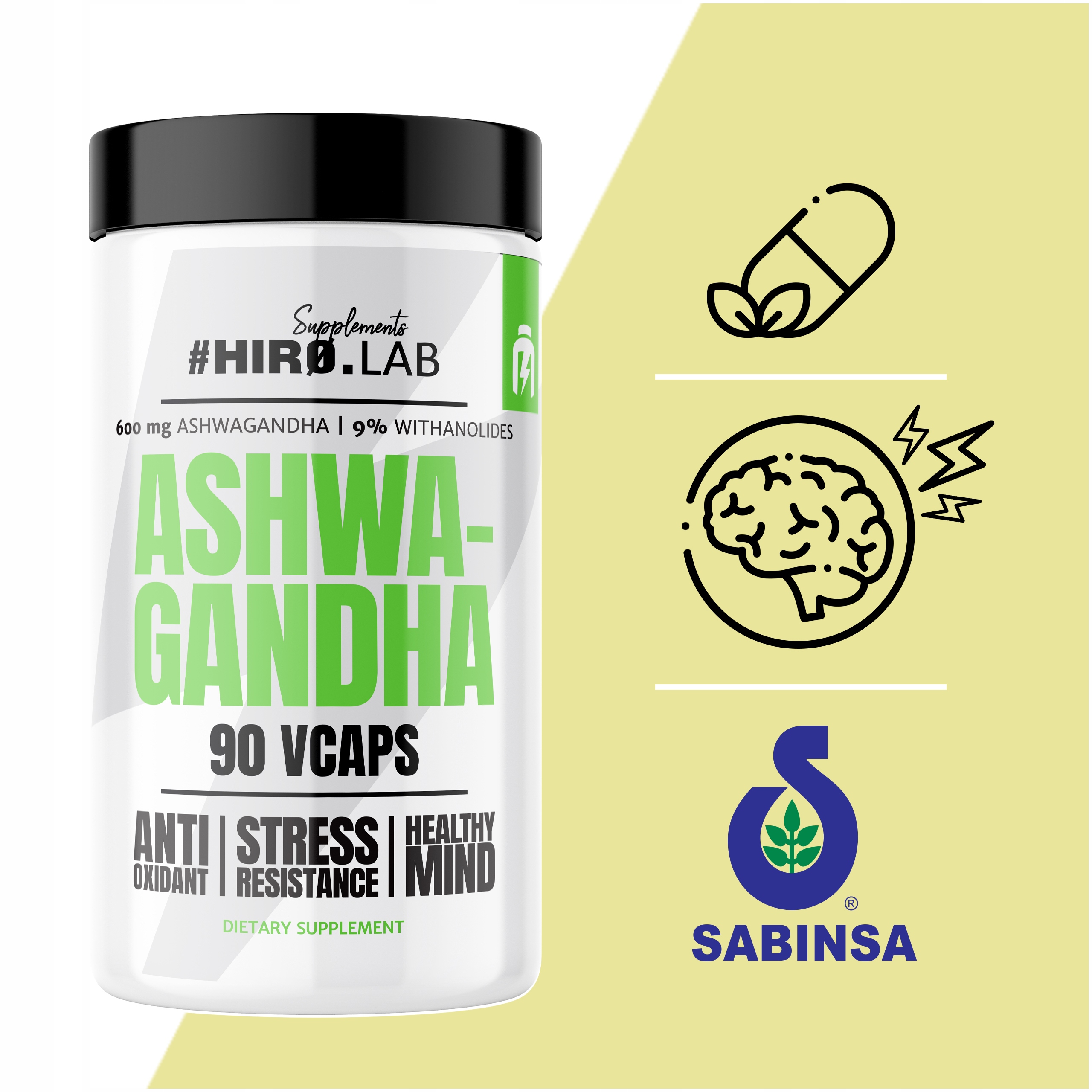 Ashwagandha – Indian Ginseng
Ashwagandha, otherwise known as Withania Somnifera or Withania Somnifera, is a plant with adaptogenic properties that played a large role in ancient Ayurvedic medicine. This trend assumes the achievement of the unity of spirit, body and mind. Ashwagandha helps to achieve this goal because it supports the maintenance of emotional balance and well-being.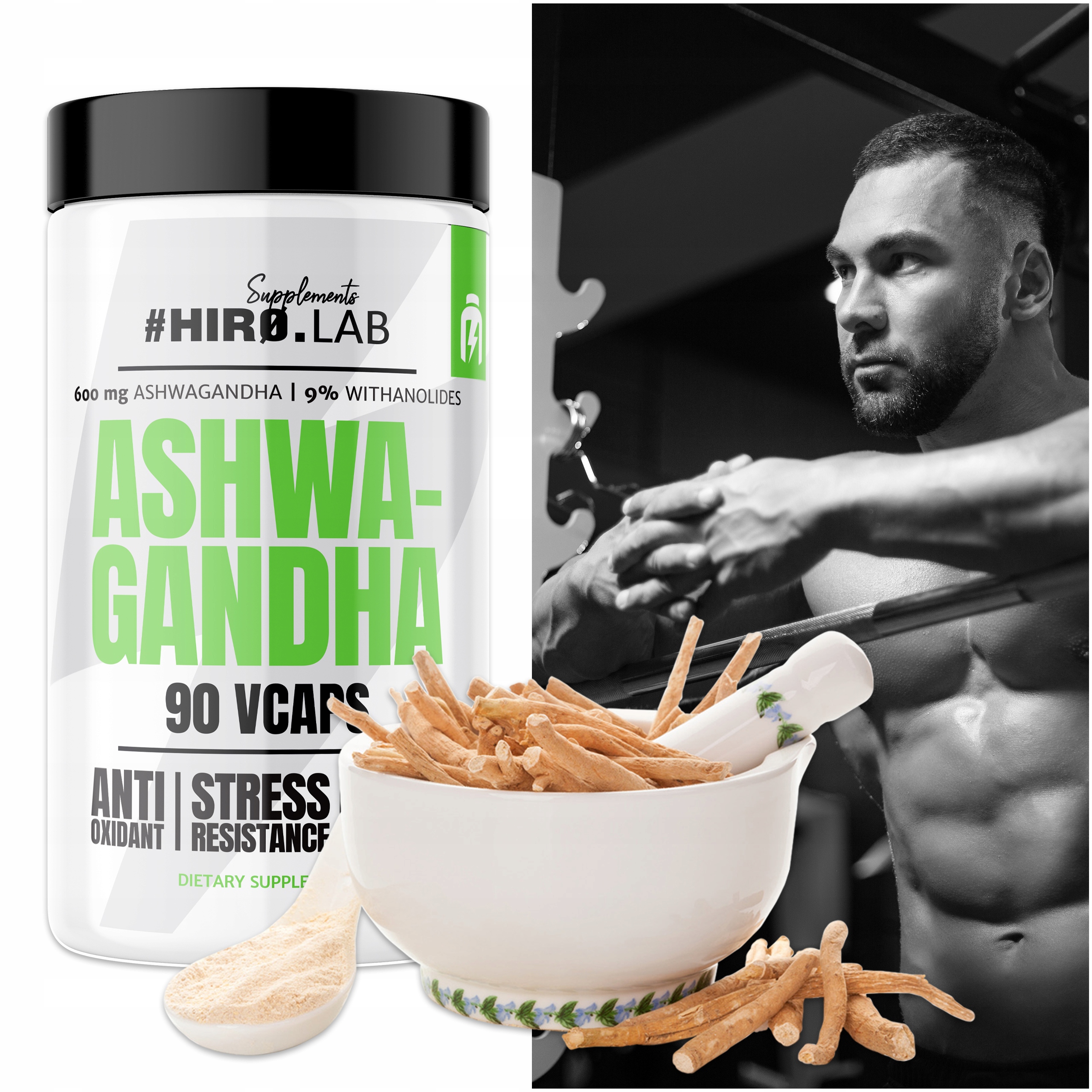 Fight stress effectively
The supplement from Hiro.Lab contains a large dose of ashwagandha, whose Latin name means "bringing peace". This plant helps fight stress, supports the body in situations of increased nervous tension. It helps to achieve better relaxation and loosening, reduces cortisol – i.e. the stress hormone. Ashwagandha is recommended to people who have trouble resting, work too much, suffer from insomnia and want to improve their well-being and concentration.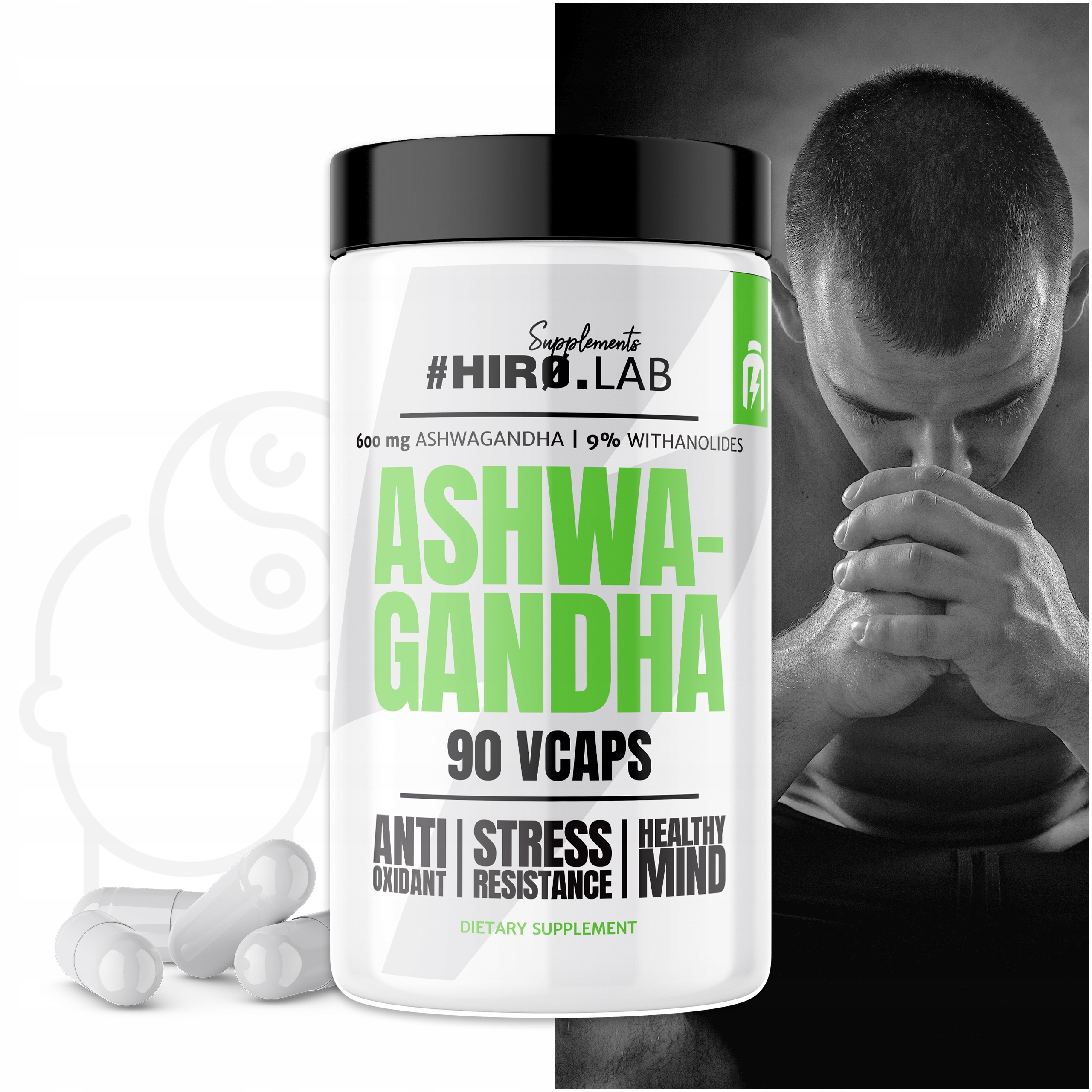 Ashwagandha – Vitality
Ashwagandha increases the vitality of the body, adds energy, thanks to which you will have the strength to fight adversity. Indian ginseng is a powerful antioxidant, effectively fights against harmful free radicals and helps maintain good skin condition and has an overall rejuvenating effect. Thanks to Withania Somnifera you will be relaxed and relaxed, which will translate into an improvement in your sex life.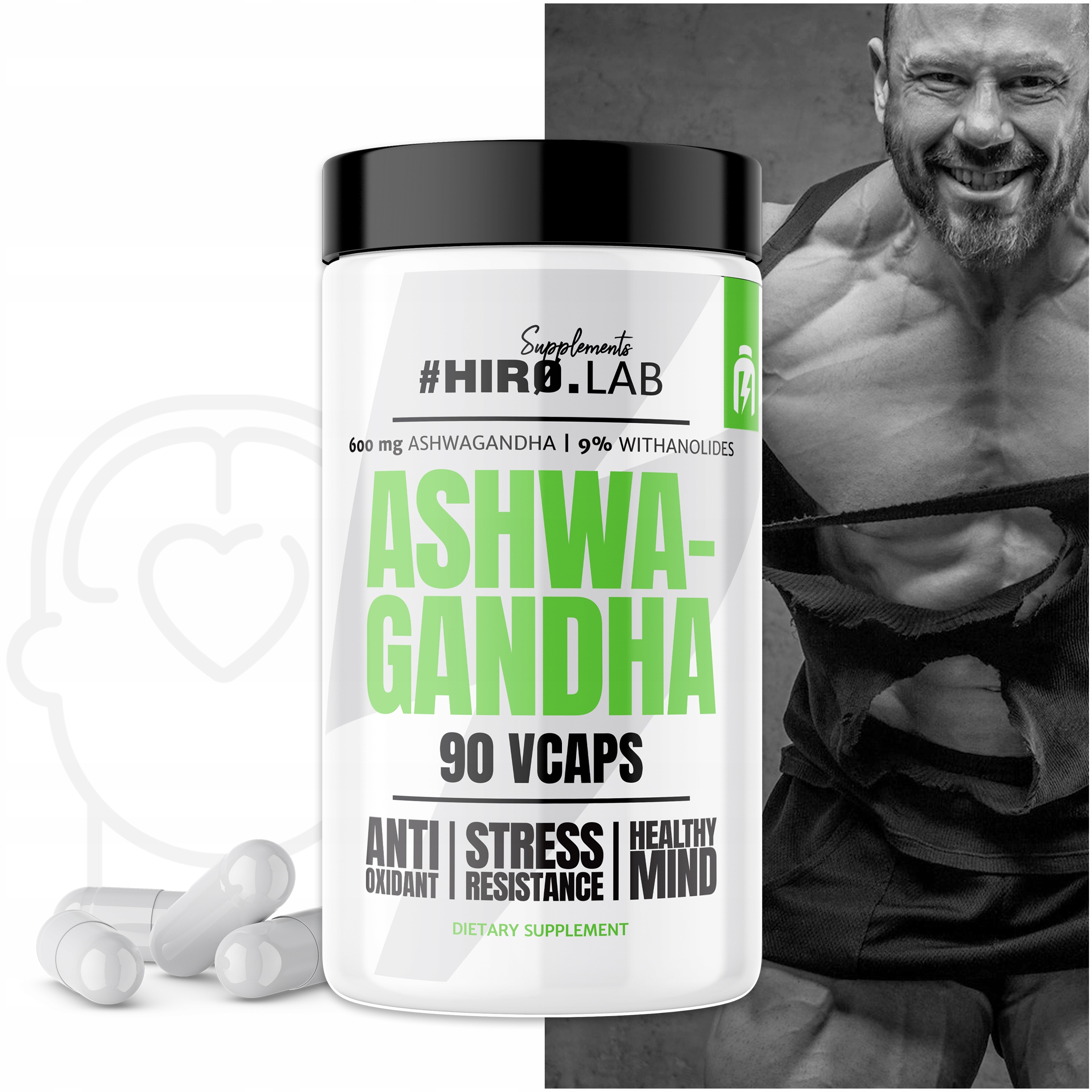 Standardized ingredient from Sabinsa
Scientists from Sabinsa together with experts from Hiro.Lab joined forces to create a high-quality Ashwagandha supplement, in which you will find as much as 9% of standardized withanoloids. The standardized formula is the key to enclosing the right amount of the active ingredient in each capsule, which allows you to be sure that the supplement always works in your body with the same effectiveness. Thanks to cooperation with Sabinsa, you know that the preparation from Hiro contains only what is necessary for your body, without unnecessary fillers.
*More research information can be found at the bottom of the page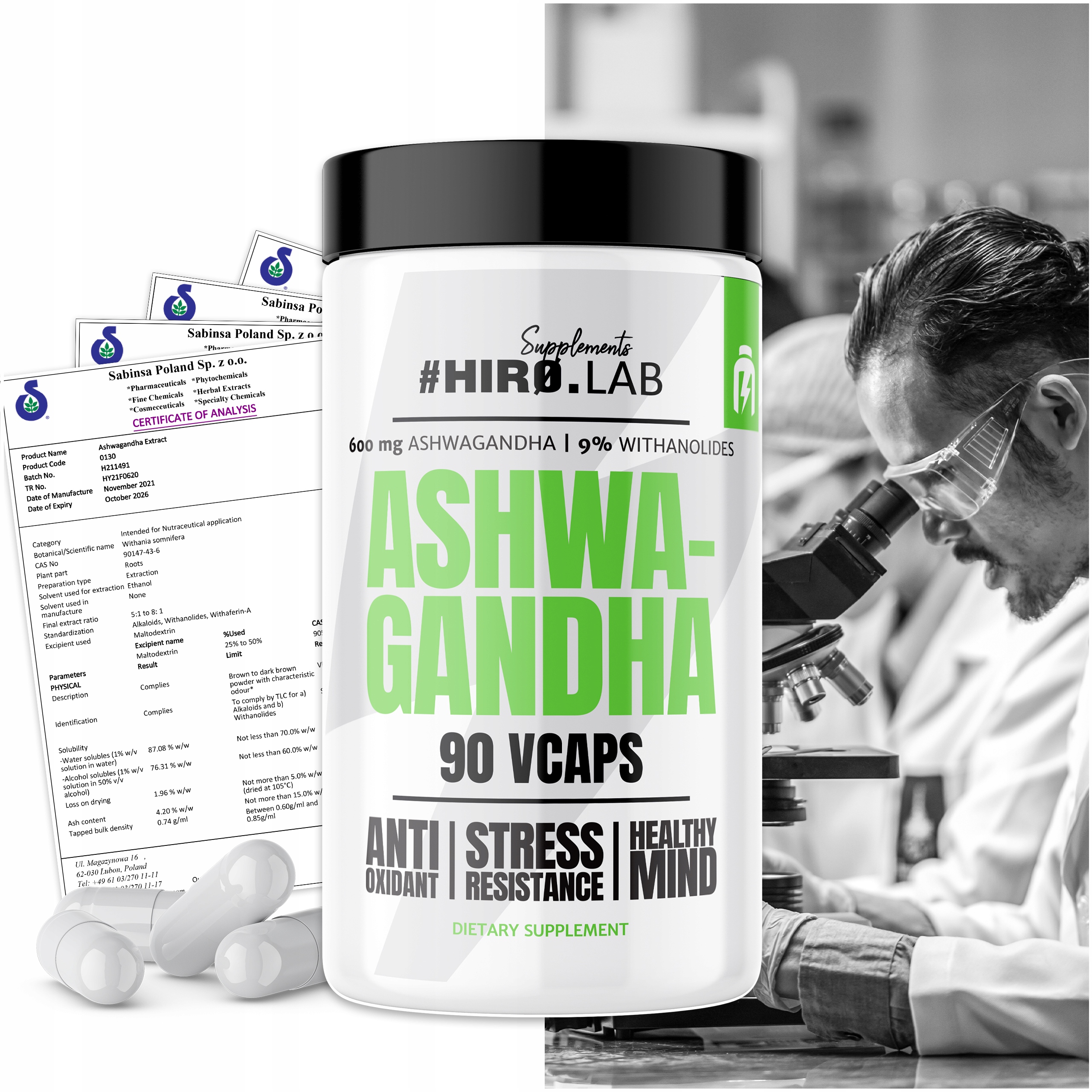 The content of the active substance in one portion of the product
By purchasing Hiro.Lab products, you help those in need!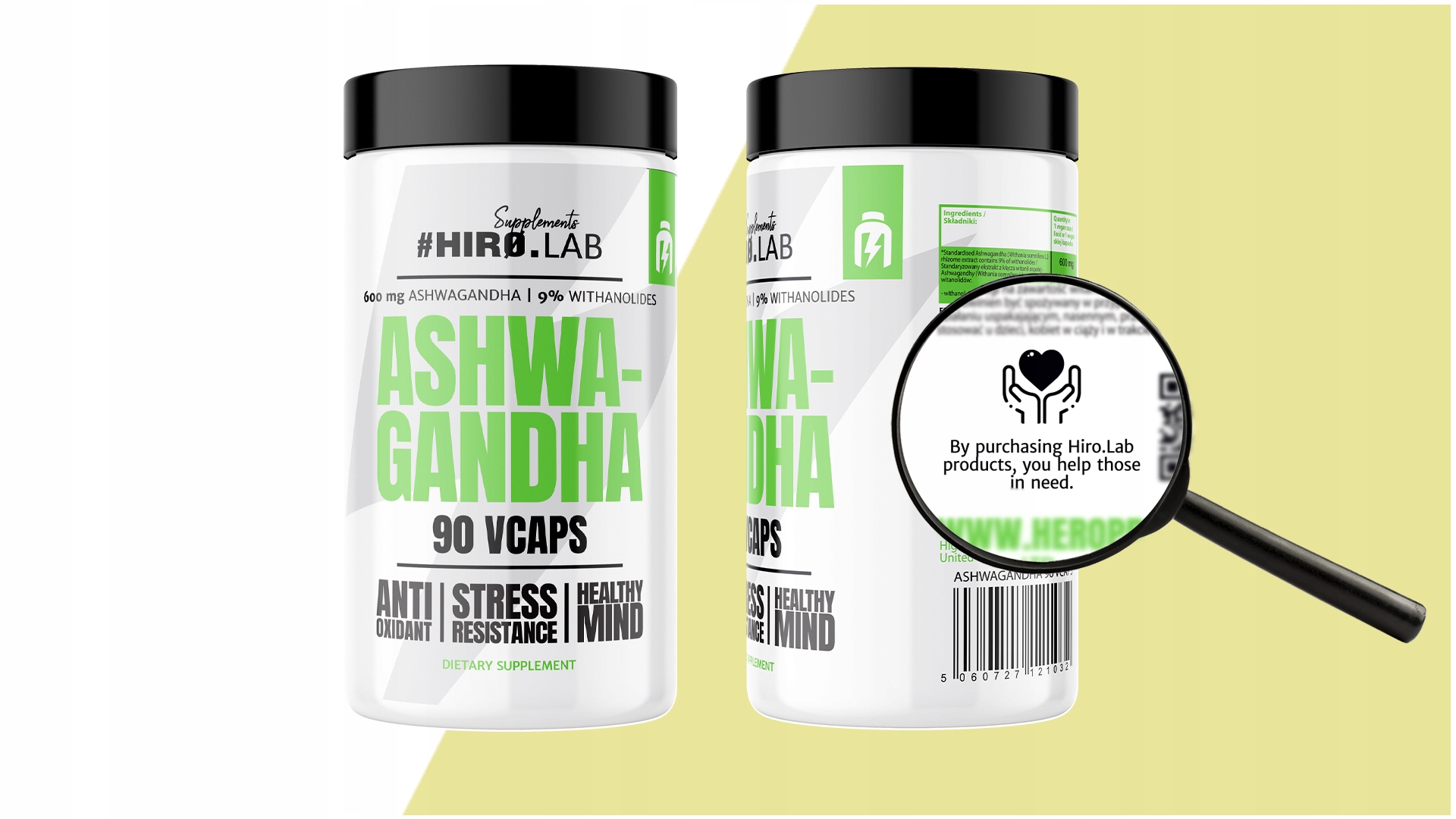 Serving Size: 1 vcap
Servings in the package: 90
Packaging: 90 vcap.
Ashwagandha ingredients: Standardized extract from the rhizome of a sluggish greyhound-Ashwagandha (Withania somnifera L.) including 9% withanolides, bulking agent – calcium phosphates, anti-caking agent – magnesium salts of fatty acids (veg).
The product may contain milk, soy, cereals containing gluten, eggs, peanuts, nuts.
This product is not intended to diagnose, treat, cure, or prevent any disease
| Active ingredient | 1 vcap |
| --- | --- |
| Standardized extract from the rhizome of the sluggish greyhound – Ashwagandha (Withania somnifera L.) with 9% withanolides | 600 mg |
| including withanolides | 54 mg |
* Reference intake value for an average adult (8400 kJ / 2000 kcal)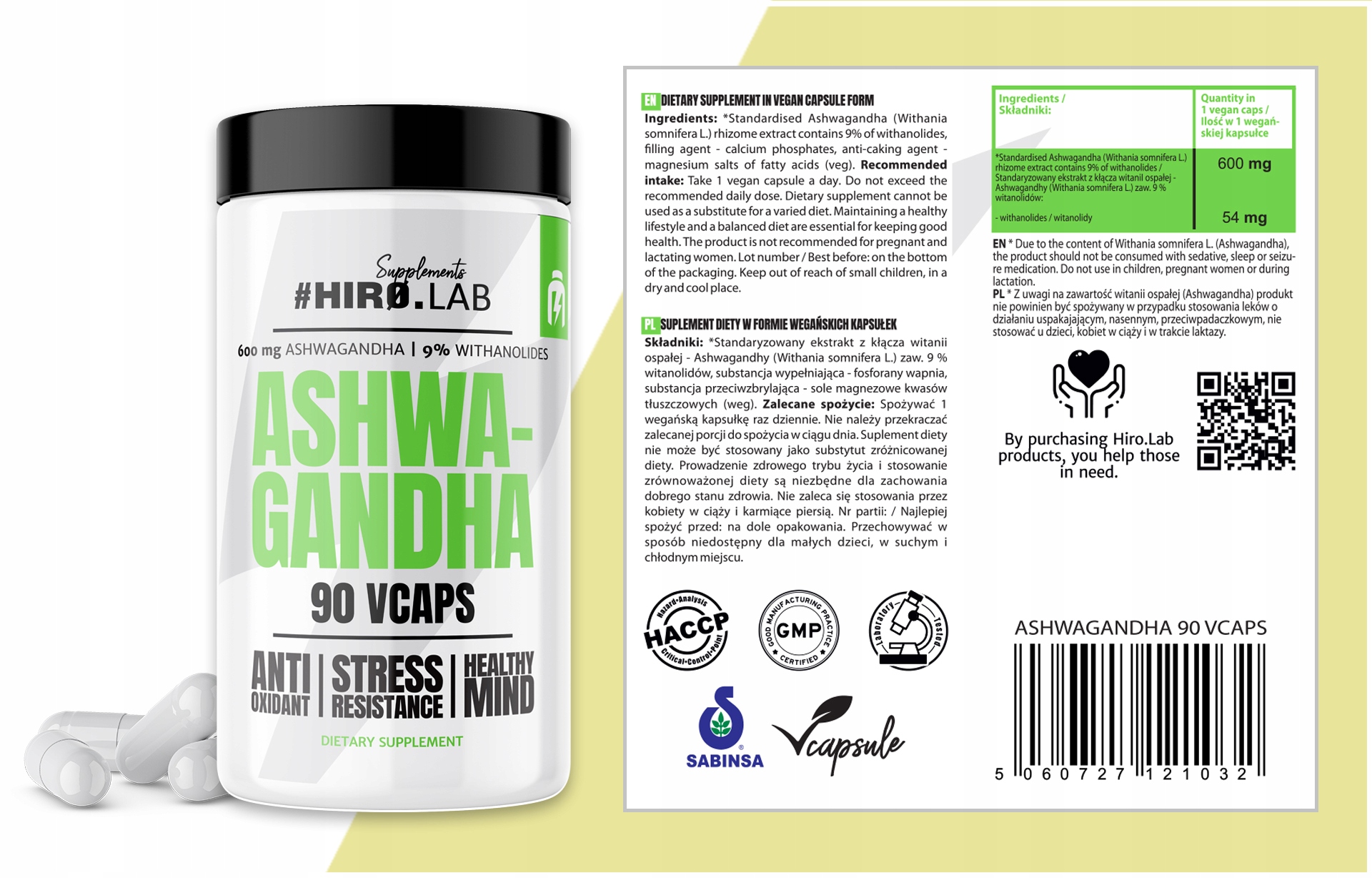 How to use Ashwagandha: Take one vegan capsule once daily
This product is not intended to diagnose, treat, cure, or prevent any disease
Dietary supplements cannot be used as a substitute for a varied diet. Remember that only a healthy lifestyle and a balanced diet ensure the proper functioning of the body and maintain good condition. Pregnant women, nursing mothers and people taking medication or sick people should consult a doctor before taking.
Do not exceed recommended servings for consumption during the day. The product cannot be used by people who are allergic to any of its ingredients. Keep out of the reach of small children. Store in a dry place at room temperature in tightly closed containers.
Best before end: date and batch number are on the side / bottom of the packaging.
Net weight: 90vcaps
Check the research: