Description
Dear Customer! We ship products from many European countries. Orders shipped to the UK may incur customs charges.
⭐ Supplement supporting the production of nitric oxide
⭐ Your muscles will be stronger and more nourished!
⭐ Produces a strong muscle pump effect
⭐ Accelerates post-workout regeneration
⭐ You will become more efficient and effective while exercising!
⭐ Up to 66 servings of a booster with a delicious fruity flavor
⭐ 300g + 30g product packaging as a gift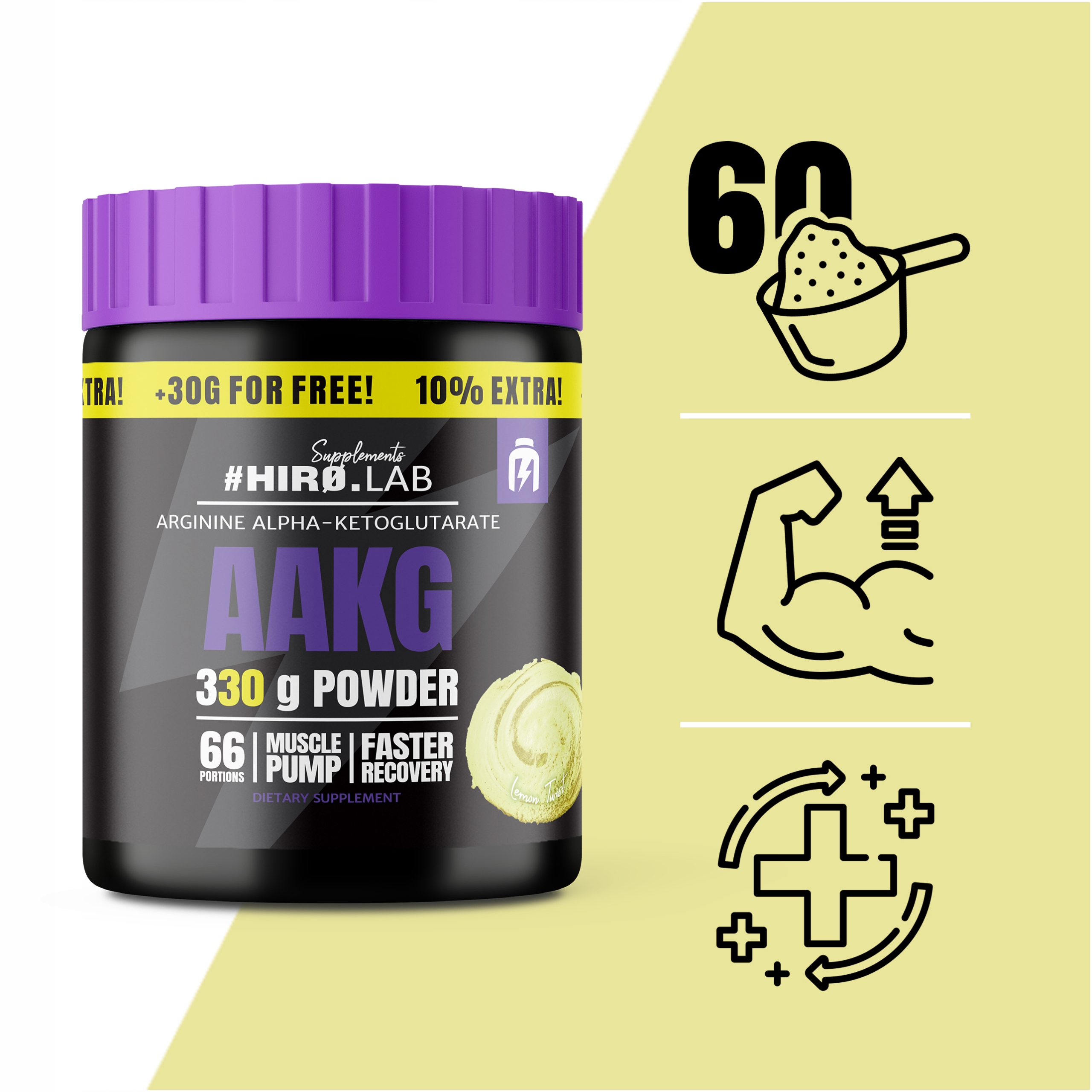 Muscle pump from Hiro.Lab AAKG
AAKG from Hiro.Lab is a dietary supplement with which you will achieve an incredible boost of strength and power during training. It is a nitrogen booster that combines arginine and A-ketoglutarate, creating L-arginine A-ketoglutarate, which improves the performance of your muscles, reduces fatigue and shortens the regeneration process. Available in the form of a soluble powder with a delicious fruity flavor and excellent absorption. Each product is up to 6 free portions, so you will last longer. Numerous certificates confirm the high quality and effective operation of AAKG.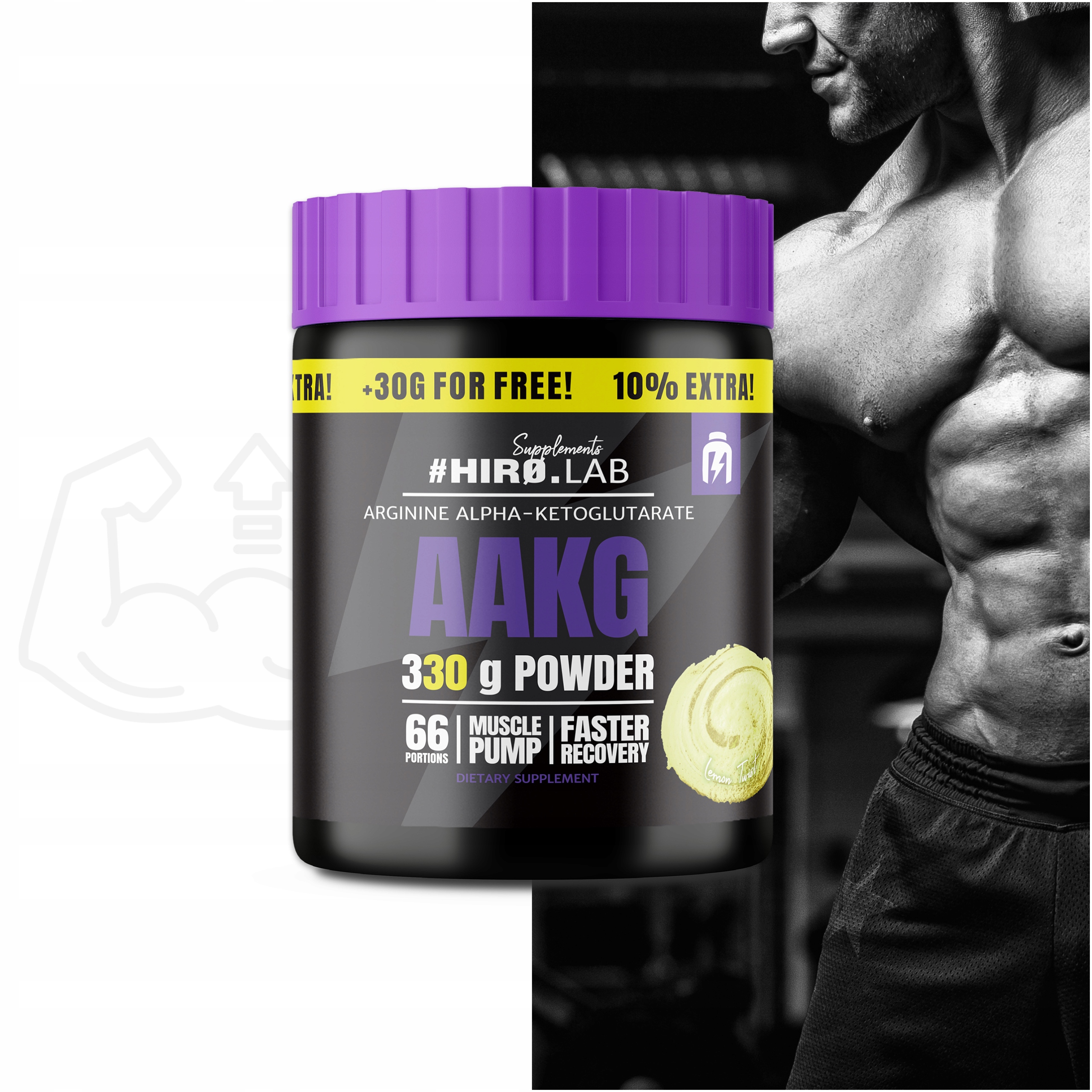 What is L-Arginine A-Ketoglutarate and how does it work?
Amino acid supplements are a common choice among athletes because of their effects on muscle mass and endurance. However, when combined with other ingredients, their action becomes even more effective, as is the case with AAKG from Hiro.Lab. Nitrogen booster L-arginine A-ketoglutarate contains arginine, an essential amino acid naturally produced by your body, and A-ketoglutarate to support its operation. In combination with each other, they promote the action of nitric oxide and enhance muscle anabolism. This will improve your exercise capacity immediately after consuming arginine and over time by activating protein synthesis.
The strength from L-arginine
Arginine, a key ingredient in AAKG, plays an important role in promoting the growth of nitric oxide. It causes more intense blood flow by widening the blood vessels. This in turn makes your muscles better nourished, making them more efficient and stronger, which naturally improves your efficiency during exercise. In addition, as a catalyst for protein synthesis, L-arginine accelerates the process of cell repair, as it helps to cleanse the body of toxins and excess unnecessary substances. The supplement from Hiro can be used both as a power boost before training, or as an aid in regeneration after intense exercise.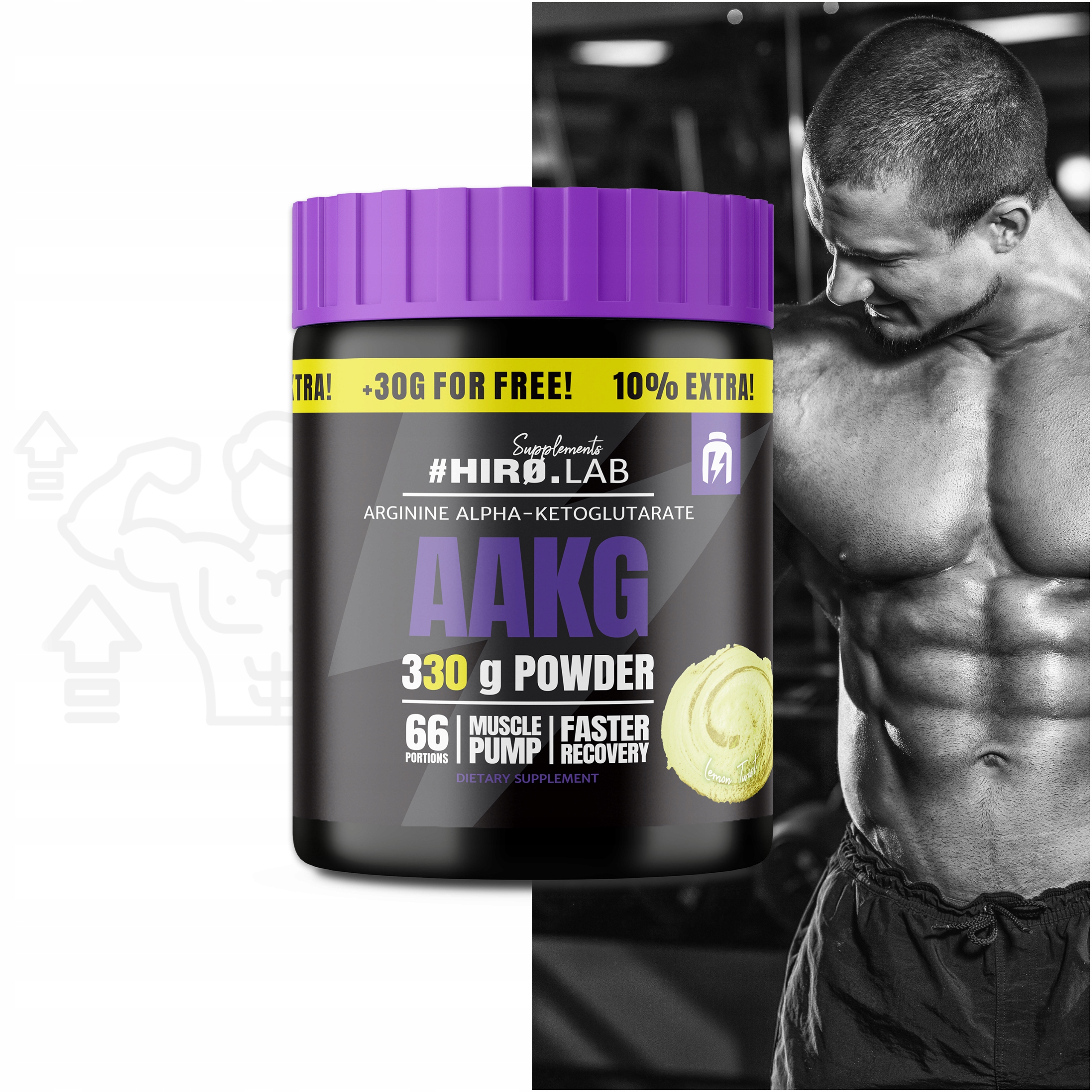 A-ketoglutarate as an effective support
Another component that builds AAKG powder from Hiro.Lab is alpha-ketoglutarate, which is responsible for the transformation of food into energy. Increased supply of 'fuel' to cells reduces fatigue during exercise and helps to maintain an adequate level of glutamate, which builds protein, during exercise. This will ensure that your muscles will be in optimal conditions for growth, and you can successively create a strong, sculpted figure. Additionally, alpha-ketoglutarate supports collagen synthesis and helps maintain proper bone mineral density, making them stronger and more durable.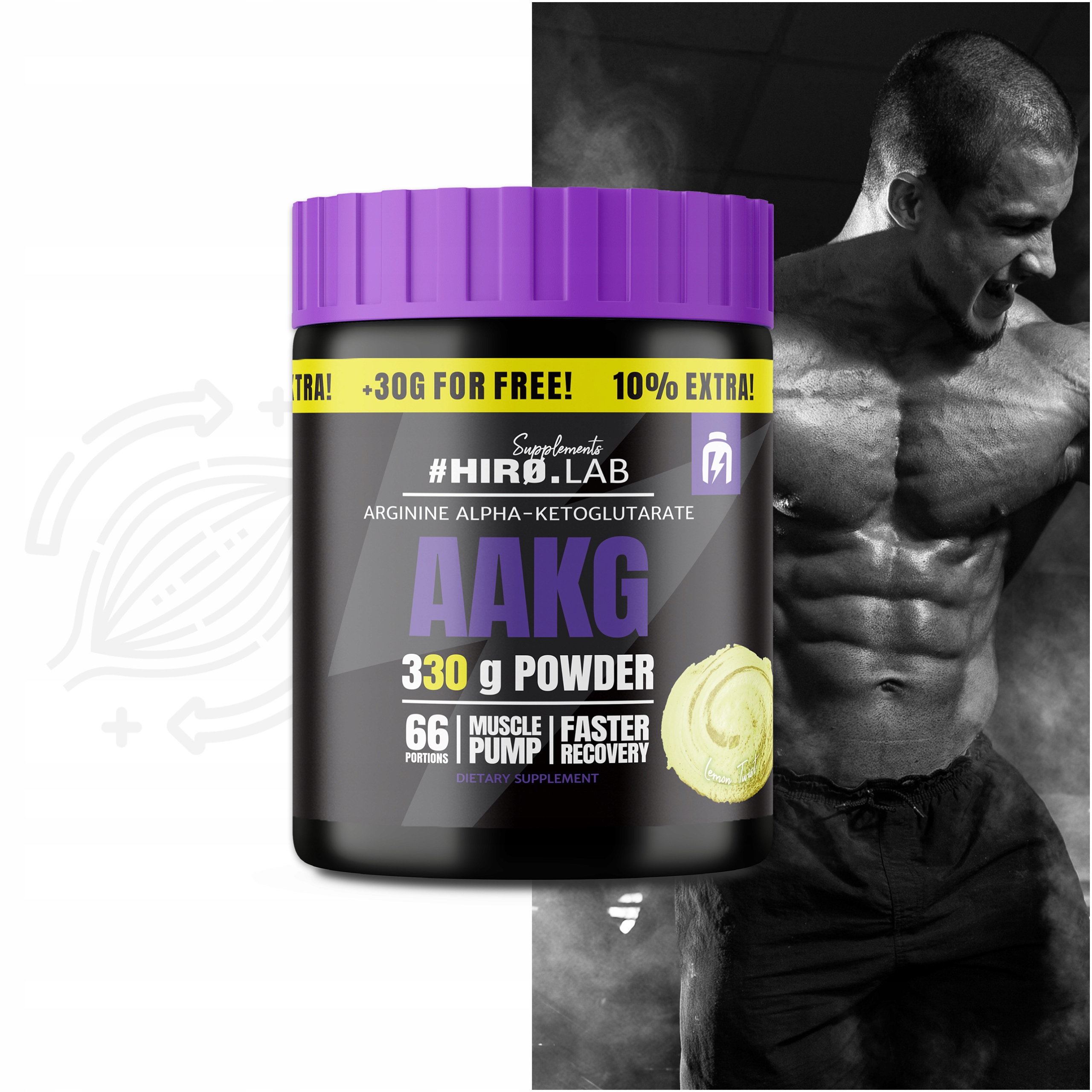 By purchasing this product you are supporting the charges of the Cancer Fighters foundation !!!
Portion:  5g
Portions in the package: 66
Package: 330 g
AAKG ingredients: Arginine alpha-ketoglutarate, acidity regulator – citric acid, aromas, sweetener – aspartame, anti-caking agent: silicon dioxide, dye – riboflavin. Contains a source of phenylalanine.
May contain derivatives of: cereals containing gluten, soy, milk.
| Ingredients | in 5g |
| --- | --- |
| AAKG | 4,5 g |
* Ingredients, grammage and nutritional values ​​may slightly differ depending on the flavor variant of the product.
Usage of AAKG: Dissolve 1 portion of 5g (1 scoop) in 200ml of water. Stir thoroughly in a shaker. Consume immediately after preparation.
Do not exceed recommended servings for consumption during the day. The product cannot be used by people who are allergic to any of its ingredients.
Keep out of the reach of small children. Store in a dry place at room temperature in tightly closed containers.
The product is not recommended for children, pregnant and breastfeeding women.
Dietary supplements cannot be used as a substitute for a varied diet. Remember that only a healthy lifestyle and a balanced diet ensure the proper functioning of the body and maintain good condition.
Best before end: date and batch number are on the side / bottom of the packaging.
Net weight: 330g